Software Update Roundup: Firefox Transmission & BetterTouchTool
24 January 2010 - 11:41pm
|
Jesse K-S
by Jesse Kirdahy-Scalia
This week saw significant updates to two of Open Media Boston's favorite applications—Firefox and the Transmission bittorrent client—and continued development on the recently reviewed BetterTouchTool Mac multitouch utility. Read on for highlights of the most important updates.
Firefox Boosts Speed & Increases Security
Mozilla Foundation released Firefox 3.6 on Thursday. Users will appreciate tweaks to its Tracemonkey JavaScript rendering engine, which resulted in about a 15% speed increase in testing, making it the fasted version of Firefox yet (though still slower than Apple Safari and Google Chrome). Users will notice additional gains in startup time and increased responsiveness of the address bar, which suggests items from the user's history and bookmarks library. Several improvements aimed at web developers add full support for HTML5, Web Open Font Format (which allows developers to use custom fonts on web pages), and improvements to how Firefox handles HTML5 video and audio. Mac users can also finally use Firefox in fullscreen mode—a feature that has eluded the cult for years—by pressing Command + Shift + F.
One new feature that could save users the hassle of using a third party extension is the new form complete behavior, which makes more intelligent suggestions on fields of web forms like the "mailing address" or "email address" fields. Instead of providing an alphabetical list of previously entered data as Firefox 3.5 did, Firefox 3.6 makes suggestions from a range of similar fields. One of the only reasons this author kept the increasingly invasive and resource-intensive Google Toolbar installed was to auto-complete forms—a task Firefox now handles well on its own.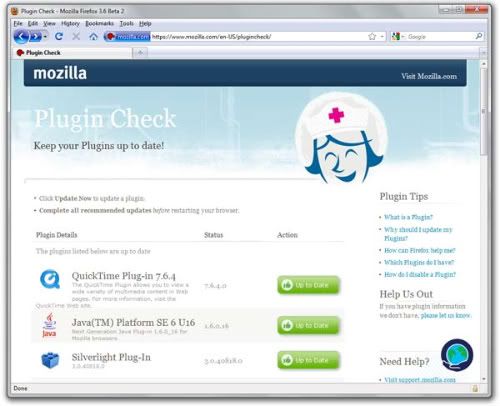 Firefox 3.6 automatically checks plugins and informs users if they are out of date.
Finally, Firefox 3.6 will now automatically check a user's plugins (as distinguished from extensions) to see if they are out of date and to find the current version of plugins. In previous versions of Firefox, the user needed to manually visit Mozilla's plugin check page to do this.
(Oh, Firefox 3.6 also added support for custom Firefox skins, but they're hideous without exception and hardly deserve a mention.)
Transmission Adds 44 New Features
Transmission is our hands down favorite bittorrent client for OS X and Linux due to its small system footprint relative to other clients and its elegant and simple user interface. Version 1.8—released on Wednesday, and subsequently updated with minor bug fixes—addressed a litany of users' feature requests. Most important among the "44 enhancements, 26 bugfixes and 33 more bugfixes during the beta tests" are support for magnet links, trackerless torrents, better peer exchange sharing, better peer finding, and improved CPU management and disk I/O performance. Developers also fixed bugs that led to application crashes on quit and error messages with large torrent lists. All of these improvements are cross-platform.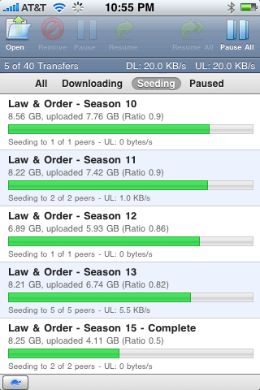 Transmission's web client now includes a speed limit button.
Mac users will see improved support for Snow Leopard: Quick Look is back, "reveal in Finder" functionality has been fixed, and both the trackers inspector tab in the torrent inspector and the message log have been redesigned to be more readable. Linux users will see improved behavior for adding and creating torrents and will appreciate a fixed memory leak. The web client, which allows users to remotely view and manage Transmission from a local or external network, now includes the familiar speed limit turtle button and displays the torrent inspector—both welcome additions.
BetterTouchTool Borrows Windows 7 "Snap" Feature
Two weeks ago, Open Media Boston reviewed two utilities that add new gestures to the Magic Mouse. BetterTouchTool was the more advanced but less polished of the two tools, but developer Andreas Hegenberg doesn't seem to be sleeping (that's the only way we think he could be pumping out so many features and improvements day after day), and BetterTouchTool is quickly becoming the best multitouch Mac utility available for the Magic Mouse and multitouch trackpad.
We reviewed version .4992 of BetterTouchTool, and Hegenberg just released .5143 today. New features added in the intervening versions include easy window arranging similar to Windows 7's "snap" feature, which maximizes windows to the left or right sides of the screen when dragged to the screen's side edges. Users can also easily resize a window using a combination of key modifiers and mouse or trackpad actions.
Users who installed BetterTouchTool .5 or earlier may need to manually update the application by downloading it and reinstalling it. Remember this is alpha version software and may be unstable. Get BetterTouchTool.
License:
Creative Commons 3.0 BY-NC-SA