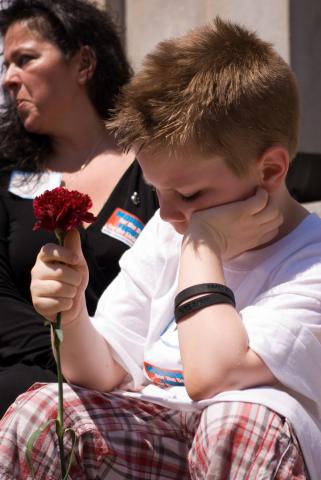 66 Workplace Deaths Commorated at Somber Workers' Memorial Day Event at the State House
1 May 2009 - 2:16am
|
superuser
by Jason Pramas
BOSTON/State House - Over 200 labor and community activists gathered in front of the State House Steps on Tuesday to commemorate Workers' Memorial Day - the annual state holiday that honors all workers killed on the job over the previous year. The event was organized by the Massachusetts AFL-CIO and the Massachusetts Coalition for Occupational Safety and Health.
After a few quick introductory remarks, representatives of several unions and labor advocacy organizations slowly read the names of the 66 Massachusetts workers who died in workplace accidents last year. A bagpiper then played Amazing Grace as the crowd observed a moment of silence in the workers' honor.
MA Secretary of Labor Suzanne Bump then took the mic to announce a new reform just enacted by Gov. Deval Patrick that will extend federal Occupational Safety and Health Act protections to state employees, "It is more than a little ironic and not at all humorous that despite the fact that we have an aggressive Department of Occupational Safety in this state, and we were at the forefront of the passage of many laws relative to health and safety in the workplace, that Massachusetts state government employees themselves are not covered by OSHA.
"OSHA was never adopted in a uniform way across state government. Some agencies have adopted it on a piecemeal basis, but that approach alone has been insufficient to ensure that the workers in state government receive all of the health and safety protections that the private sector employees do across the Commonwealth.
"And so yesterday the Governor signed and today he filed an Executive Order that will move Massachusetts forward by establishing things such as tracking and reporting of injuries and accidents on the job according to OSHA standards - and the establishment of joint labor management committees to survey the Massachusetts public sector worksites all across our state government in order to ensure that they are meeting health and safety standards and to recommend actions and plans for prioritization for ensuring safety for the workers of Massachusetts."
Following Bump, members of some families of fallen workers spoke about the difficult experience of losing loved ones to often-preventable workplace safety hazards.
Chris Augeri, father of construction worker Robert Augeri, told the painful story of his son's death while working on a road crew in Lawrence, "I got a call that morning about 3:30 in the morning from the Londonderry Police who were in my daughter's home giving her the bad news. From there I had to call the coroner's office, the State Police, to get the details. By now it was about 4 a.m. And now I had to do the most difficult thing I've ever had to do. I had to wake my wife up, wake my son's mother up, from a cold sleep, and tell her that our own son was gone. And I don't think that will ever heal for me.
"So then we drove - then the next step I had to wake Libby and tell her that he was gone. And from there it just went worse. We drove to Kim and Bob's house. And when my family came - thank God for my family - Al, my sister Patty, their beautiful children and many many others who had been there and have always been there for us. I cannot say enough for them.
"So then the investigation. What went wrong. Well. We've all heard of accidents - and accidents happen I guess. But. He was backed over by an asphalt dump truck in the middle of a work zone. How does that happen? How does somebody with full reflective gear get backed over by a truck?
"All of the effort we had made to raise him. The fortune we had of him meeting a wonderful wife and starting a beautiful family - him having a personal journey that was just getting stronger. All of a sudden gone because a truck backed up? I don't understand that. I'll never understand that.
Augeri concluded his remarks by explaining how his family has worked to turn their grief into a campaign for a reform to state and federal safety regulations, "Well anyway. Thanks to my wonderful daughter and wife, we have started a cause. And the cause is to urge any company that has equipment with a substantial blind spot like a dump truck to consider the use of Reverse Technology. It's not complicated. 30 years ago it wasn't really available, but it's available now and you can install cameras and alarm systems and whatnot for less than the cost of a 2-way radio - which is in every truck. So. Anyway that's our petition and we're going to talk to the state. We're going to talk to ... I've already been in touch with federal OSHA and we have a plan. And my daughter and my wife and my family are committed to that plan. And we're going to see it through. God bless you all. Thank you for coming."
The Massachusetts AFL-CIO and MassCOSH released a report on the 2008 workplace deaths entitled "Dying for Work in Massachusetts: The Loss of Life and Limb in Massachusetts Workplaces" the day before the event.
According to the report:
• A disproportionate number of immigrants were killed on the job: 24% (16 out of 66) of those killed were immigrants, while only 17% of the Massachusetts workforce are foreign-born. Poor working conditions coupled with fear of retaliation for speaking out about hazards contribute to workplace deaths among immigrant workers. Too often, temporary agencies fail to provide workers with so much as the name of their employer; making it impossible for workers to pursue workers' compensation should they become injured.
• In all sectors of the economy, companies rush to increase profits at the expense of workers' health and lives by downsizing, understaffing, overloading workers, extending hours of work, combining jobs, and contracting out.
• At present, 350,000 public sector workers in Massachusetts who work for the Commonwealth or its political subdivisions lack the protections afforded to their counterparts under the federal Occupational Safety and Health Act.
The report authors call for regulations on the state and federal level to be strengthened - and say the new regulations would include protections for public employees, protection for immigrant workers, improvements in Massachusetts Workers' Compensation, and comprehensive workplace safety programs.
Click here to read the report in PDF format.
License:
Creative Commons 3.0 BY-NC-SA