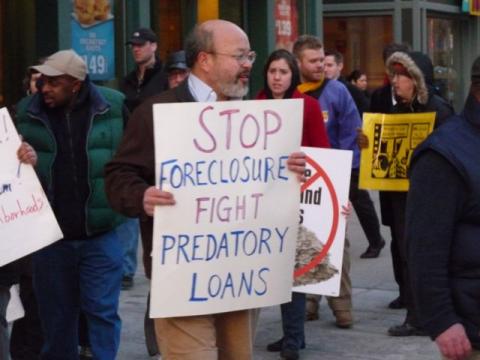 Activists Beating Back the Bank Attack
26 February 2009 - 6:56pm
|
suren
by Suren Moodliar
BOSTON/Copley Square - NEWS BRIEF - Close to 40 community activists and residents rallied outside a Bank of America branch to kick off "Thursdays-at-the-Bank" afternoon protests that run through March 19 in Copley Square. Organizers are demanding, "No More Bank Bail-outs" and "Homes & Jobs for People!" The action spotlighted residents facing foreclosures.
Testimony was offered by a long-time homeowner who is facing eviction from the home in which she grew up and in which she raised her sons. One had recently returned from Iraq a disabled veteran and is now subject to loss of his home. Event organizers and the homeowner both argue that they can all remain in the home if Bank of America - recipient of $45 billion in federal bailout money - sells the home to the owner at its real value. Promising to make this happen, the action ended with the demonstrators chanting, "We'll be back!"
For more information, please check out the accompanying video courtesy of Press Pass TV.