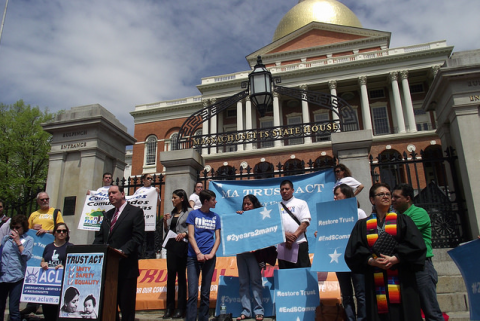 Advocates Call for End to US Deportation Program, Passing of Massachusetts Trust Act
16 May 2014 - 3:30pm
|
jadams
by Jonathan Adams (Staff)
BOSTON/State House - Immigrant rights groups continued their calls for an end to the federal Secure Communities deportation program, and for the passage of a bill dubbed the "Trust Act" in a rally at the State House on Thursday. 
Members and supporters of the Massachusetts Trust Act Coalition say the program unfairly targets primarily law-abiding undocumented immigrants since it was first enforced in the state two years ago.
They say it has led to the deportation of over 1,000 Massachusetts residents, separating families, and creating a rift between law enforcement and local communities, which would be addressed by the passing of the Trust Act.
Santos Gutierrez, a member of the Just Communities of Western Massachusetts immigrant-rights group, spoke at the rally about her family's experiences.
She said, "five months ago my husband was pulled over for a driving infraction," and despite being cleared by a judge of any wrongdoing, he was still detained by immigration authorities under the Secure Communities program.
"My family is suffering, including my three daughters," said Gutierrez, "my youngest daughter is very traumatized, she's very scared of the police; when we're on the streets she'll she a cop, and she'll say, 'Mom, pull over, hide over there, the police are coming;' it's time for police to their job and for immigration to do their job, and have those jobs be separated."
State Senator James Eldridge (D-Acton), who sponsored the Trust Act senate bill told the rally that "we're commemorating a very sad occasion, the two-year anniversary of the implementation in Massachusetts of the federal Secure Communities program.
"It was a program that Governor Patrick opposed, but has been mandated upon Massachusetts and what has happened since then is over 1,000 immigrants across Massachusetts have been deported; had family members ripped apart and sent back to their native lands, and that's had a ripple effect not just within those families but in neighborhoods and communities across Massachusetts," he continued.
He said that the program has caused "distrust" between immigrant communities and police departments across the state, and that "it's targeting more often than not hard-working families who came here to provide a better life for their children."
Somerville Mayor Curtatone also spoke out against the Secure Communities program and in favor of the Trust Act as a representative of a city where, he remarked, "we speak 52 languages."
He said, "I'm just shocked that in what we call the most progressive state in the country that this bill [referring to the Trust Act] has not moved forward, this bill needs to pass now … what kind of hope and opportunity are we giving people when they have to live in the shadows, when they have to go to bed at night fearful that someone's going to raid their house, break up their family ... in most cases people didn't have a violent record, these are people contributing positively to the City of Somerville, to the Commonwealth of Massachusetts, to the United States of America."
Somerville Police Chief Charles Femino, who organizers of the rally said was the first senior police official to speak out publicly against the federal program, told the rally that "when the Secure Communities program was implemented back in 2008, it was meant to be a program with the objective to remove immigrants who pose serious threats to the United States.
"Over time what has happened is that this has become a tool to prolong the detention of undocumented immigrants charged with minor crimes, who would otherwise be released pending a trial, thus leading to an increase in the number of deportations of non-criminals," he continued.
According to Femino, police departments rely on information provided to them by members of the public, but "the Secure Communities program has built a wall between police and the immigrant community, consequently undocumented [individuals] are afraid to come forward with useful information in fear of deportation," adding that "the City of Somerville takes pride in its diversity, and I want our officers, my officers, to continue their partnerships in protecting our residents, but we want to enforce those laws in a way that's fair to all [members of the public]."