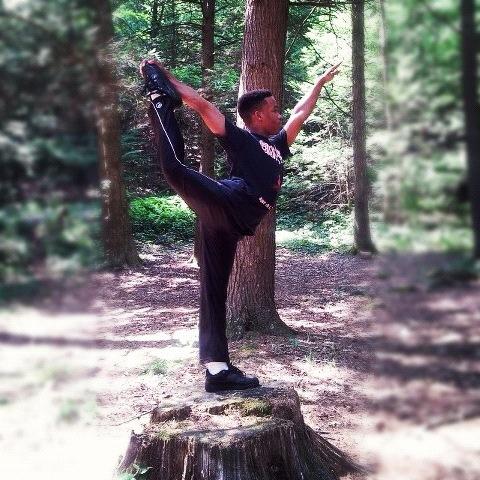 The Berkshires: Jacob's Pillow
6 August 2012 - 11:49pm
|
superuser
by Sue Katz (Staff)
Within an hour of my arrival to The Berkshires, I rush out to Jacob's Pillow, the unique dance campus that has been declared a National Historic Landmark. To celebrate its 80th anniversary, it is mounting an enlightening photo display tracing decades of performances and featuring such luminaries as Mark Morris and Alvin Ailey when they were very young dancers. The dominant subjects of these photos, though, are Ted Shawn, the founder of Jacob's Pillow, and his troupe called "Men Dancers," usually shirtless and leaping with homoerotic abandon in the late 1930s.
Each summer Jacob's Pillow headlines some of the most prominent dance companies – this year from Bill T. Jones to the Royal Winnipeg Ballet to the Joffrey Ballet. They also offer young dancers and educational companies an opportunity to appear in Jacob's Pillow's rather magic outdoor venue in the free program called "Inside/Out." I manage to catch most of the performance of The Nutmeg Conservatory for the Arts out of Torrington, Connecticut, and their troupe of 70 dancers ranging in age from 12 to about 20. They are part of an intensive summer training program which works the kids for three weeks, 10 hours a day, rehearsing with choreographers for this opportunity to show their stuff on the prestigious stage of Jacob's Pillow, with the verdant forest mountains as backdrop.
These young people, Joan Kunsch the Associate Director of Nutmeg tells us, are selected from across the country "not so much for prior excellence as for teachability." After the sweet performance, I ask to speak to one especially outstanding dancer named Logan Paschal (see photo), 15, who will be a junior at the Baltimore School for the Arts this fall, about the experience of dancing at Jacob's Pillow. "It is very environmental and spacious. I've always heard about its famous dancers and it's an honor to be here, where Ted Shawn had such an influence on men's dance."
In fact, that is just what Ted Shawn set out to do. In 1930, Shawn and his then-wife Ruth decided to establish a home for the new discipline of modern dance. Martha Graham and other pioneers were members of their company. After the couple split, Shawn successfully devoted himself to establish dance as a legitimate activity for men. (However, with WWII exploding, the "Men Dancers" disbanded the company in 1940 and the individuals signed up to fight.)
Today Jacob's Pillow is one of the anchor attractions of The Berkshires – recognized and honored by dancers, by dance fans, and by arts bodies. Even better, a lot of the magic is happening out of sight. As I walk around the many out-buildings and chat with some of the young people spending their summer behind the scenes, I'm impressed by their fresh sense of excitement about the world of dance.
Sue Katz, an author, journalist, blogger and rebel, used to be most proud of her martial arts career and her world travel, but now it's all about her edgy blog Consenting Adult. Sue is a regular contributor to Open Media Boston.
Photo courtesy of Logan Paschal.