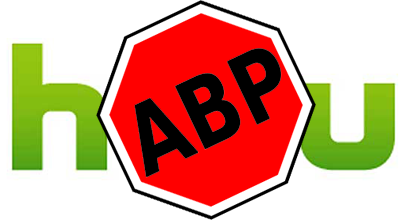 Block Hulu's Commercials (And Any Other Ads Online) with Adblock Plus
17 August 2009 - 6:40pm
|
Jesse K-S
by Jesse Kirdahy-Scalia
Hulu is a great, legal source for watching tons of network television and even movies. Too bad it's polluted with loud, offensive commercials just like the TV box. Fortunately for those who find the wailing jock rock guitar of Speed Stick commercials repugnant, the most recent version of popular Firefox plugin Adblock Plus successfully eliminates all Hulu commercials while leaving the video content intact. Follow our walkthrough to set it up yourself.
Ablock Plus grew out of the Adblock project, becoming a separate extension in 2006. Adblock Plus functions by subscribing to a list of servers, url paths and rules that determine which web content it should block, and which is legitimate. After the user chooses one or more filters to subscribe to, Adblock Plus automatically updates the lists, allowing users to focus on their ad-free browsing.
In a recent update, the EasyList filter subscription included new rules for blocking the commercial-laden wrapper around Hulu's tasty video content. As long time Adblock Plus users might remember, shortly after Hulu launched last March, the EasyList filter began blocking ads, but in their place, Hulu displayed a 30-second message begging users to disable ad-blocking software. Sometime around August last year, Hulu worked around Adblock Plus and was displaying ads again, but the new filters bypass the begging screen, and skip the ads entirely.
Install and Configure Adblock Plus
Adblock Plus can be installed in a variety of applications that have Firefox code at their hearts; Thunderbird, SeaMonkey, Songbird and Prism can all install the Adblock Plus plugin. For this walkthrough, we assume the user is installing the plugin in Firefox. It's a simple three step process to install:
Click Allow on the security bar that pops up
Click Restart Firefox in the Add-ons window that pops up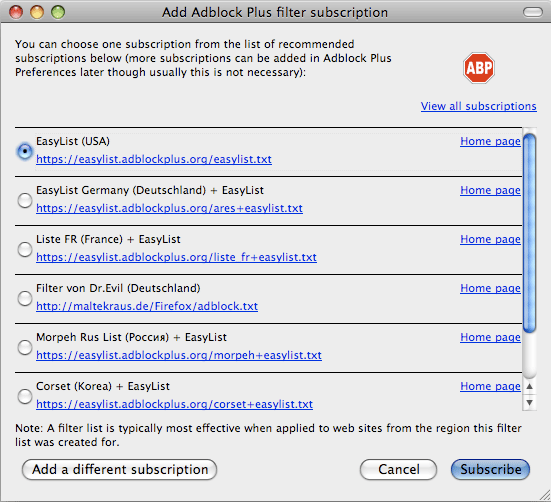 Subscribe to a filter set.
After restarting, the user may select the filter subscription of their choice. EasyList (USA) blocks Hulu ads, and does an excellent job at blocking most everything else as well. Before clicking Subscribethough, users may want to click the View all subscriptions link on the top right of the filter subscription window. On the page that follows, users may easily subscribe to any additional filters by clicking the link beside its entry. Useful filter subscriptions here are the EasyPrivacy filter, which blocks tracking servers, and the somewhat humorous, if now outdated, Rickroll Blacklist, the function of which, I'm sure readers can guess.
Customizing Adblock Plus
After setting up filter subscriptions, Adblock Plus gets to work blocking obnoxious banner ads and video commercials, largely without needing to bother the user with confirmation, and typically without also blocking legitimate content. Interested users may wish to further customize Adblock Plus by changing where it appears on the Firefox window, adding custom filters, and exempting certain websites from ad blocking.
Disable Adblock Plus on a page or site.
Users can easily whitelist pages or entire sites, disabling blocking by clicking the arrow next to the ABP icon on the toolbar and selecting the desired option. Additional Adblock Plus preferences are also accessible from this menu. On the preferences window, users can see which filters are in effect and how recently an ad has been blocked. Users can also import and export custom filters.
While Adblock Plus and EasyList block interstitial Hulu ads all on their own, the pre-roll ad still makes it through. However, those are easy to eliminate by adding a single filter rule. Enter the Adblock Plus preferences window and click the Add filter button on the bottom left. Then add the following line:
|http://stats5.lightningcast.com/servlets/getElement?*
Finally, Open Media Boston asks our readers to disable Adblock Plus on our site. We don't earn a great deal of revenue through our ads—not nearly enough to keep us publishing weekly—but every little bit helps, and unlike video commercials and talking banners, our ads are unobtrusive. Add this line to Adblock Plus' filter rules to allow our ads:
@@|http://www.openmediaboston.org/
License:
Creative Commons 3.0 BY-NC-SA