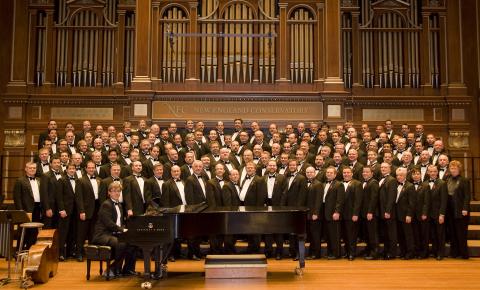 Boston Gay Men's Chorus: Divas Unleashed for Pride
12 June 2013 - 2:42am
|
www.suekatz.com
by Sue Katz (Staff)
For their Pride weekend show, the 175 members of 
Boston Gay Men's Chorus
, dressed in black tuxedos and red ribbons, crowded onto the stage at John Hancock Hall to celebrate musical Divas. 
Starting with Judy Garland, they tipped their choral hat to everyone from the Bond girls to Cher, Pink, Tina, Barbra, and Donna. And that was just the first half.
To the Chorus they add their corps of over a dozen entertaining and witty dancers, their splendidly dramatic sign language interpreter LeWana Clark, and their guest artists. Various members step out for terrific solos and the two visiting young Divas, Claire Kohlheim and Carley Sakolove, duel as Barbra and Donna. Carley Sakolove also does a set of impersonations, achieving her most dazzling artistry as Ethel Merman and Bernadette Peters.
With a timely nod to the recent HBO film about Liberace, Chad Weirick, the company's Assistant Music Director, dons a silver sequined tuxedo and turns himself into a thin but winning Liberace. He sits at the grand piano playing a medley of tunes in the semi-serious, highly-skilled, but humorous style of Liberace. He is served by an exasperated half-dressed assistant – assumedly a "Scott Thorson" (Liberace's assistant, wink wink) – who adds to the comedy of the set. Brian Calhoun, a very tall man dressed in silver sparkle stilettos (later to change to red patent leathers), is introduced as joining Liberace with his "oversized wooden instrument" – his marimba. And that's about the edgiest line in the evening.
There is something very square about the BGMC – from its arrangements to the stillness of its singers. Even the audience seems, by unscientific anecdotal perusal, to include a large chunk of straight, older, white people for whom the Chorus is a safe and familiar place in which to be a gay ally. 
The only thing that marred the evening was a sound system that muddied the songs, a sound balance in which the band sometimes overwhelmed the subtleties of the vocal harmonies, and solo mics that were more suited to Karaoke than to a musical institution that has been part of the Boston scene since 1982.
However, if blessed with good seats, one is able to focus on individual singers, and to recognize how expressive and fully committed each person on that stage is. Identical costumes do not disguise the enthusiasm with which each singer performs. Moments of animated choreography among the chorus were few but fun, not the least during the encore when each singer vamped into a hand mirror, dressed in 21st Century shades. It was the liveliest, most spirited performance of the evening and the perfect, vivacious ending.
Sue Katz, an author, journalist, blogger and rebel, used to be most proud of her martial arts career and her world travel, but now it's all about her edgy blog Consenting Adult. Sue is a regular contributor to Open Media Boston.