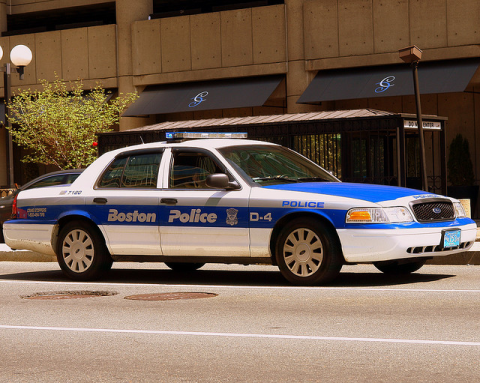 Boston Police Officer Faces Lawsuit Alleging False Arrest and Malicious Charge
18 August 2014 - 12:19pm
|
jadams
by Jonathan Adams (Staff)
BOSTON – A Massachusetts man is suing the Boston Police Department (BPD), alleging that he was falsely arrested and maliciously charged by a Boston police officer in 2012.
Sean Anderson filed the lawsuit at the end of June against the City of Boston and Police Officer Lysander Wright, whom it is claimed was the subject of at least seventeen separate citizen complaints, internal investigations, or internal inquiries.
According to the court complaint, on "December 21, 2012, at approximately 3:35 pm … Anderson was stopped at a red light on the corner of Massachusetts Avenue and Huntington Avenue in front of Symphony Hall.
"As he waited for the light to turn green … Anderson saw who he thought was a Symphony Hall security guard walking diagonally across the street in front of the stopped traffic," it continues, claiming the man "was wearing a fluorescent green jacket without any writing on it."
It says that as "the light turned green … Anderson began to take his foot off his brakes when he noticed an ambulance heading towards him in his lane … [and] immediately pulled over to the right side curb of Massachusetts Avenue, near the center island on Huntington Avenue, and came to a stop to allow the ambulance to pass."
According to the complaint, as "soon as he had come to a complete stop … Anderson heard a loud bang from the rear of his car … [and looking] in his rear-view mirror… [he] saw the same security guard going around his car from the rear."
It's alleged that Anderson then asked the man if he just hit his car, to which the man responded affirmatively. "In response," the complaints claims Anderson said, "'What the fuck?'"
It's alleged that the "man suddenly lunged towards … Anderson, screaming … reached into the car, grabbed the keys, and yelled for … Anderson to get out of the car."
It's then claimed that he "opened … Anderson's car door, put his hands around [his] neck, then grabbed [him] by his clothes and pulled him out of the car … screaming that he was going to teach … Anderson a lesson on how to speak to a police officer."
The complaint alleges that Anderson then told the man that he didn't know he was police officer, while the man proceeded to show him a badge clipped to his belt but beneath his fluorescent jacket.
It says that judging by "the man's behavior … Anderson was not convinced that this could be a police officer … [so he] broke free from Defendant Wright's grasp and ran back to his car, [where he] locked the doors and called 911 to report the attack."
It's alleged that with "the keys that he had taken earlier … Wright opened the car door and grabbed … Anderson by the throat [but he] managed to escape to the passenger seat just as other police officers arrived on scene as a result of the 911 call he made."
In response to questions asked of Wright by other police officers, it's alleged that Wright claimed that "Anderson had tried to run him over with the car," but then allegedly "changed his story when another officer … [said that] Wright had initially told him that the car was already stopped."
According to the complaint, Anderson was then allegedly falsely charged with speeding, negligent operation of a motor vehicle, disorderly conduct, resisting arrest, and assault and battery on a public employee.
It says that when "Anderson asked about these false charges … Wright replied, 'Yep, that's my thank you to you for calling 911. I am covering all my bases," though it's claimed that the criminal charges were dismissed on December 5, 2013.
Open Media Boston contacted the City of Boston and the BPD for a statement, but did not receive a response before the filing of this report.