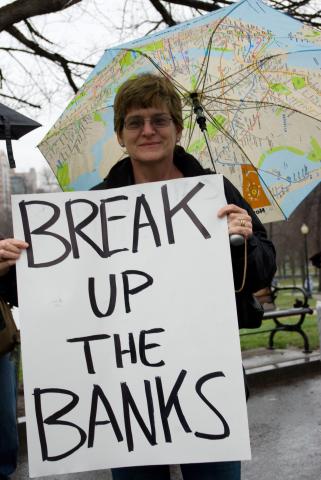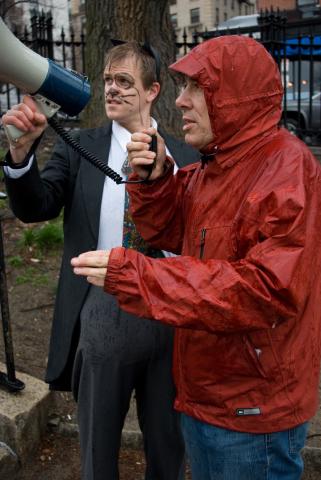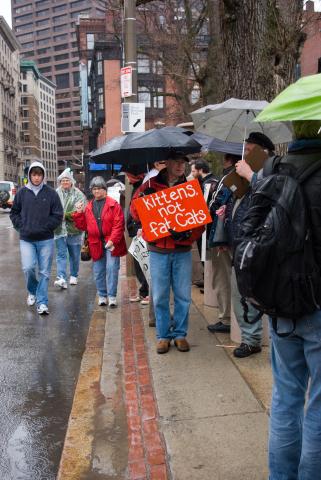 Boston Rally Calls for Nationalizing Giant U.S. Banks
13 April 2009 - 2:32am
|
superuser
by Jason Pramas
BOSTON/Boston Common - About 40 people from as far away as New Hampshire showed up on the Boston Common Saturday afternoon for a rally called by the new online activist network A New Way Forward. The event was focused on creating a local groundswell of support for a movement to partially nationalize large banks that organizers believe are responsible for the economic crisis - and was 1 of dozens of similar actions called in discussion groups on various social networking services and coordinated on the network's main website.
Many of the activists had never met before, but the rally gradually pulled together near the corner of Beacon and Park Sts. and coalesced during a short speech by Matt Zaccarino - who was the organizer of the local effort.
Zaccarino spoke into a megaphone - dressed as a Wall St. "fat cat" - in the cold rain soaking the Boston area that afternoon, "Hi all you guys. I really want to thank you for coming out even though the weather is so lousy. We're here to try and let our leaders know that we really want to see the banks nationalized, decentralized, broken up. We want to see failed economic policies done away with. And I also want to tell you guys that you're not the only ones doing this. Even though it looks like there aren't very many of us. There are quite a few. This is happening in cities all over the country. Trying to take down fat cats like me."
Chuck Collins of the Institute for Policy Studies - the only other speaker - expanded on Zaccarino's points, "There are at least 75 of these demonstrations happening around the country right now. Which is very inspiring. This is an effort to get people together using the internet using some of the organizing tools. What we're calling for is a new way forward. If a bank is too big to fail, it shouldn't exist. It should be broken into pieces.
Collins concluded, "We have banks here in Boston that are small community local banks that work - credit unions that work. Why do they work? Because the state regulates them rigorously. And because they're small, and they weren't involved in casino. The big banks got into the casino. They took our money. They took money and gambled. And they've wrecked the economy. So part of what President Obama is doing is he's using the old Wall Street method. We're pumping money into broken banks, a broken system. And what he needs us to do is push him to say take control of the banks, break them into pieces. If they're too big to fail, they shouldn't exist. That's the message of A New Way Forward."
Attendees spent about an hour before and after the speeches collecting signatures from passers-by and supportive honks from traffic on nearby Beacon St. before going their separate ways.
Boston organizers are planning to call another rally in 2 weeks on what they assured the crowd "will be a nice spring day." They encouraged each attendee to bring 10 friends to the next event, and to help keep growing A New Way Forward into a national movement with each new action.
License:
Creative Commons 3.0 BY-NC-SA