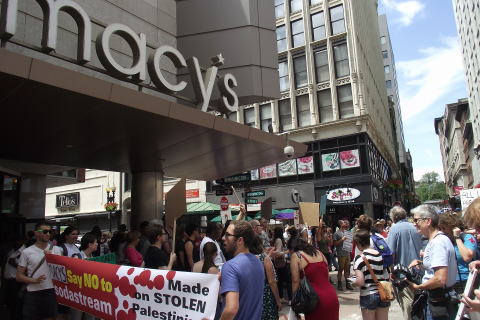 Boycott Advocates Rally in Boston Following Israeli Assaults on Palestinian Territories
13 July 2014 - 11:29pm
|
jadams
by Jonathan Adams (Staff)
Bostonians hit out at the Israeli assaults on the Palestinian Territories that began last week, and has reportedly claimed the lives of dozens of Palestinian civilians so far.
Around 100 pro-Palestinian and peace activists held a rally organized by Jewish Voices for Peace (JVP) at Park St. station on Wednesday, before calling on several corporations to divest their business interests from Israel as part of the boycott, divestment, and sanctions (BDS) campaign.
Claire Gilbert, a program coordinator with the social justice advocacy group Grassroots International, told the rally that "we're here to condemn Israel's collective punishment of Palestinians, to mourn the loss of lives, and to hold accountable the corporations that enable this violence.
"The wrenching events unfolding in Israel and Palestine are not random or isolated, they're part of a system of occupation itself," she continued, "Palestinian civil society has called upon us to boycott, divest and sanction … in order to end the violence."
According to a press release issued by JVP, a group advocating for increased democracy and an end to violence for both the Palestinian and Israeli peoples, said "People of conscience throughout the world join in mourning the deaths of the three Israeli teenagers and the ten Palestinians who have been killed since June 12th as the Israeli Defense Forces stormed the West Bank, Gaza, and East Jerusalem. In these past two weeks, 570 Palestinians have been detained, 1500 Palestinian homes invaded, and Gaza has been bombed repeatedly.
"We mourn these deaths as we do all lost lives," it continued, "[t]hese are not isolated or even rare instances of human rights violations, but the intensification of the daily enforcement of the Israeli occupation. Palestinians are subjected to home demolitions, checkpoints, arrests, and indefinite detention daily and systematically.
Karlene Griffiths, a pastor with the United Church of Christ, who recently returned from the troubled region, told the rally, "I heard, via message this morning, from a village where I spent three days with a family [and] that particular village had been invaded by the [Israeli Defense Force] … they were fired upon with rubber bullets, and there were smoke bombs thrown throughout the streets in their communities, and young men were being pulled out of their homes yet again.
"Our Palestinian sisters and brothers disproportionately suffer hatred, daily home demolitions, checkpoints, arrests, and indefinite detentions, and countless micro-aggressions that [affect] their dignity," she continued, "1,384 Palestinian children have been killed since 2000, with little notice and public outcry, and even in this moment of ongoing and calculated assaults in Gaza with the exchange of missiles, attacks to continue to disproportionately kill, maim, and destroy of Palestinian families."
Following the rally, demonstrators marched on Macy's at Downtown Crossing, targeted because it sells SodaStream products. Holly Bicerano, a student at Boston University and member of JVP, explained that "Sodastream is a company that has a factory in ... a settlement located deep within the West Bank, so it is part of the larger settlement boycott, and corporate divestment, that's part of the BDS call."
She added that "with the escalation of violence in Gaza, it's becoming increasingly important to use nonviolent tactics to end Americans' complicity in the occupation."
A spokesperson for Macy's declined to comment on the demonstration, and SodaStream did not respond to a request for a statement before the filing of this report.
According to a press advisory issued by the Consulate General of Israel to New England, "Since June 12, at least 240 rockets have been fired at southern Israel from Gaza, aimed deliberately at civilian targets … [and] [a]t least 80 rockets were fired at Israel from Gaza on Monday, July 7."
It says, "Since the beginning of the year, Gaza terrorists have fired more than 450 rockets towards Israeli citizens. The attacks have sent thousands running into bomb shelters, threatening millions of Israeli lives. In order to restore quiet to the region and stop Hamas terrorism, the IDF has commenced Operation Protective Edge."
A further protest was held outside the Israeli consulate in Boston on Friday, calling for an end to hostilities against the Palestinian Territories.