Bread And Puppet Theater Tear Open The Door Of Heaven" At The Boston Center For The Arts"
27 January 2010 - 6:38pm
|
RadioView
by Dave Goodman, I.B.I.S. Radio
BOSTON/South End - This week, for the fourth winter in a row at the Boston Center for the Arts Cyclorama, the Glover, VT based Bread and Puppet Theater troupe present their subversively entertaining brand of politics and punditry.
Members of the year round Bread and Puppet collective again will be joined this week by scores of local actors and performers (a mix of pros and mostly amateurs who have been rehearsing all week at the BCA) who responded to the annual call for volunteers.
Led by their 75 year old founder, puppeteer and muralist Peter Schumann, the Bread and Puppet residency will include "Tear Open The Door of Heaven," Thursday through Sunday at 7:00pm and the kid-friendly "Dirt Cheap Money Circus" on Saturday and Sunday at 4:00pm.
On Monday, Schumann led an audience around the circumference of the Cyclorama and discussed his murals. This year the display is called "Relics of the Paper Mache Religion." Unlike past years, when he agreed to participate in public forums about art and politics, Schumann opted not to hold a symposium this week, according to publicist Mary Curtin.
For the past two years, local supporters of Israel have loudly protested Schumann's attention to the plight of Palestinians living in Occupied Gaza and the West Bank.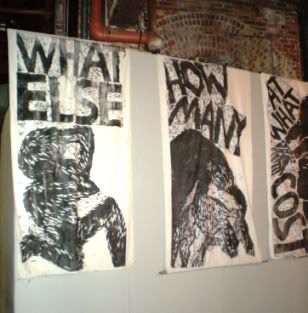 The mural display will be free and open to the public all week during regular Cyclorama hours: 9:00am-5:00pm.
During Monday's opening, members of the troupe were joined by local musicians for a performance of composer Mike Romanyshyn's "Music for Six Clarinets and Percussion." Romanyshyn, also a puppeteer, started as a member of Bread and Puppets while living in Vermont in 1975 and performed with them for 17 years.
It's not unusual to hear present and former troupe members say how much Bread and Puppet has influenced their lives in a multitude of positive ways.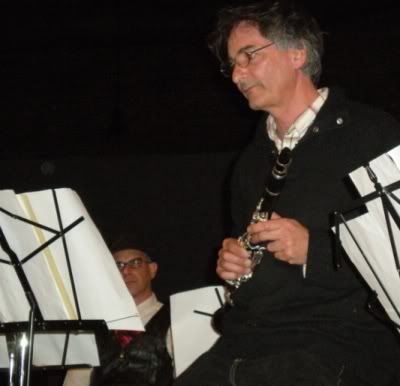 About 50 people gathered to hear Romanyshyn and his clarinet, along with members of the Second Line Social Aid and Pleasure Society Brass Band, which will provide musical accompaniment to both the evening Bread and Puppet shows and the weekend circuses.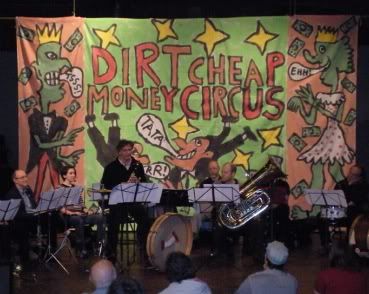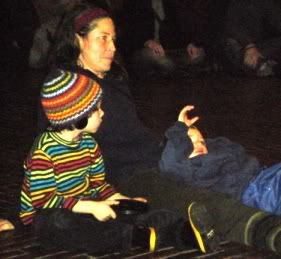 A Bread and Puppet audience invariably includes activists representing a rainbow of progressive movements. David Fillingham of Veterans for Peace wore a T-shirt with an anti-war message and engaged a reporter in a discussion about Smedley D. Butler, the Marine Major General, anti-imperialist, and author of the 1935 published speech "War Is A Racket."
There's nothing small about a Bread and Puppet Theater Performance. In order to help demonstrate how grand are some of these puppets, Monica Raymond of Cambridge agreed to pose next to one of the troupe's corporate CEO characters.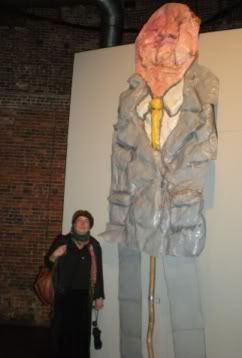 But for nearly 47 years it's been Peter Schumann and his band of merry performers who have brought an award-winning and unparalleled energy and exuberance to the Bread and Puppet performances. Their mere presence, in fact, has been so threatening that puppets have been confiscated by police and performers detained during each of the last three presidential nominating conventions.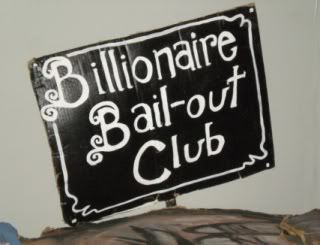 Maryann Colella and Greg Corbino, members of the Bread and Puppet Theater, were looking forward to this week's performances at the Cyclorama.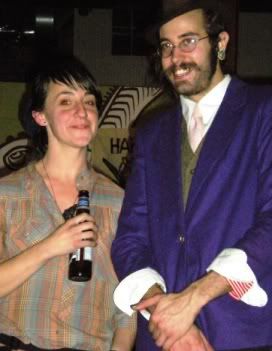 Ruth Hill, a long-time advocate for theater and storytelling, was among those participating in the opening Monday. Despite the recent loss of her husband of 60 years, storyteller, actor, dramatist, and minister, Brother Blue (Hugh Morgan Hill), she seemed in relatively good spirits. Hill says a tribute to Brother Blue is being planned for May 8 at the Cathedral Church of Saint Paul on Tremont Street in Boston.
Photos: David Goodman, 2010
OMB Audio: Mary Curtin, publicist, Maryann Colella, actor, and Mike Romayshyn, actor, musician, and composer, join Marc Stern and Dave Goodman of "RADIO with a VIEW" in a conversation about the Bread and Puppet performances at the Boston Center for the Arts Cyclarama the week of January 25 - 31, 2010. {recorded Sunday, Janaury 24, 2010)
Web resources