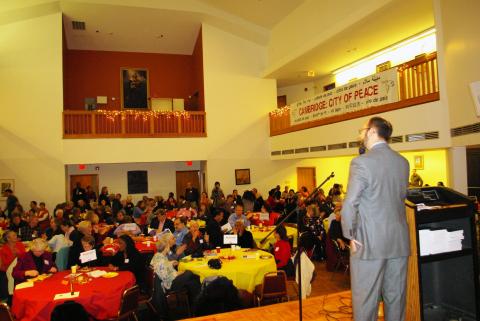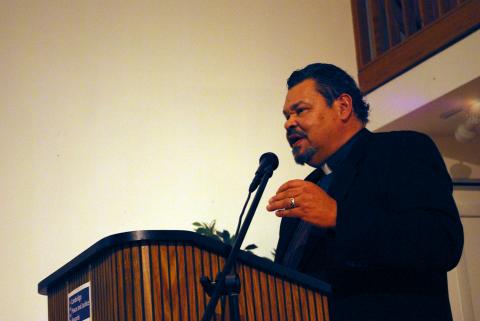 Cambridge Peace and Justice Awards Celebrate Local Peacemakers
20 November 2008 - 11:59pm
|
jpramas
by jpramas
Cambridge, MA - On Sunday, over 200 people attended the 2008 Cambridge Peace and Justice Awards at the Dante Alighieri Cultural Center. The event was organized by the Cambridge Peace Commission - a department of the City of Cambridge dedicated to promoting peace and social justice within the city and within the wider world, and one of only a handful of city-level governmental bodies focusing on peace in the United States. This year's theme was "Peace Begins at Home: Honoring the Peacemakers in Our Midst."
Following opening remarks by Cambridge City Councilor Sam Seidel, the award ceremony kicked off with a speech by Rev. Canon Edward W. Rodman, a Civil Rights Movement veteran and faculty member at the Episcopal Divinity School. Rodman focused on comparing 1960s civil rights activists' attempts to keep Rev. Dr. Martin Luther King, Jr. accountable to the popular movement from which he sprang to the need for today's social justice activists to do the same for President-elect Barrack Obama.
Individual Awards were then presented to Janet Gillespie of Community Change, Inc. [see link below for audio interview with Janet Gillespie], Richard Harding of the Cambridge Health Department/Men of Color Health Initiative and Port Action, Principal Robin Harris of Fletcher-Maynard Academy, Sheila Hoffman of the Community Art Center and Cambridge Public Schools, Charles Knight of the Project on Defense Alternatives and Women's Theological Center, Mary Leno of the Cambridge Women's Commission and Cambridge Community Television, Maria Elena Letona of Centro Presente and Third Sector New England, Bet MacArthur of the Cambridge Commission for Persons with Disabilities and St. Bartholomew's Episcopal Church, Officer Nicole Pacheco of the Cambridge Police Department, and Jada D. Simmons of the Fitzgerald Neighborhood Council and Community School.
Group Awards were presented to the Boston Area Rape Crisis Center, the Quaker Prison Fellowship of the Friends Meeting at Cambridge, the Student Mediation Team of Cambridge Rindge and Latin School, and Tarek El Jahmi and Zander Sebenius of Buckingham Browne and Nichols School and NoSweat.
Cambridge Peace Commissioner Brian Corr said, "It was a wonderful event and a great success. Rev. Ed Rodman's keynote address was exactly what people from all parts of our community wanted - and needed - to hear. His words touched our hearts and challenged our minds, reminding us that in the wake of the election, we must redouble our work for social transformation and social justice. And I was humbled by the amazing individuals and groups that received the awards, while remembering that every community has people who do incredible work without recognition or honor. It is so important for us to lift them up and recognize the peacemaking that goes on every day in our own communities."
Entertainment was provided by Veronique-Anne Epiter and School of Groove. Refreshments were donated by over a dozen area restaurants, markets and community organizations.
Web Resources:
License:
Creative Commons 3.0 BY-NC-SA