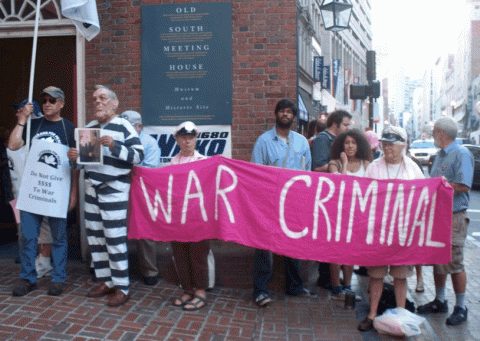 Charged After Rumsfeld Protest, Local Activist Alleges Wrongful Arrest by Boston PD
25 March 2014 - 8:39am
|
jadams
by Jonathan Adams (Staff)
BOSTON/Downtown Crossing – A local activist is suing a Boston Police Department officer for allegedly wrongfully arresting and charging him during a protest of former Secretary of Defense Donald Rumsfeld's visit to Boston. 
Shaun Joseph filed a lawsuit in federal court in Boston on March 14 against Boston Police Sgt. David O'Connor, alleging that O'Connor falsely claimed he was assaulted by Joseph.
Rumsfeld, who was speaking at the Old South Meeting House in September 2012 to promote his new book, was derided by local activists who called him a war criminal and highlighting his key role in the wars in Iraq and Afghanistan.
According to the complaint, the protesters held a "peaceful demonstration," and "peaceably marched and chanted their slogans without any problem," for more than an hour.
It is claimed that Joseph, who does not have a criminal record, "helped organize the event and was present for the protest rally."
During the protest, the complaint alleges that O'Connor "approached a female protester and told her that she could no longer use a bullhorn without a permit," but then a short time later "a male protester started using the bullhorn."
It is alleged that O'Connor "ran towards the male protester and attempted to grab it out of the protester's hands."
The complaint claims that Joseph then "went over, put his hands on the bullhorn and tried to tell defendant O'Connor that he was an organizer and that he would take custody of the bullhorn and make sure that no one used it."
At this point, it's alleged that O'Connor "falsely claimed that he was being assaulted" by Joseph, claiming that he been "struck him in the right forearm " in a kind of karate chop.
It is then claimed that another Boston Police officer pulled Joseph to the ground, but that he complied by putting "his hands behind his back for handcuffing without any assistance from police officers."
The complaint alleges that O'Connor "falsely claimed" that Joseph had "resisted the arrest by holding his arms underneath him and did not remove his hands without assistance from police despite orders to do so."
It is alleged that O'Connor "had no warrant for the arrest … no probable cause … and no legal cause or excuse to seize him."
After his arrest, it's alleged that Joseph was "placed in a holding cell and held for approximately three hours," and that O'Connor allegedly "intentionally prepared and submitted a false police incident report containing the above-fabricated facts," causing "a criminal complaint to issue against Mr. Joseph charging him with assault and battery on a public employee and resisting arrest."
According to the complaint, Joseph was arraigned on these charges on September 27, 2011, and that for 18 months, though he claims he "knew that he was innocent, he feared that he might be convicted of the false charges."
It is stated that the criminal charges against Joseph were dismissed by the Commonwealth on the day of his trial on March 7, 2013, and it's alleged that as a result of O'Connor's actions, Joseph "endured emotional pain and suffering," and "remains upset that he was arrested and falsely charged with crimes he did not commit."
Open Media Boston requested statements from the Boston Police Department and the city's Law Department, which represents the city and the police department in legal issues, but did not receive a response.
Joseph's lawyer could not be reached for comment before the filing of this report.
Photo courtesy of Michael Borkson, Boston, Mass.