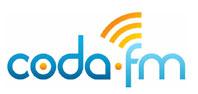 Coda.fm Is The Future of Music Torrent Sites
20 February 2009 - 11:47pm
|
Jesse K-S
by Jesse Kirdahy-Scalia
As the world witnesses the spectacle of the Pirate Bay trial enter its fifth day, a new and quietly growing music torrent indexing site adds albums, listens to user feedback, and provides new functionality. Coda.fm is the best little site for exploring music torrents we've seen since OiNK.cd was shut down in 2007. It's redefining what bittorrent can do for music sharing, and user registration is open.
Coda.fm opened to the public only a month ago, but it already has 5,000 registered users and more than 1,000 indexed torrents. What makes Coda.fm special is its exclusive focus on full album torrents. By narrowing the site's focus, it can optimize its user interface to make music browsing fun exploration rewarding. This also allows site moderators to manually check each torrent submitted to the site for correct metadata and torrent health. As a result, users are significantly more likely to find quality recordings on Coda.fm than by just searching The Pirate Bay or Mininova.
Usability
Coda.fm sports a clean, bright and attractive layout that makes relevant information immediately obvious to users, and provides consistent and instantly recognizable visual queues that aid navigation and exploration. Data types such as artist or album names are styled consistently throughout the site; whether on the front page, a search page, or an artist's bio page, an artist's name always looks the same. Additionally, each album on Coda.fm includes an album cover, a feature of meat-life music browsing I didn't realize I was missing online until I saw it again on Coda.fm. The same way album covers entice me to pick up a CD in a store or at a friend's place, they now entice me to add them to my torrent client's queue. These differences might not sound like a big deal, but try searching The Pirate Bay for Beck, and compare it to a Coda.fm search for the same artist. Slick auto-complete function aside, which would you rather browse?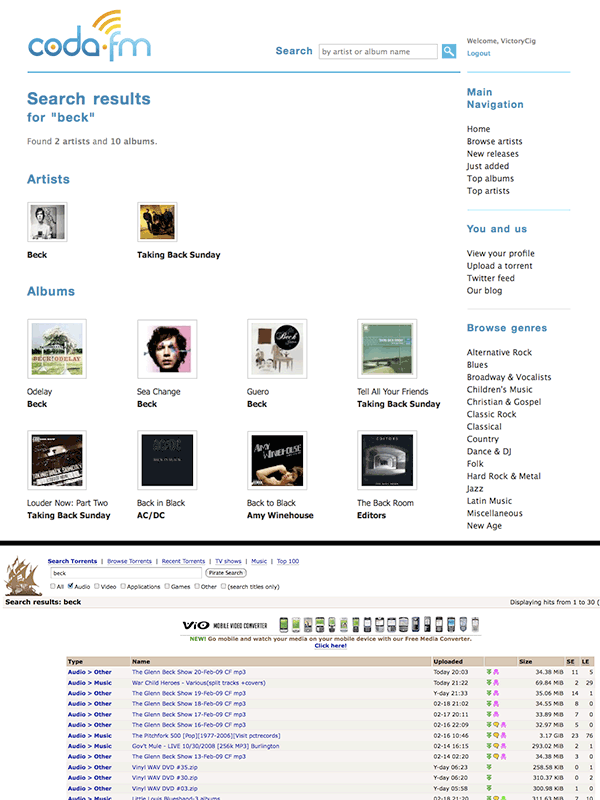 Coda.fm clearly wins the usability contest.
In addition to its excellent styling and layout, Coda.fm's information architecture is optimized for music browsing, and its navigation tools nicely compliment the back end. Unlike other torrent sites, Coda.fm is not merely a repository of disparate user submitted torrents without relation to one another. Instead, the database understands albums as subsets of an artist, and the front end demonstrates this by giving each artist their own page with a biography and populated with a list of their albums, sorted by release date. Even more impressive, each album page contains links to related artists, audio previews on Amazon and an often overlooked "buy on Amazon.com" link. With these features, Coda.fm is more than just an index of torrents, it's a resource for finding new music.
Catalogue & Quality
Though Coda.fm is still a baby, it's already walking strutting. Its database boasts more than 1,000 albums from 21 genres, with users uploading dozens of new torrents daily. Interestingly, it does all this without its own tracker. Rather than trying to attract users to its own tracker, which would require building a reliable community of uploaders and seeders, Coda.fm relies on established trackers like The Pirate Bay, and existing, healthy torrents to populate its database. Popular artists and albums are well represented, but users will have a harder time finding rare releases, live recordings and lesser known artists.
Quality of recordings varies from about 160 Kbps mp3 files and VBR to lossless flac files. One issue users need not worry about is metadata quality. I have not yet encountered a torrent with improperly or incompletely tagged files. Of course there must be a few, and for those problematic torrents, site developers are hard at work creating the back end required to allow users to report metadata issues.
Community & Communication
Since the majority of Coda.fm's user community does not create original content, and because the site does not track its own torrents, it might be best understood as a torrent aggregator. As such, it relies on its users to find and submit healthy torrents with quality files and metadata. Coda.fm's user profile page shows the user's torrent contributions to the site, comments and a list of any torrents in danger of being purged from the system due to inadequate seeders.
Because it relies so heavily on its community's participation, Coda.fm listens well to its users. A slick feedback mechanism on the site allows users to request new features and, using a digg-style list of top feature requests, vote to determine which should receive top priority. A quick scan shows half the top voted requested features are already in the works.
Coda.fm has several methods for pushing out news of recently added content. Two RSS feeds cover new album releases and recently added torrents, and the site's Twitter account tweets a steady stream of recently added content. The Twitter account, especially, makes it easy to quickly find desirable content as it is uploaded.
The Verdict
Coda.fm offers a simply beautiful user experience thus far unparalleled by other torrent sites, and even by some big online retailers (Amazon, I'm looking at your cluttered pages). If you like music, like free, like technology or hate the RIAA, I highly suggest you create an account, look around and download some albums. If you download torrents from other open trackers, take a moment to give something back to the community and submit the quality torrents to Coda.fm. Coda.fm has only just started, and has already demonstrated tremendous potential; this is a community worth joining and supporting.
License:
Creative Commons 3.0 BY-NC-SA