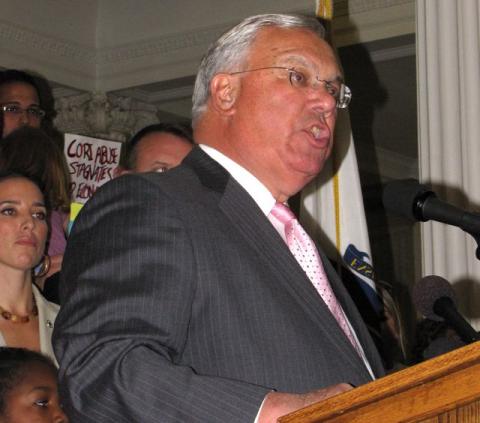 Commonwealth CORI Coalition Calls for Reform, Menino Agrees It's a "No Brainer"
2 July 2009 - 6:14pm
|
Jesse K-S
by Jesse Kirdahy-Scalia
BOSTON/State House - Mayor Thomas Menino joined other state officials Tuesday to voice support for CORI reform at a press conference held by Commonwealth CORI Coalition (CCC), a statewide coalition of more than 60 community organizations, labor unions and faith-based groups. CCC contends that Massachusetts' CORI system is broken and is promoting a CORI reform bill that they say would reduce criminal recidivism and joblessness.
View more photos from this event.
The CORI reform bill for which CCC is lobbying (History: H3523/S1608. Full text PDF) takes several steps to regulate the CORI laws that were originally enacted in the 1970s. Proposed reforms would:
Reduce the time it takes to seal criminal records to three years for a misdemeanor and seven for a felony (compared with ten and fifteen now)
Remove dismissed cases from CORI reports
Establish "fair hiring standards" for authorized and non-authorized CORI users
Remove CORI questions from first-level screen for job applicants
Mayor Menino spoke in support of CORI reform, saying, "It's about opportunity. It's wrong for a person to receive a life sentence for one mistake. We need CORI reform. We need it now because we all know it works." Mayor Menino listed several city-level changes to CORI, including eliminating the CORI box from applications. "CORI reform works in Boston. It can work in the entire state. [...] This is a no brainer. Why should we give individuals a life sentence for making one mistake?"
Suffolk County Sheriff Andrea Cabral addressed the crowd, saying, "The costs of incarceration are unsustainable now and continue to increase. When Criminal Offender Record Information is used inappropriately to bar access to employment, housing or higher education, people resort to whatever means are available in order to survive. Recidivism goes up, public safety suffers and the costs of corrections increase. We know what the problems are; let's fix them."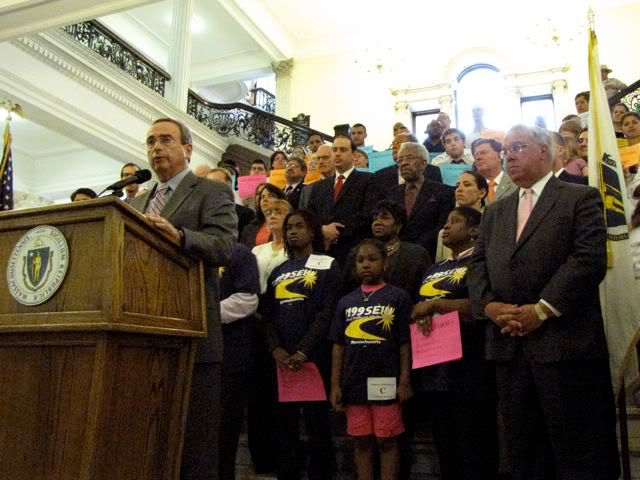 Secretary Kevin Burke speaks in front of Mayor Thomas Menino and supporters of CORI reform.
Opponents of the proposed CORI reforms include the Massachusetts Distract Attorney's Association, which argues on its site that "In an age of digital information and the internet, the CORI laws try to put the genie back in the bottle," by regulating access to information that was once public. The MDAA is concerned that restricting access to CORI records may hide important information from employers and law enforcement officials.
Executive Director of Boston Workers Alliance, Aaron Tanaka, told Open Media Boston that CORI and its rules for records access were never intended for public access. According to Tanaka, CORI regulations were written in the 1970s primarily for sharing information between criminal justice agencies, but that over the years, "through the private background check system, and through the CORI system itself, the number of employers who have access has grown tremendously." Proposed reforms, Tanaka said, would update CORI laws to account for the ease of data access in modern information systems. "We're really cleaning up a mess from the lack of regulation that has allowed the CORI discrimination to become the crisis that it has today."
Tanaka said reforms will give applicants with CORI records a fair chance during the hiring process, without preventing employers from accessing relevant information. "One of our key reforms is to remove the criminal record question from initial job applications. We're not saying that employers can't obtain that information, but we're saying is they shouldn't be asking it before they have the chance to consider the applicant's resume or qualifications."
Listen to the entire press conference by streaming it from the Internet Archive:
License:
Creative Commons 3.0 BY-NC-SA