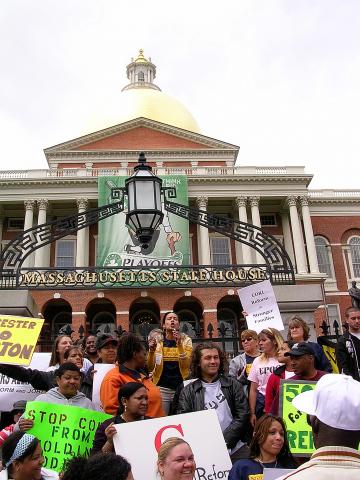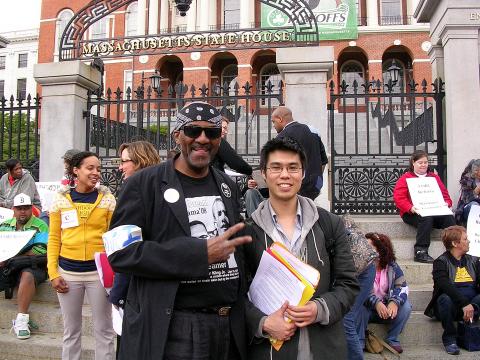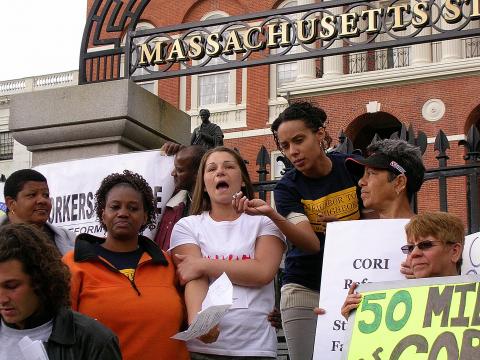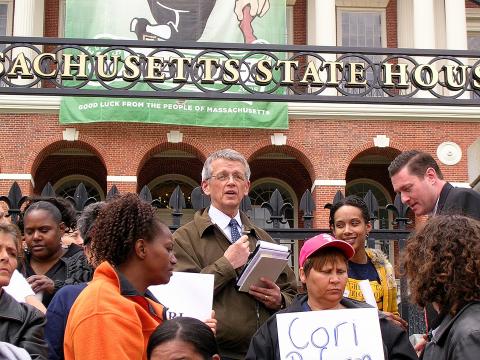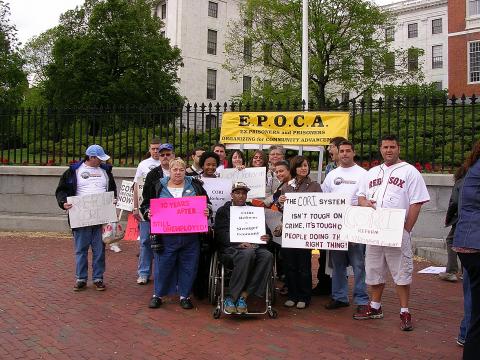 CORI Marchers Welcomed by State House Rally
23 May 2008 - 11:32am
|
jpramas
by Angela Caputo-Papastamos and Jason Pramas (Staff)
BOSTON/Beacon Hill - After marching for 5 days from Worcester to Boston for reform of the Criminal Offender Record Inquiry system in Massachusetts, a group of over a dozen ex-prisoners and supporters led by members of Ex-Prisoners and Prisoners Organizing for Community Advancement was received by a lively 250-person rally in front of the State House yesterday. Allies from labor, community and religious groups from across the Commonwealth were on hand.
"50 miles is nothing compared to the pain and suffering we've endured for CORI Reform," said Debra Murray, Neighbor to Neighbor Springfield Coordinator , "And we didn't march for nothing ... if I have to, I will march to the White House."
The march and rally are part of a growing movement to change a system that advocates believe keeps ex-prisoners out of decent jobs, housing and volunteer opportunities long after they've served their time and completed probation. Regardless of type of offense they've committed.
"It doesn't matter if you're innocent, guilty, or your case was dismissed - you still have a CORI, and no second chance," said rally MC Wilnelia Rivera, another Neighbor to Neighbor staffer.
Advocates are asking state government for 3 changes to CORI: shorten the time period for sealing records to 7 years for felonies and 3 years for misdemeanors after completion of probation (currently at 15 and 10 years respectively), remove non-convictions from the CORI system, and institute fair hiring practices by removing the standard section asking ex-prisoners to "check the box if you have a criminal record" from hiring applications.
"I have a non-conviction CORI record from over twenty years ago and it's branded on my forehead like a scarlet letter. No matter what I do, I can't get a job," said Judith Foster," Boston Workers Alliance member. "We need to change this broken system to give single-mothers like me a chance to support our families."
Despite the attendance of a couple of politicians, including State Senator Edward Augustus (D-Worcester), CORI reformers still have a uphill battle in state government before reforms will be enacted. As such, attendees spent the rest of the afternoon inside the State House lobbying legislators in the midst of ongoing annual budget hearings.
For more information, check out the websites of Boston Workers Alliance and Neighbor to Neighbor.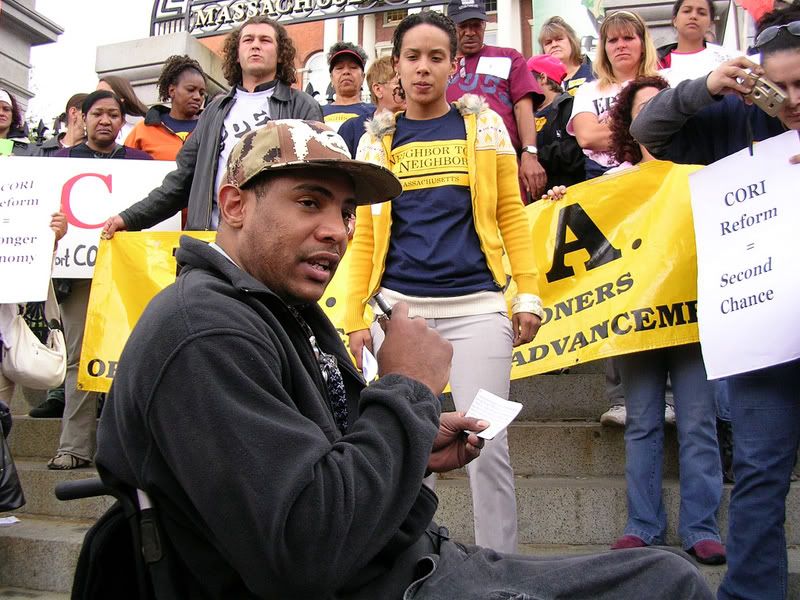 License:
Creative Commons 3.0 BY-NC-SA