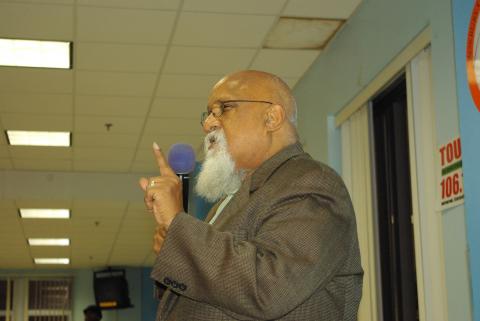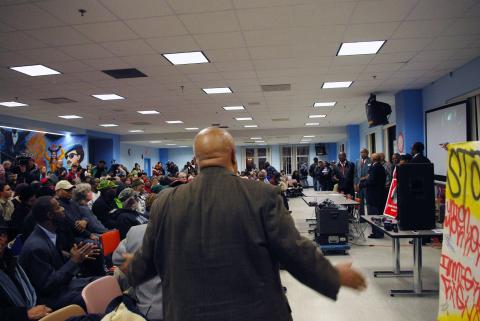 Councilor Turner Rallies Supporters; Accuses U.S. Attorney Michael Sullivan of Engineering His Arrest for Political Gain
12 December 2008 - 11:06pm
|
superuser
by Jason Pramas
BOSTON/Roxbury - City Councilor Chuck Turner (G/R - District 7), fighting off charges that he took a $1000 bribe in an FBI sting operation, rallied his constituency to his side at a diverse 300 person rally at Roxbury Community College on Tuesday. Towards the end of the two and a half hour event, Turner also leveled accusations at U.S. Attorney Michael Sullivan that his November arrest was really about laying the ground work for a gubernatorial run by Sullivan in 2010.
Turner was arrested at his City Hall office three weeks ago by U.S. Marshals and taken immediately to the U.S. District Court in Worcester for arraignment based on information contained in an FBI affidavit - the result of a months-long investigation that also netted former State Senator Dianne Wilkerson.
The affidavit claimed that Turner took money from a "Cooperating Witness" now known to be Ron Wilburn, a local nightclub manager, ostensibly in exchange for helping Wilburn obtain a liquor license at a reduced rate. Turner was arraigned, released on $50,000 bail and returned to work at his office the evening of the day of his arrest. Since that time he has organized a growing community campaign to help him prove his innocence and keep his City Council seat in the face of fierce attacks from local media and other politicians.
The RCC rally was the third large event held in Turner's support since his arrest and featured major speeches by Turner punctuated with videos, and other speakers. The purpose of the event was to point out the political dimensions of Turner's arrest, and encourage the public to question the FBI case against the councilor. Attendees were encouraged to talk to everyone they could about the situation.
"What I'm struggling with," said Turner, " is trying to get people who at least say 'you know there's a reasonable doubt that this is all just bogus and made up' ... there is a reasonable doubt that this is just a fan- not a fantasy. It's something that they created to try to mislead us in terms of the characters of the elected officials who they're targeting. So go to the website, supportchuckturner.com, and look at the talking points, and take the ones out that you think make sense to you, and then think about other talking points, and then go out, and every opportunity you have, don't go out there to say 'oh Chuck Turner is not guilty or he's such a good guy,' but really go out to try to stimulate them to think."
After detailed explication of his perspectives on his arrest, its ramifications, his basic dismissal of the government case against him as frivolous, and how his constituency could get involved in the campaign for his exoneration, Turner laid out his theory that U.S. Attorney Michael Sullivan engineered the arrests of Wilkerson and himself to help win white votes in the upcoming race for Massachusetts governor. Sullivan's name has been mentioned as a possible Republican contender to run against Gov. Deval Patrick in the next race for the Massachusetts Governor's seat. Turner also pointed out that it was possible a Democratic U.S. Attorney might just drop the charges against him upon taking office next year.
"Why did [Sullivan] put a case out that was so weak. He put out a case that was so weak because he knew he wouldn't be around to have to defend it. Understand what I mean? That is, on January 21st, he walks. He walks away. He walks away to run for Governor. And what's he going to say 'well, maybe the Democratic U.S. Attorney he dropped the case,' but you know that's because the Democrats - and I'm a Green, but they'll still use that piece. That is that while he's out there on the campaign trail, running against Deval Patrick, he will be saying 'look at me, I'm the great giant slayer, I got ... you know she hasn't been convicted yet, but, you know, you saw, you know, I knocked her down. You know, Turner, I said they were co-defendents, I put them together; so I took both of them down at one leap.'"
Turner concluded, "This is about politics, brothers and sisters. This is about manipulation of the consciousness of the people of the city and the state in order to further the political ambitions of Michael Sullivan. You know, you need to talk to people about that fact and watch Sullivan, watch what he's doing, watch to see if he's going to try to use this situation that he has concocted to in fact persuade voterd. He knows he's not going to get many black votes right? So his strategy is to try to get as many white voters as possible. And what better way to prey on the consciousness of white voters than to say 'Look at what I did. You know those two people they had big mouths and they were making us feel, you know, uncomfortable, and raised some issues that didn't need to be talked about, but look at me. I knocked them down.'"
Turner was joined at the podium a number of supporters including Charles Clemons of Touch 106.1 FM, spoken word artists Maya X, and Rosalyn of Reflect and Strengthen, hip hop artists The Foundation Movement, and the Silver Leaf Gospel Singers. He attended a scheduled court hearing at the Moakley Courthouse on the Boston waterfront the next day - where a count of conspiracy was filed against him and Wilkerson - bringing the total number of charges against him to five. Turner's wife, who is also his campaign treasurer, was subpoenaed yesterday by a federal grand jury and ordered to turn over all Turner campaign documents for the last 4 years.
Open Media Boston will continue to follow this story as it develops.
License:
Creative Commons 3.0 BY-NC-SA