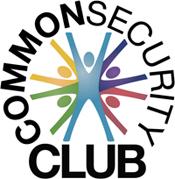 For Economic Insecurity, Common Security Clubs Promoted As Way to Create A New Economy
10 July 2009 - 6:42pm
|
RadioView
by Dave Goodman (I.B.I.S. Radio)
BOSTON/Jamaica Plain - On the third floor of Building L at the Brewery Complex in Jamaica Plain, staffers with the Institute for Policy Studies, the Forum Organizing Project, and the Jamaica Plain Forum, are laboring over a critical question for our times: how to pull people out of the quicksand that is the U.S. economy.
Andree Zaleska, Director of the Forum Organizing Project and Chuck Collins, Institute for Policy Studies Senior Scholar, and their partners with the Grassroots Policy Project and On The Commons, think they have a pretty good answer: "common security clubs."
Inspired by such historical organizations as mutual aid societies and economic cooperatives, these activists believe cooperation and collaboration between and amongst individuals must eventually supplant the "winner take all" and "pull yourselves up by your own bootstraps" attitudes Americans are taught from Kindergarten through old age.
On Common Security Clubs, Collins says "it's a small group, coming together; it's independent, it could be secular...some of them are connected to union locals or neighborhood groups, [and] some of them are connected to religious congregations."
The point, say organizers, is to encourage people to work on solving their economic difficulties along with others facing similar problems. The power of working together, in a cordinated way, sharing information, in a social environment, is an old idea but mostly forgotten or ignored by many Americans.
Several clubs currently meet in the Boston area. A number of others have cropped up in other states as well. Organizers recently held a meeting at the First Church Unitarian Universalist in Jamaica Plain to promote the concept and sign up more people.
OMB Audio:
Open Media Boston and I.B.I.S. Radio's Dave Goodman prepared the following story about Common Security Clubs:
Web Resources:
http://commonsecurityclub.org/
http://www.forumorganizing.org/
http://www.grassrootspolicy.org/
http://onthecommons.org/
http://www.ips-dc.org/
Contact for Common Security Clubs: Andree Zaleska
forumorganizing (at) gmail.com