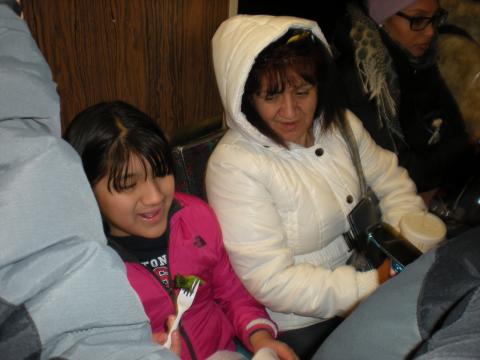 Edge of the Precipice: Mother and Daughter Look For Help Following Eviction
13 March 2014 - 5:02pm
|
RadioView
by Dave Goodman (Staff)
BOSTON – The question hangs there in the air all day, like a kite buffeted in a strong wind. How do you find the strength to go on? For the 49 year old mother, giving up can not be an option: her child needs a place to live.
In 2006, she and her husband bought a triple decker in Dorchester for $545,000; more than likely an extremely inflated number. (Within five years, the value of the building and land combined had dropped to $339,000 according to the City of Boston Assessing Department website.) It was a time of nearly unchecked real estate speculation and what government investigators and activists call "predatory lending." Keeping stable tenants in the building also was a struggle.
Lehman Brothers owned the mortgage and when monthly payments ballooned to more than $5,000, she had few options. She was already working two jobs.
Housing activists held demonstrations to draw attention to the family's plight and make calls for the bank to modify the terms of her loan.
Eventually, Lehman would reject offers from two local non-profits to buy the house at current market prices and instead sold the property to a real estate investment firm; absorbing a loss on the deal. Arguments in Boston Housing Court were not enough to prevent eviction by the new owners, Wallace Property Company of Boston.
An arrangement was struck to have the family stay in the home and pay rent for an additional eighteen months; ending on February 28 of this year. That left all legal means of staying in her foreclosed home exhausted.
When her situation became dire in the fall of 2012, she applied for public housing in Boston. She's still on the priority waiting list; the likelihood of a two to five year wait for public housing looking more and more possible.
So what happens now?
Clerida Rodriguez and her ten year old daughter Yaritza Guallpa spent Monday, March third - the first business day following the last day she was allowed to stay in her house in the Four Corners neighborhood of Dorchester – visiting the state agency responsible for emergency housing and her state Senator, seeking help finding shelter for the night.
The alternative, she would repeat in her native Spanish more than a few times during the day, was to sleep in her car, or possibly in a friend's unheated basement.
The high temperature that day barely reached 25 degrees.
First thing that morning at 8:00 am, Ms. Rodriguez visited the neighborhood office of the state's Department of Housing and Community Development (DHCD), located within the Department of Transitional Assistance's (DTA) Dudley Square center in Roxbury. Accompanying her was Maria Christina Blanco, a Tenant Organizer with the Jamaica Plain-based housing advocacy organization City Life (http://www.clvu.org) / Vida Urbana and who speaks Spanish.
Among its many activities, City Life conducts eviction blockades on behalf of residents whose homes have been foreclosed and who wish to delay the execution of eviction orders delivered by Housing Court constables and local police. In Ms. Rodriguez's case, the organization held vigils outside her home, but not a full bore blockade.
Spending this much time to help an individual navigate the system post-eviction, said Blanco, "is unusual for us. But Clerida all along has been willing to share her story, and we want to make sure she's ok."
Primarily, City Life and its Bank Tenants Association focus their resources on homeowners in foreclosure proceedings and tenants facing no-fault evictions. It's difficult to rate their work as a practical success as they haven't stopped many evictions. But the organization's activities on behalf of homeowners and tenants in distress indisputably have increased the visibility of the housing crisis locally and inspired groups around the country to follow their "radical organizing" approach to housing advocacy.
Soon, said Blanco, the organization will expand to include organizing homeless people and providing "relocation services and housing search counseling;" the result of stipulations in grant funding recently made to the organization.
Arriving to the DHCD office early, Ms. Rodriguez received a good number, 3, meaning she wouldn't have to wait too long to be screened. Reminded by agency staff that she needed to show proof of homelessness, she had to run back to her car to retrieve several documents outlining the 2012 court settlement that allowed her to stay in her home temporarily and pay rent to the new owner.
Otherwise, she was able to meet with an agency representative relatively quickly; in about fifteen minutes. There were three or four other families waiting for hearings; all with suitcases presumably filled with their most important possessions such as clothes and toiletries.
Since reporters are not allowed to sit in the DHCD waiting room, according to supervisors in the Roxbury office and the agency's downtown Boston communications department, it was impossible to explore the circumstances of any of these other families. Downstairs in the basement DTA welfare office, this writer waited three hours among a standing room only crowd of people meeting case workers, picking up food stamps, and verifying state assistance eligibility.
The mood seemed to shift from expectation to despair as a constant stream of needy applicants filled the room and lines swelled.
During that time, Clerida Rondriguez made her case for emergency shelter to Department of Housing and Community Development staff.
Background
Waiting times for public housing can be very long. Blanco, she said, was told by Boston Housing Authority staff that BHA properties have a 98.9 percent occupancy rate and that 14,000 people currently are waiting for placement. Most of them have the same priority one status as Ms. Rodriguez.
According to state officials, more than 4 thousand families are living in emergency shelters or motels in Massachusetts.
Statewide figures released by the DHCD in November indicate that requests for emergency assistance are up significantly over the previous fiscal year. Nearly 3,800 families applied for emergency housing during the first quarter of the state's 2014 fiscal year - which began in July 2013 – a 29 percent increase in requests from the start of fiscal 2013.
The agency found shelter space or motel rooms for nearly 1,800 families during that time; up 64 percent from the previous quarter and 41 percent higher than the same time in fiscal 2013.
Shelter applications precipitated by evictions showed a slight improvement between April 2013 and the end of the year in the figures available from DHCD. Seventeen percent of 2014 second quarter applicants needed help as a result of evictions or threatened evictions, compared with 18 and 20 percent in the two previous quarters.
It's clear from the numbers that a steady amount of people are facing homelessness while the state tries to keep up with the increased overall demand for emergency assistance. Housing activists, however, insist the government needs to be doing much more.
In a February 24th Boston Globe article by Laura Crimaldi, advocates are quoted as saying that recent increases in state funds for housing assistance such as rental vouchers are inadequate to meet rising demand.
Libby Hayes, Executive Director of the organization Homes for Families told the Globe: "We have more families than ever that are finding themselves homeless for a variety of reasons, be it foreclosure, a lack of affordable housing, job loss, working in jobs that don't pay enough for rent."
Testifying before the state legislature's Joint Committee on Ways and Means on Friday, March 7th, advocates and affected families argued for a more than fifty percent increase in funding for the Massachusetts Rental Voucher Program – from the 57 million dollars proposed in Governor Deval Patrick's 2015 budget request to 87 million – Homes for Families Communications Director Jamie Minton told Open Media Boston.
Describing the work being done by her organization while the Governor's supplemental budget is reviewed by the legislature, Minton said they are "…prepping, info sharing, meeting with others and gearing up for it."
Interviewed for the Globe article, Stephen Brewer, the Chair of the Senate Ways and Means Committee and thus that body's top budget official, said "Any time that we can keep kids from being in motels is a meritorious endeavor." About twenty five percent of a proposed $196 million supplemental budget, he told the newspaper, is targeted for emergency shelter and assistance.
None of which will help Clerida Rodriguez and Yaritza Guallpa immediately.
Rules of eligibility                                                                  
On March third, DHCD denied Clerida's request for emergency shelter.
According to state guidelines, families of two are eligible for shelter placement if they lose their home and earn $1,507 a month or less. But Ms. Rodriguez makes about $2,100 a month as a supervisor in a Hyde Park factory that manufactures curtains and draperies.
Housing advocates say that's not enough to afford market rents in Boston. According to surveys done by real estate companies that keep track of housing trends, in 2012 monthly rents in the city averaged about $1,900. This amounts to 90 percent of Clerida Rodriguez's monthly gross earnings. After taxes she takes home closer to $1,600 a month. How low and middle income families manage in places such as Boston and New York and San Francisco, where housing costs are so high, seems like a mystery to most people.
(Later in the day, state Senator Sonia Chang-Diaz would tell Ms. rodriguez, in her opinion, "esta loca" – it's crazy - that the system must deny assistance to people just over the wage limit threshold.)
The Patrick administration has been attempting to address the problem. In January, for example, officials with the Executive Office of Housing and Economic Development (EOHED) announced a program of planning grants for cities and towns with the intent of supporting the creation of both market rate and affordable housing units.
The funds allocated for these Planning Assistance Towards Housing (PATH) grants amounts to $600,000 and application guidelines will be issued in April, according to an official press release. The money for strategic planning will be distributed throughout the state.
Ms. Rodriguez, for her part, wants to stay in or near Boston. In addition to her job, her daughter attends the bilingual Hernandez Elementary School in Jamaica Plain where she is doing well as a fourth grade student. She also receives counseling nearby; the consequence, her mother says, of dealing with the trauma of having her father deported by the U.S. to his native Ecuador.
A trip to the State House
Following Clerida's rejection at the DHCD, City Life's Maria Christina Blanco decided to try her hand at politics; specifically, a trip to visit the office of Senator Sonia Chang-Diaz up at the State House. But not before taking Yaritza, who had missed out on breakfast, for a bite to eat.
We took the MBTA to Park Street. During the train ride, Blanco spoke of several new campaigns to prevent homelessness including the "Can't Wait List."
Launched this month by the Brooklyn, NY based Right to the City Alliance as part of the national "Homes for All" campaign, "Can't Wait" recruits people most affected by poverty and homelessness to tell their personal stories and join local organizing efforts.  The goal, according to the campaign's website is to build "the power of our communities to advocate for local and national policies that will expand truly affordable, quality housing." "Homes for All" defines affordable as "housing that is free from the threat of displacement, quality, community-controlled, accessible, environmentally sustainable, and affordable to all.
Blanco had sent press releases describing Ms. Rodriguez's situation to various state legislators and media outlets. So when mother, daughter, advocate, and a reporter arrived to the office of State Senator Chang-Diaz, her staff was ready.
Legislative Aides Angela Vo and Hannah Hastings and Senior Assistant Felipe Zamborlini jumped from their desks to welcome our group. In the course of about three hours, Vo would be in touch with the Mayor's office, the Department of Neighborhood Services, and the Boston Emergency Shelter Commission. In turn, Hastings, who also serves as the Senator's Communications Manager, Zamborlini, and Chang-Diaz would have long conversations with Ms. Rodriguez in Spanish. Several times, she fought back tears as the Senator and her staff listened intently to her story.
At this point in the afternoon, the question of whether or not she and Yaritza would have a place to spend the night was very much unanswered.
Vo noted that legislators are talking through some ideas on how to help people working full time who lose their homes.
Chang-Diaz, who represents the Second Suffolk district covering much of Boston, serves as Senate Chair of the Joint Committee on Education. She sits on a diverse set of committees including Children, Families and Individuals with Disabilities, Tourism, Public Safety, and Bonding, Capital Expenditures and State Assets.
Ms. Rodriguez, who by three p.m. seemed exhausted, expressed gratitude to the Senator and her staff for understanding that homelessness too can be perceived as a threat to public safety.
Working the phones
Following their initial conversations, Vo arranged for City Life's Blanco to use a conference room on the first floor. Armed with a list of shelters and other resources given to her in the morning by staff at the DHCD, she called around, looking for space in shelters that offer emergency overnight stays in their community rooms. Unfortunately, the list provided by DHCD was out of date and at least a dozen calls turned up no leads.
Ms Rodrigues was happy to discover that Boston Mayor Martin Walsh is continuing the policy - started by his predecessor - of mobilizing city resources to make sure that no one has to sleep outdoors when the temperature goes below freezing. Staff with the Emergency Shelter Commission, now responding to calls from Chang-Diaz's office, referred Blanco to Family Aid Boston, a shelter and support services provider. If Family Aid couldn't help, they told her, contact Shelter Commission staff again; they would find somewhere for Clerida and Yaritza to stay overnight.
Fortunately, Myra Ackerman, Program Manager of Family Aid's Rapid Re-Housing Program took Ms. Rodriguez's  story over the phone - asking questions about her income and housing status – and offered help. Emphasizing this was at best a short-term placement, Ackerman told Blanco she was confident the shelter would find a spot for Clerida.
By now it was 4p.m. and because the intake screening takes more than an hour, Ackerman told Blanco to call the Mayor's Hotline after 5 and they would refer her to Family Aid's night crew.
The shelter organization conducts its intake screenings at Boston Medical Center. Yaritza, who was on a tour of the State House with Filipe Zamborlini from Senator Chang-Diaz's office, quickly was called back to her mom.
With renewed confidence, Ms. Rodriguez and her daughter headed to Boston Medical Center. Following a handful of snapshots in the hospital lobby, this reporter made for home with assurances from Blanco she would let Open Media Boston know how things turned out. I made sure to thank Clerida Rodriguez for allowing me to tell her story.
The upshot
Family Aid found a room in a motel in Charlestown, keeping the mother and daughter within the city so the two could go to work and school the next day.
In an email sent to Senator Chang-Diaz last week, Blanco said she and Clerida Rodriguez "…want to thank you from the bottom of our hearts for your extraordinary time and attention yesterday to hear her story and connect her and her daughter with emergency shelter services.
[Family Aid] extended the stay for the next 10 days. Meanwhile, Family Aid [is providing] intensive case management services and will meet with Clerida twice a week to help her follow up on all the subsidized housing applications she has made and continue to assist her with housing search, budgeting, etc."
This story is far from over. The ten day motel stay ends this week, and in all likelihood, Clerida and her daughter will be moved to another motel; possibly outside of Boston.
To be continued...
License:
Creative Commons 3.0 BY-NC