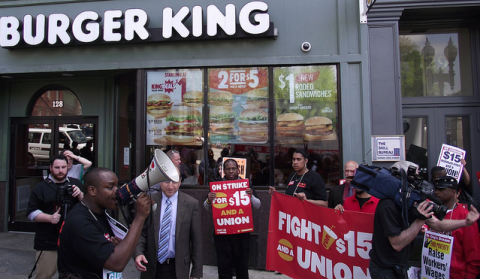 Fast Food Workers Demand $15 Minimum Wage and Unionization
16 May 2014 - 4:24am
|
jadams
by Jonathan Adams (Staff)
BOSTON – Fast food workers and their supporters in the Fight for $15 and a Union campaign hit out at Burger King and other minimum-wage employers in a demonstration on Tremont St. in Boston on Thursday.
Over 400 protestors were critical of fast food jobs paying far below the city's living wage, and are demanding a $15 per hour minimum wage across the Bay State, and the right to a form a union without retaliation from employers.
An earlier demonstration also was held in Dorchester, and both were part of a nationwide campaign with concurrent protests taking place in over 150 cities across the US, as well as 33 other countries.
Kyle King, a Burger King employee, told demonstrators that he has been working at the fast food chain for ten years, and during that time he has only received a fifteen cent pay raise above minimum wage. He said "it gets harder when I go shopping, and I just really can't afford to buy the stuff that I really need to buy.
"I haven't paid rent in three years," he continued, "I'm fortunate enough to have a loving brother that allows me to live rent free until this gets resolved, because it needs to get resolved, and it needs to get resolved right now."
State Senator Dan Wolf (D-Harwich), who's also chair of the labor and workforce development committee, spoke to protesters about the "proud tradition" of labor unions that organized for better wages and conditions in the city.
He said "this is about everybody coming together and speaking with one voice … balancing out some of the imbalance of power and economic might in this country … we need to come together and organize in a union, because by organizing in a union that's how we speak with one voice, that's how we build power, and that's how we speak truth to power.
"We know the myth that people working in establishments like this are college kids who don't really need to make more money; we know that families are living on the wages that are being paid in establishments like this; we know that people are working 40, 50, 60, 70 hours a week, both parents are working, kids are working, and so to put this country back on track … it starts with organizing and demanding more wages, and better working conditions," he continued.
Darius Cephas, who works at McDonald's and previously worked at Popeye's and other fast food chains, told the demonstrators, "we're tired of working for the same people every day … and they can't spare a couple of dollars for us to live, to maintain, for us to live for us, we're trying to fight back for us, we're trying to survive, we're tired of it, we're looking at the same wall, the same thing, the same check week, nothing changes, year by year, nothing changes, no raise, we're tired of the same thing."
Chris Cosby, who works at an unspecified fast food company, told demonstrators about the difficulty of working in hot conditions, risking injury, and dealing with disrespectful customers at times.
He said "we need to stick together; make this so that we're in a union, so that way we have control and security [in] our jobs," adding that "we need working conditions that are going to work for us."
Boston City Councilor Josh Zakim told demonstrators that he believes "that no-one should be working full-time and living in poverty, and making sure that to be one injury, or one sickness, or one child's illness, and being one step away from being out on the street is unacceptable in the year 2014 in the United States of America.
"Collective bargaining unionizing is a right in the United States of America, it should be a right in Boston, it's something I want to stand with all of you … to make sure that folks are paid a living wage, $15 an hour, to make sure people can work and live, and provide for their families in a way that's acceptable in the 21st century in America," he continued.
Burger King responded to the demonstration in a press statement, saying it is "aware of activity in a number of the communities where we do business," and that it "respects the rights of all workers."
It claims that Burger King "restaurants have provided an entry point into the workforce for millions of workers, including many … franchisees who began their careers working at local … restaurants."
The company, and the "franchisees who independently own and operate 99% of [the] restaurants support and invest in the thousands of restaurant team members across the [chain]," according to the statement.