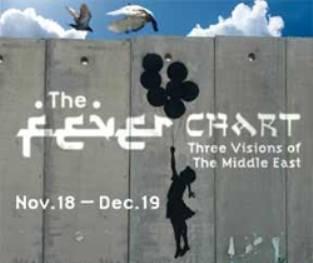 "The Fever Chart" Opens Underground Railway Theater's PowerPlays and Possibility Series at Central Square Theater
21 November 2010 - 1:14pm
|
RadioView
by Dave Goodman (I.B.I.S. Radio)
Cambridge, MA - The definition of the word intractable says a lot about the situation in the Middle East: "a problem that is so hard…that it cannot be solved; resistant to treatment."
The parties to the conflict – the governments of Israel and the U.S., the Palestinian Authority, and Hamas – often exacerbate the crisis by encouraging debate over which group is right or wrong rather than towards the search for a reasonable political solution.
On a personal note, my grandmother and I used to argue about Israel frequently. "Why shouldn't the Jews have a state?" she would ask, never forgetting to remind me of the six million killed by Nazi Germany.
For several years after her death at the wizened age of 94, I felt guilty that I spent so many hours arguing with her about human rights and land grabs and Jews committing their own heinous crimes in the name of protecting the motherland.
It's taken some time and reflection, but I realize now that our heated conversations were one of the few things keeping my grandmother's mind sharp even as her body deteriorated.
But what difference does it make for a couple of Americans to argue about events taking place nearly 6,000 miles and several cultures away? After the verbal dust settles, Palestinians and Israelis are still peering over their walls at each other with disdain and distrust.
Thankfully, this pessimistic attitude isn't shared by artists and filmmakers and playwrights who feel called to make political activism an essential ingredient in their creative process.
Take Naomi Wallace – whose play "The Fever Chart: Three Visions of the Middle East" opened Thursday at the Central Square Theater in Cambridge and continues through Sunday, December 19th.
The Fever Chart - a trio of dreamlike sequences exploring politics and personal relationships within the context of war and occupation - opens the PowerPlays & Possibility series produced this theater season at the Central Square Theater by the Underground Railway Theater.
In a 2007 interview with Britain's Guardian Newspaper, Wallace, a 1999 MacArthur Fellow and winner of several other awards including an Obie and the Susan Smith Blackburn Prize recognizing outstanding work by women playwrights, referred to herself as "…an optimist, an angry optimist. The small things we can all do; that's enough for me. I don't look for goals or wins; my history is longer than that."
Recently, Open Media Boston and I.B.I.S. Radio spoke with two of the Fever Chart actors to discuss finding truth in the theater and on the ground of the conflict.
Najla Said plays an Israeli Jewish nurse, Tanya, in the second of the three sequences, "Between This Breadth And You." (She also happens to be the daughter of Edward Said, long considered one of the most thoughtful spokespersons for Palestinian rights, until his death in 2003). Ken Baltin portrays two characters: Mourid, a Palestinian elder in "Between This Breadth and You" and Sholmo, an architect and Russian-Jewish immigrant to Israel, in the first act, "State of Innocence."
OMB Audio: Excerpt from interview with actors Ken Baltin ad Najla Said
Editor's Note: OMB is attending the press opening on Sunday, November 21st, and following that will publish a more in-depth treatment of the play.
Web Resources:
http://www.centralsquaretheater.org/