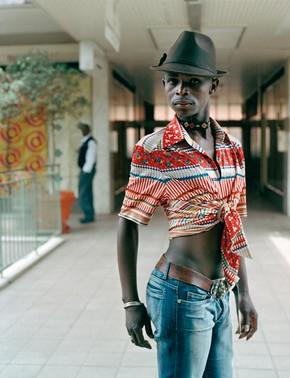 Figures & Fictions: Contemporary South African Photography
5 July 2011 - 12:00am
|
superuser
by Sue Katz
The Victoria and Albert Museum in London has magnificent collections of objects housed in an extraordinary building, but I go there rarely, as so much of their permanent collection is, in fact, colonial plunder. Too often I have left enraged at the flaunting of stolen goods or disturbed by what must have been a lifetime of work identified with its owner and not for the unrecognized craftspeople who created it.
I could not, however, forego a look at the exciting "Figures & Fictions: Contemporary South African Photography," having seen bits and pieces of reviews and images from the collection. Using of the last decade's work of 17 photographers – many very young, a few middle aged and perhaps just one pre-freedom veteran David Goldblatt (b. 1930) – this is a profoundly political look through lenses that are engaged and committed.
The first featured photographer is so powerful that every subsequent image I see – 150 of them by 17 photographers – has to stand in comparison. Zanele Muholi (b. 1972) has two sections. The first is a series of black and white images of lesbians, from femmes to cross-dressers, from sweet to swagger (see above). Her second set (on left), in bright colors, features gay men in costumes that transgress traditional masculinity. Although S. Africa was the first country to enshrine gay rights in its constitution, there is still tremendous, threatening bias, making the super-confidence of her subjects all that more absorbing.
Sabelo Mlangeni (b. 1980) also looks at gender rebels in his "Country Girls" (on left) series of rural male cross-dressers who pose awkwardly in the outfits they have managed to cobble together, high-heels here and ill-fitting skirt there. In the backgrounds, their settings are often painfully poor. In fact, costumes play a surprisingly large role in a number of the works in this exhibit. Mlangeni's other series "Men Only" follows the residents of a shabby workers' hostel in Johannesburg. It is an intimate introduction to an environment I knew less than nothing about.
The impact of poverty and tragedy on S. Africans is a recurring visual in this show. Santu Mofokeng's (b. 1956) series "Child-Headed Households" captures the life of siblings who, having lost their parents to AIDs, are holding their families together around the vacuum.
In "Terreno Ocupado,"Jo Ractliffe (b. 1961) documents life on the border between S. Africa and Angola where the 1970s and 80s war was fought. The title of one large image highlights the 'Woman on the footpath from Boa Vista to Roque Santeiro Market' (above left) at the bottom of the frame, but above her looms two massive mountains of garbage in the valley of which is a flimsy shanty town. The horror of it is seared into my mind's eye and I have been unable to shake a sense of desperation that such conditions exist. Guy Tillim (b. 1962) spent a week in central Malawi photographing portraits of villagers (at left). His quiet, off-center images-in-motion seep with dusty poverty.
The body is the canvas of several of the women photographers – who are, unusually enough, probably in the majority in this group exhibition. Bernie Searle (b. 1964) is a multi-media artist who uses her own body to develop sophisticated narratives around gender, race and identity (at left).
Jodi Bieber's (b.1966) subjects pose in their own homes, their own underwear and their own attitude. An old white woman leans against her kitchen counter, one black bra strap slipping down her shoulder, holding a cigarette to her lips, while a full-bodied young black woman struts her stuff (at left).
I believe I learned more about actual life today in S. Africa through these photographers and their contemporary visual lessons than in all the reading I have done. Kudos to the two curators Tamar Garb (Prof of Art History, University College) and Martin Barnes (V&A's Senior Curator of Photographs). The written material accompanying each artist's displays is comprehensive if brief, intimately detailed and quite political. The show is hung beautifully. The emphasis on these activist, young photographers makes for an emotional slap across the consciousness, an occasional giggle and a frequent sharp intake of breath.
The exhibition is open until 17 July 2011
Victoria & Albert Museum
Cromwell Road, London SW7 2RL
Sue Katz is a Boston area writer and editor. Check out her blog, Sue Katz: Consenting Adult, at www.suekatz.com.