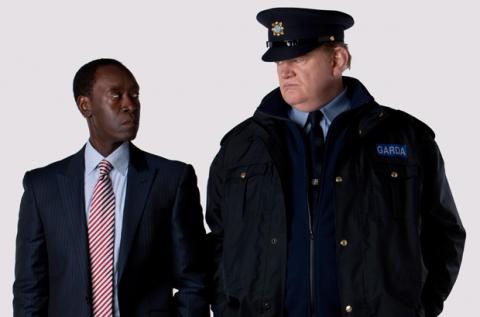 Film Review: The Guard
11 September 2011 - 10:39pm
|
superuser
by Sue Katz
"The Guard" (shouldn't that be, The Garda?) is a terrific Irish film that showcases Brendan Gleeson, a wry and splendid actor who plays a small time village cop, Sergeant Gerry Boyle. (The film was a critical and popular hit in Ireland.) When three drug traffickers make their way to his area, he suddenly has to deal with the rather up-tight FBI agent Wendell Everett played with fitting cultural confusion by Don Cheadle.
I imagine for some the film is about crime and cops and shoot-outs and IRA gun stashes, but I loved it for its upfront and witty dissection of conflict. The village versus the big city (i.e. Dublin) coppers; the Irish versus the English law enforcement; the British Isles versus the American FBI agent parachuting in. Ultimately, it's about how much the world knows of America and how pathetically ignorant America is of the rest of the world.
The FBI agent cannot, for the life of him, figure out when Sergeant Gerry Boyle is playing the bumpkin idiot and when he is an outright racist. He cannot fathom, as he tells Boyle, whether the Irish cop is very smart or very dumb. The American has a laughable lack of awareness about how he is perceived, as he attempts to go by himself from house to house to investigate a murder only to find all his questions answered in Gaelic.
As always, I miss having women in a movie. There are only two women minor characters – one the pretty widowed wife of a slain cop and the other Boyle's dying mother, played movingly if much too briefly by Fionnula Flanagan. (Oh, and a couple of fleeting sex workers.) Why can't there be a key woman cop, a cruel woman drug dealer or a bewildered woman FBI agent?
For American viewers, the writer/director John Michael McDonagh seems to have taken Irish English and made a wonderful main character of it. There are laughs from start to finish – the amused audience in the theater where I saw the film seemed to have little trouble adjusting to the accent or to the ironic wit. If you like your heroes working class, cocky and subversive you'll like Gerry Boyle. If you like your films fast-paced, full of barbs and based on their own kind of peculiar if not admirable principles, then go see this one.
Here is the trailer:
Sue Katz, an author, journalist, blogger and rebel, used to be most proud of her martial arts career and her world travel, but now it's all about her edgy blog Consenting Adult. Sue is a regular contributor to Open Media Boston.
This article was simultaneously published at Sue's blog.