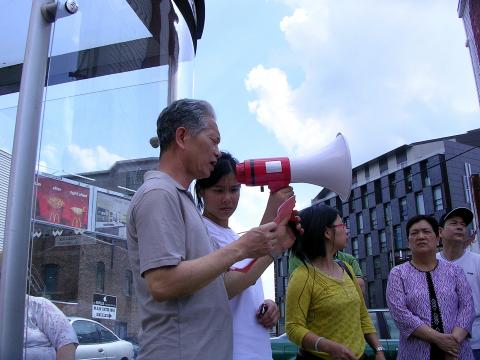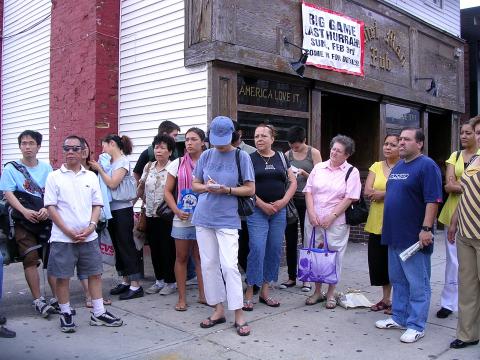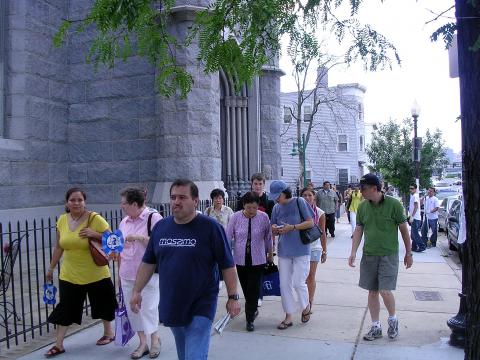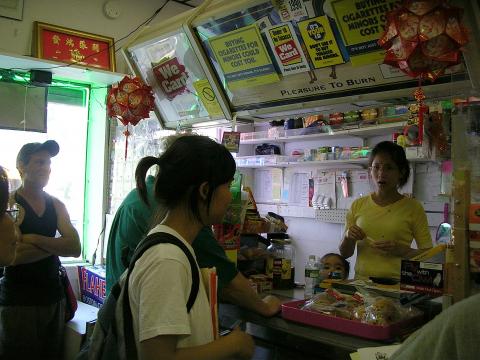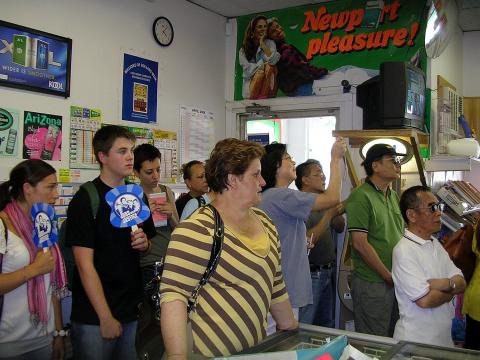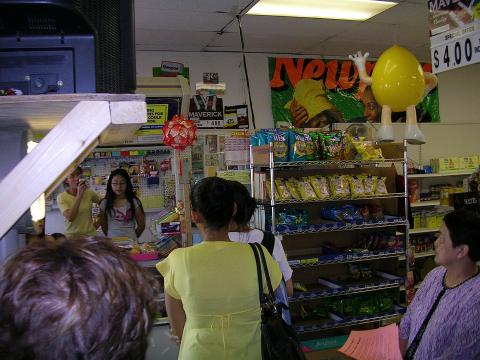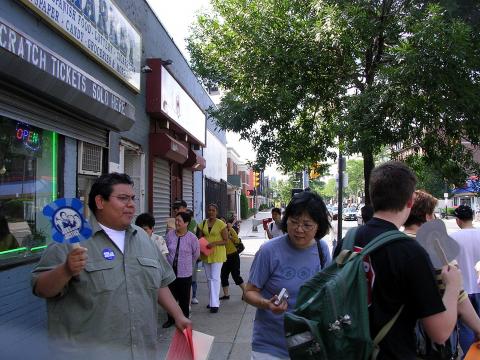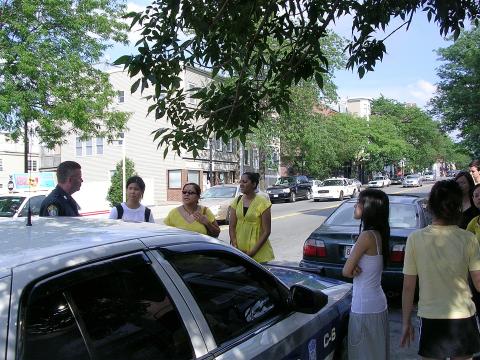 Former Seafood Palace Workers Hold South Boston Protest to Demand Back Wages
2 July 2008 - 3:18pm
|
jpramas
by Jason Pramas
BOSTON/South Boston - On Monday, a group of 25 people - including former employees of the recently closed Seafood Palace Restaurant in Dorchester and supporters from the Chinese Progressive Association Workers Center, Mass. Jobs with Justice, and the Mass. Coalition for Occupational Safety and Health - met at the Broadway T Stop in South Boston and held a short rally before marching up West Broadway to Kim's Market to protest Seafood Palace's violation of various state and federal labor laws and demand justice for its laid-off workers.
According to the CPA Workers Center, on March 19 Seafood Palace closed without warning, and the last 6 paychecks given to the 7 affected kitchen workers from December 2007 onward all bounced. The restaurant was already in violation of state and federal labor laws - as kitchen staff did not make minimum wage and were not paid any overtime pay despite working 6 days a week for 10-12 hours a day. The workers were all Chinese and Latino immigrants. Seafood Palace owes over $45,000 to the 3 Chinese workers alone, and likely a similar amount to the 4 Latino workers.
The event was called to demand the workers' back pay and overtime pay from Seafood Palace owners Kevin Dang of Dorchester and Tony Ho of Milton - who have allegedly refused to negotiate in good faith with the workers and their advocates for several weeks. The workers have been asking for a settlement of double their lost wages and overtime. Failing a settlement, the workers plan to file a civil suit against Dang and Ho. If they prevail, they will be entitled to triple their lost wages and overtime under a new April 2008 Massachusetts state law.
"It's just not fair that the business was operating this way at the expense of the workers," said CPA Workers Center staffer, Amee Chew. "After they worked there so many years, it was disrespectful for them to issue checks that they knew were going to bounce and then just close the restaurant without any notice. Minimum wage and overtime pay are the workers most basic rights. Businesses need to know that they should respect that."
The rally featured a few short talks, mostly in Cantonese - which were translated into English by Chew.
"We feel, number 1, no matter whether a business is doing well or not, workers must be paid for their work," said Ruo Chong Mo, a CPA Workers Center member.
Another Workers Center member, Jian Hua Tang, agreed, "Workers have a right to be paid their wages ... it's important that workers stand up for each other."
Speakers also highlighted the need for Massachusetts to create a fund - financed by mandatory employer contributions like the state's Workers Compensation fund - to reimburse workers who lose their wages due to employer malfeasance and violation of wage and hours laws.
At the conclusion of the rally, the two former Seafood Palace workers present, Feng Yin Pan and Yuk Yu Fu, and their supporters walked up the street to Kim's Market.
The group entered the small market and CPA Workers Center staffers told the 3 young women behind the counter that they wanted to speak to the business owner, Kevin Dang.
The market employees immediately began vociferously insisting that the owner was named Tony Tran, that documents on the wall behind them confirmed that, that they did not have a number for him, and that they did not know who Kevin Dang was. While this was going on a lone customer attempted, rather comically, to win an argument about some scratch tickets he was trying to turn in. He left defeated a short time later.
After several minutes of back and forth, the 3 market employees, led by one young woman in white who later refused to identify herself, began to insist that the protestors had to leave or they would call the police. "Tony Tran is the only boss we have," she said.
The participants did so a few minutes later, then spent 10 more minutes deciding how to handle the situation. Eventually they went back into the store and again demanded to speak to Kevin Dang. The market employees grew extremely agitated and said they were going to call the police. The protestors began chanting "We want Kevin!" The stalemate continued for several more minutes, until the protestors decamped chanting "We'll be back!"
Meanwhile, the market employees called the police, and the protestors set up a moving picket on the sidewalk outside. The woman in white started taking pictures of the protestors from the doorway of the market.
One police cruiser appeared a few minutes later, and despite the woman in white's insistence that protestors be arrested, the police officer simply chatted with event organizers, briefly took note of the market employee's opinion, and told her that the protestors were leaving and that there was no problem. There were no arrests or warnings, and picket concluded at that point as promised.
A subsequent examination of City of Boston business records by Open Media Boston showed that Tony Tran of Dorchester took over the ownership of Kim's Market from Tiep V. Le of Chelsea in August 2005.
According to the CPA Workers Center staff, Kim's Market was chosen as a protest target because the kitchen workers had seen Kevin Dang's wife working there and believed that he was the owner. Former worker Pan has since stated that one of the young women working at the market during the protest was Dang's daughter.
It has proved difficult for the workers and other interested parties to the closing of Seafood Palace to find a real address to publicly confront Dang and Ho - although it is possible to reach them by telephone. A former meat vendor just came forward to CPA Workers Center today who is filing a lawsuit to reclaim the $6000 owed to him by Seafood Palace, and says that the small claims court judge needs a valid address so that the police can deliver a summons to Dang and Ho.
"It seems like members of Kevin Dang's family work at the market and the workers were under the impression that he owns the store," said Chew. "Hopefully, they will pass the message on to him."
It remains to be seen whether Tran is the real owner of Kim's Market - or just the owner of record.
Chew concluded, "It's a shame that the owners of Seafood Palace haven't been taking responsibility for the situation and ignored the workers for so long and delayed and lied. It's a shame that to try get to the bottom of this the workers have to go find them in person because they've refused to set up a meeting where they both agree to take responsibility for the pay the workers are owed."
Kevin Dang of Seafood Palace Restaurant did not respond to a request for comment.
Check out the Chinese Progressive Association's website at http://www.cpaboston.org
Check out the Mass. Jobs with Justice website at http://www.massjwj.org
Check out the MassCOSH website at http://www.masscosh.org
License:
Creative Commons 3.0 BY-NC-SA