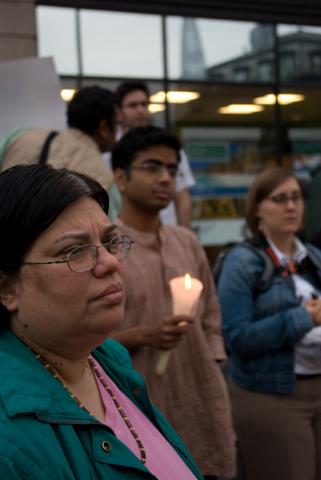 Human Rights Activists Seek Immediate Release of Dr. Binayak Sen at Cambridge Protest Vigil
15 May 2009 - 9:06pm
|
jpramas
by Jason Pramas
Cambridge, MA - Over 70 people representing a number of human rights organizations gathered next to the Harvard Square T stop yesterday evening for a vigil to protest the continued incarceration of Dr. Binayak Sen - a noted human rights activist and physician for indigenous communities in Central India - and mark the second anniversary of his imprisonment on what activists say are false charges.
Dr. Sen is said to be in failing health and has been denied proper medical treatment for the serious heart condition he has developed while imprisoned. In a press release, the activists state that his arrest came after his "outspoken criticism of atrocities committed by the Salwa Judum, a state-sponsored militia that has been attacking local indigenous communities under the guise of containing Maoist groups and that has caused large-scale displacement of these communities.

Somnath Mukherji of the Association for India's Development with Daughter, Adrita, at Cambridge Protest Vigil for Dr. Binayak Sen
According to protest organizer Somnath Mukherji of the Boston Chapter of the Association for India's Development, "The rally in Boston joined the thousands of other voices across the globe demanding the immediate release of Dr. Sen. Volunteers collected signatures on close to 100 postcards which will be mailed to the Home Minister of India and the Chief Minister of the state of Chhattisgarh.
"This struggle is important not only because of the injustice against the person of Binayak Sen but also because the issues that he had raised remain unresolved. The indigenous communities continue to be exploited by powerful interests and the state continues to suppress dissent.
"Binayak Sen himself never wanted the movement to be about his release alone. Rather, he wanted the movement to draw attention to the plight of the indigenous communities of Chhattisgarh, the apathy, neglect and outright oppression that goes to make their life miserable."
Mukherji concluded, "We will continue the struggle till he Dr. Sen is released and the democratic space restored in Chhattisgarh. We will continue to advocate for the rights of the adivasis - indigenous people - who have been made refugees in their own land, to return to their homes and be able to live peacefully."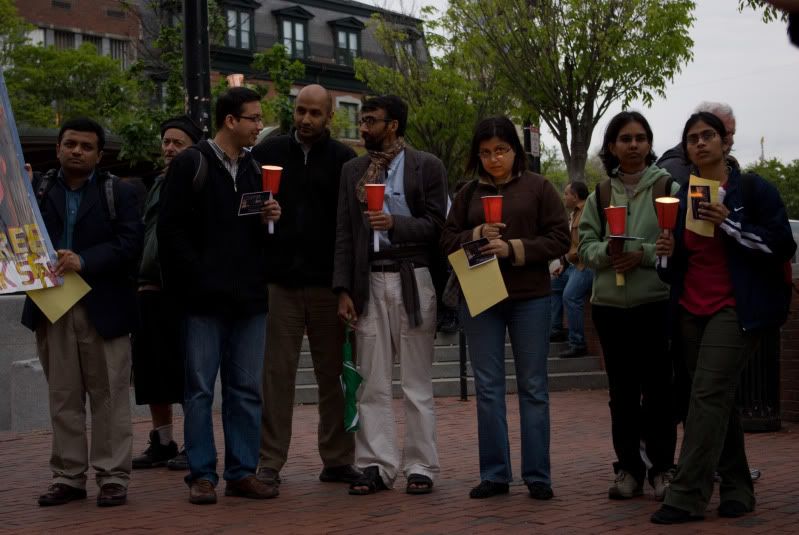 Humans Rights Activists Hold Candles at Cambridge Protest Vigil for Dr. Binayak Sen
Activists gave short speeches, read poems, chanted slogans demanding Dr. Sen's release in English and Hindi and lit candles to draw public attention to the Sen's plight.
Several simultaneous protests took place in several cities around the world, including Boston, Washington, D.C., Buffalo, Philadelphia, London, Edinburgh and Berlin.
For more information, please see the website of the Association for India's Development.
This article is a news brief.
License:
Creative Commons 3.0 BY-NC-SA