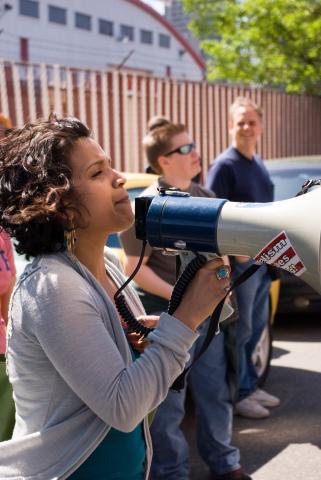 Immigrant Advocates Demand End to ICE Detentions Protest at Suffolk County House of Correction
15 May 2009 - 2:57am
|
jpramas
by Jason Pramas
BOSTON/Dorchester - The outer walls of the Suffolk County House of Correction at South Bay rang with chants last Sunday as a group of 60 immigrant advocates marched and rallied in protest of the local prison's policy of accepting federal money to house unauthorized migrants after their arrest in raids by Immigration and Customs Enforcement. The event was organized by the new Resist the Raids network and was endorsed by over 15 immigrant, labor and community organizations across Massachusetts.
Many of the ICE detainees, advocates say, are people without criminal records who have been denied any kind of due process - and whose only offense is trying to stay in the United States without documents. Quoting a recent report by the Massachusetts Chapter of the American Civil Liberties Union, they stated that the Suffolk County Sheriff's Department that runs the South Bay prison is taking money from ICE to detain immigrants there - a practice followed by prisons around the nation. They also pointed out that over 800 ICE detainees are being held in already-overcrowded Massachusetts prisons at any given time for an average of 11 months. And that over 30,000 persons are being detained by ICE nationally in 400 detention facilities and prisons like South Bay.
The advocates demanded the immediate release of all ICE detainees. And since the protest was called on Mother's Day, they focused special ire on the treatment of women detainees which they say has been especially abusive.
According to press materials distributed by Resist the Raids, "Mothers Day is a time for celebration for mothers everywhere. Yet, for women in prison and immigration detention this is not the case. This is why we are taking a stance on Mothers Day for all the women who are imprisoned and detained across the USA. Large-scale women's imprisonment has resulted in an increasing number of children who suffer from their mother's incarceration and detention and the loss of family ties. Families should know no borders."
"Pay attention to the private sector that profits from the incarceration of our community members. Immigrant or otherwise," said protest organizer Carol Gomez of the immigrant family support organization Mata Hari.
"And pay attention to how your tax dollars are overwhelmingly wasted in militarization of the borders and in intensive raids that disrupt communities, workplaces and traumatize families and children."
The protestors began their demonstration by circling around the outside of the prison walls abutting a highway on-ramp until they arrived outside the cell block where the immigrant detainees were being held. Inside, the detainees pressed handmade signs begging for help up against the windows of their cells.
The group then spent some time holding banners from a nearby pedestrian overpass and encouraged supportive honks from passing cars.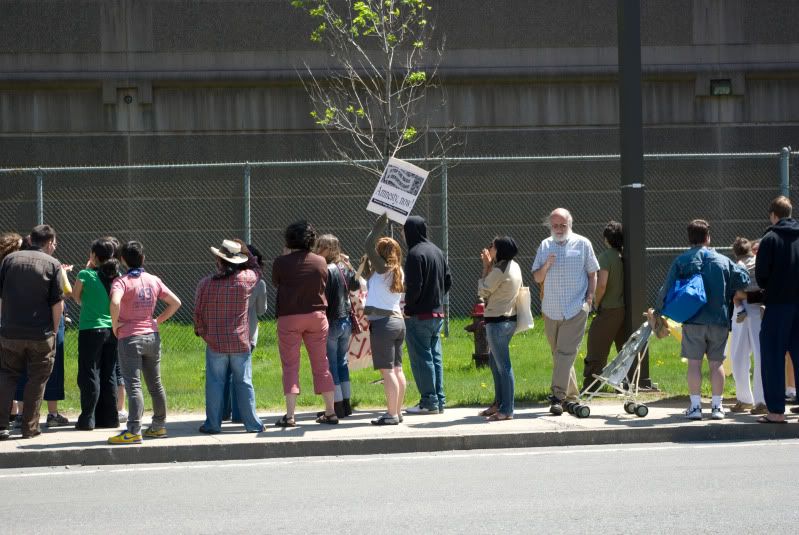 Immigrant Advocates Protest ICE Detentions Outside Suffolk County House of Correction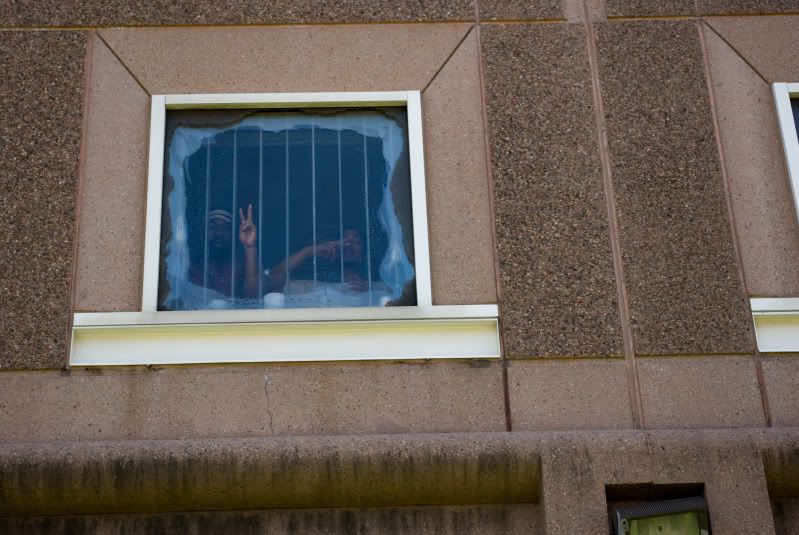 ICE Detainees Flash Peace Sign to Immigrant Advocates from Inside Suffolk County House of Correction
After about 30 minutes, the group proceeded to the entrance of the prison - where they met a cool reception from several guards who had arranged themselves near the front doors.
The guards prevented the marchers from walking on the sidewalk in front of the prison - say that it was Sheriff's Department property. When marchers moved to the opposite side of the street in front of the prison, they were again confronted by the guards who - after some attempt at negotiation by the protestors - gave the group 1 minute to leave the area or the guards would call the Boston Police.

Protest Organizer Debates with Suffolk County House of Correction Guards
The march then proceeded around a nearby street corner to the driveway of a business and held a short rally before concluding the action - outside a cell block holding the general prison population.
Gomez continued, "It is paramount that as community members concerned about social justice, we demand an end to the dehumanizing way in which our family members and neighbors are treated. This country is what it is as a direct result of the arrival and settlement of immigrants, whether to work or join family or start a new life.
"Don't let blind spots allow us to forget our history and give in to fear mongering myths that turn families, workers, mothers, fathers and children around us into 'criminals.'
"Do let your common sense and your memory of history, your parents, your grandparents, your ancestors own arrival to this land - guide your conscience and what you know deep down to be the fundamental right of free peoples across the world to live, work and contribute to society with safety and dignity."

Immigrant Advocates Rally After Being Forced to Move Away from the Front Entrance of the Suffolk County House of Correction
As they dispersed following the rally, advocates shouted that they would keep up their protest until all the ICE detainees were free.
The Suffolk County Sheriff's Department did not respond to a request for comment.
There were no counter-demonstrators and no arrests.
Note: It is worth mentioning that just before the marchers approached the front entrance of the prison, a guard - apparently coming on duty from the left of the prison entrance - confronted this reporter and asked if his picture had been taken. Upon being informed that his picture had not been taken at that point and that this reporter was a journalist from Open Media Boston, he said that if his picture was taken he would take this reporter's camera. When this reporter's occupation was reiterated, the guard repeated his threat and made a derogatory remark as to the seeming unlikeliness that this reporter was, in fact, a journalist.