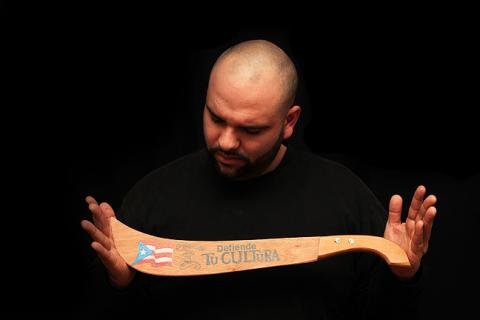 Interview: Ernesto Eroc" Arroyo to Play 8/13 Peña Rebelde"
23 July 2011 - 4:28pm
|
elektrodread
by elektrodread
Ernesto "Eroc" Arroyo is a Boston emcee, one of the city's key revolutionary rappers and "jipjoperos." Eroc will be featured August 13th for the Peña Rebelde, a musical/poetical gathering taking place the 2nd Saturday of each month.
A key to the peña is a recognition of our roots as artists. Mesa Sin Fronteras interviewed Eroc to discuss his politics, and the history of his involvement in music. Visit encuentro5.org for more info on the Peña Rebelde and how to get involved.
What are your earliest musical recollections as a child?
My parents were playing mostly Spanish music. My mother was big into Juan Manuel Serrat and a lot of Juan Luis Guerra. A lot of music with a social message. Some Ruben Blades, "Pedro Navaja," "Plastico". My mother would play a mix of Motown soul and James Taylor, Bob Dylan, Linda Ronstadt kind of stuff, this mix of soul music and folk.
We also had the "parrandas". My parents would throw these big 3 King Day parties and there would be musical groups coming in and out playing bongos and claves and guitars. That was always around.
In terms of finding stuff on my own I was into Hip Hop pretty early, I would say fourth grade. Nine years old. I was into what was at the time mainstream commercial Hip Hop, things like Digital Underground, Heavy D, Queen Latifah and Salt n Pepa, even MC Hammer, Kid and Play, Dj Jazzy Jeff and the Fresh Prince, Young MC, haha remember I was 9!
In middle school I got into a lot of soul and R&B music, D'Angelo, BoyzIIMen, Mary J Blige, TLC, Marvin Gaye, Stevie Wonder, etc. Around my early teens was when I started getting involved in my own Hip Hop evolution, that was when I started buying my own tapes, mixtapes, for my walkman. I got Fugees "The Score," Krs-One "I Got Next," Tupac "All Eyez on Me," at the same time Wu-Tang was dropping, Biggie was dropping, etc. I was trying to find the Hip Hop that was more message-oriented.
I got big into Big Pun when he dropped, being Puerto Rican attracted me to his music, but on top of that just bein' nice wit it. His word play. He broke a lot of barriers for a Latino emcee.
Around that time I started rapping and writing my own rhymes in high school. The way that I started would be picking my favorite rap songs and memorizing them, and then adding my own remix, adding my own lines, pretending to be that emcee and then adding my own voice. Then came freestyling in the halls, at lunch, after school, whenever. After a while I realized it was second-hand nature to me. It was another way to speak. Now that I'm older I look back and realize that's about the closest I've ever felt to the creator.
What about the influence of afro-Caribbean music, salsa, son, merengue?
In terms of listening I really like Hector Lavoe and the person who was very inspired by him, Marc Anthony. I enjoy music by Franky Ruiz, Joe Arroyo. I'll throw on Afro Cuban All Stars, etc, and you can hear la bomba (music), la plena (music), and it reminds me that the music and the rhythm are already an integral part of who I am.
What was your first songwriting experience?
I was writing poems pretty early, always kind of an A-B rhyme scheme. I do remember winning awards for writing short stories and poems in Boston public schools. One of them was about racial justice and equality, and another one was about not apologizing for being myself. I remember it was the first poem I memorized. I got very confident and found a different way of relating to people, from a position of sharing my art. That was early in the game.
And then you formed The Foundation and really rose to prominence in the Boston Hip Hop scene.
I'm not gonna argue that. Ha! In '01 I began The Foundation, not because of what already existed, but because of what I thought was missing. I felt there wasn't really a balance, and I thought that creating the music that I thought was missing was a better solution than complaining about the music that I felt was missing.
One of the things that I have as a pet peeve about is the "conscious music" of the last decade or so with some rare exceptions was mad that rap had become mainstream and seemingly all about money and degradation, these rap acts would counter what they saw in commercial music by rapping about rap sucking. Literally making songs abut how Hip Hop was lost etc etc... And I remember being like 'I never wanna be that dude.' I would rather add I think back to the "conscious" Hip Hop of the eighties and nineties, "Fight the Power," this kind of music, was about upliftment, unity, "U.N.I.T.Y.", about getting together about educating yourself, "You Must Learn." All of this music that was coming out was about empowerment not about how other rappers suck. haha
So you found common ground with Optimus on that?
Op was not in the original group. The original Foundation was me and Eli Pabon, Lady Enchantress. Four months later Optimus was invited to join. One of the things that allowed me and Op to succeed and continue was that we found not only a respect for each-other, but also an incredible chemistry. We met in '01, and he joined the group. I would often say this is my brother from another mother. After over a decade of making music, performing together in Cuba, Palestine, Japan, Tanzania and so on, from the inception of the group as we know it to be now, Op and I knew that we wanted to address issues of injustice, what Op called "life music," rap about life and reality, and at the same time not be afraid to be happy.
I knew that was borderline with some of that folk music from growing up, or maybe soul music, I wanted to make sure that we could bring happy back to rap. We didn't always want to do it based on anger.
It's kind of like the modern day militant who has forgotten that the original Black Panthers wanted you to start a food program and care about your community, not just intimidate your community, not just throw a fist in the air and act indignant.
I remember you describing your music as "revolutionary but gangster."
I have described my politics as that on FB haha, but that's actually Dead Prez' title of one of their albums. I would say that encompasses some of my music, yes. They were a major inspiration and being able to collaborate with them on our debut album "Greatest Hits" was a dream come true.
I would say my music, at it's core, it's rhythmic emotion, with a sense of social justice. You get to decide where you're going and what you're going to do.
The first time I ever saw you perform was the first time your father was elected, at a restaurant in Roxbury. You introduced yourself as Ernesto and said "I'm the rapper of the family." That was 2001. You come from a political family. How does it feel being the rapper, the artist from within your family.
In terms of my mother and my father and anyone that came before me, I stand on their shoulders. Answering for it also means taking credit. At the same time in terms of my family structure, my mother's a teacher, my sister in law's a teacher, my sister is a teacher, I have taught, my father was a teacher. I always felt more like I came from a family of teachers. My father first held an elected seat when I was 22. But he was an activist in the community for a long time.
If anything, with regards to the political side, I've never missed a vote. I believe in the electoral process starting locally. It kind of bothers me that so many people can't name their city council or a school committee member, their state rep and/or senator. And those are the people making some of the decisions that affect us on a daily basis, even more so than the actual President. My father's being the first Latino elected to the Boston city council is something that I'm very proud of, and my brother is continuing that tradition of public service and I am proud of him too.
How do the tough decisions your brother makes fall on you as an artist?
Simón, I performed at the event you all threw maybe two days after the [Chuck Turner] vote, and you saw how that came out of me. And I think that it's impossible not to feel something, and at times I felt upset, angry, frustrated by my brother's vote, but also by people going far off the other end. I didn't feel that that was productive to me, nor to the situation. It's still something I'm dealing with.
What I took from that, is that my brother is his own person, and I am my own person, but we've got each other in terms of being brothers—we're family and I love him.
In the end I can't be a one issue person. I would rather look for commonalities, and I have way more in common with my brother then I do not.
Let me switch gears a little bit. I know you've travelled a lot with your music. Can you speak about your most memorable experiences?
We performed in Havana, we performed in Palestine, we also performed in Japan, in Tanzania. I performed in South Africa, Mozambique, Zimbabwe. We've had the opportunity to see the world because of our music, and meet some pretty incredible movers and shakers. In Cuba we met Assata Shakur. That was an incredible moment, not musically, just as someone who admires those people that really put it on the line for the best intentions of their people.
Palestine was an incredible journey. We performed in refugee camps, sometimes being the first Hip Hop people had seen. We had some of our music translated into Arabic. It was incredible to be there and to see people living in occupation and how they deal with it. Survival.
In Japan we actually walked with a group of monks and activsts on a peace walk. We did the whole thing, from Hiroshima to Tokyo, over a thousand miles, and we performed at temples, universities, street corners, you name it, spreading the message of peace in our music, and on top of that, anti-nuclear proliferation laws.
I just feel blessed when I think of all the travels we had, and all we'll have in the future, we (The Foundation Movement) are currently back in the process of creating a follow up album to the original and I am also working on a ep project with production from Kabluna so there will be more sharing of art in the future, God willing.
Photo courtesy of Ty Bellitti.
Simon Rios is an organizer of the Peña Rebelde.