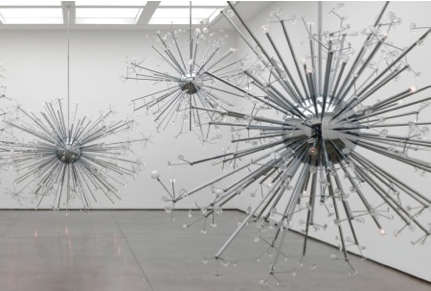 Josiah McElheny: The Intersection of Art and Science
3 October 2012 - 12:00am
|
admin
by Shirley Moskow
Is beauty enough?
Apparently, Josiah McElheny doesn't think so.
The conceptual artist's reflective, silver glass objects are beautiful to behold at the Institute of Contemporary Art (ICA), Boston, where they are on view through October 14. The mid-career survey of his work, titled "Josiah McElheny: Some Pictures of the Infinite," includes 21 works, films and photographs as well as a gallery installation of his spectacular glass sculptures "Island Universe."
But McElheny isn't content to create gorgeous art. He is interested in ideas. Completed earlier this year and being shown for the first time, "A study for The Center is Everywhere" is a seven-foot tall sculpture of brass and cascading glass crystals that is suspended from the ceiling like a chandelier.
Like other McElheny works, this elegant sculpture fuses art with science. The structural basis is a perforated plate like one used in the Sloan Digital Sky Survey, which seeks to chart the entire cosmos one dime-sized portion at a time with a powerful telescope and perforated plate. The work's title is taken from the 17th century French philosopher Blaise Pascal. "Nature is an infinite sphere, whose center is everywhere and whose circumference is nowhere."
McElheny "combines the legacy of conceptual art and a keen interest in history with an extremely high proficiency in glass blowing…" says ICA Curator Helen Molesworth. She adds that over the past two decades he has attempted to "represent the unrepresentable," such as concepts of space and time.
His work has been shown in major museums in the U.S. and abroad. Local museum-goers may be familiar with his silvery, reflecting contained environment piece "Czech Modernism Mirrored and Reflected Infinitely." The sculpture, which is in the collections of the Museum of Fine Arts and the ICA, features eight hand-blown, mirrored decanters in a mirrored case. Everything – all the decanters and the walls -- is reflected infinitely. Yet, the image of the viewer who looks into the mirrors never materializes. The technique, mise en abyme, is not only mind-boggling, it is disorienting.
The Boston-born artist attended the Rhode Island School of Design and trained at glass foundries in Europe. In 2006, he received a MacArthur Foundation Fellowship, popularly known as the "genius grant." At his studio in Brooklyn, he makes art that is as much about ideas as it is about visuals. He is rigorous in pursuit of scientific accuracy.
Eight years ago he began collaborating with cosmologist David H. Weinberg. They've worked together on five pieces. Their most ambitious project, "Island Universe," a scientific and artistic rendering of galaxies in space is installed in the final gallery.
Weinberg, astronomy professor at Ohio State University, has worked with other creative people, but he says McElheny is different. He told the Boston Globe that "what makes Josiah unique – there are many things – is that he doesn't just have a passing interest in science… This wasn't just a lark for him. He gets it."
Each of the five astronomy-inspired elements in "Island Universe" is a unique chrome and glass scientific model that is a visualization of the origins of the expanding universe. According to the wall text, "The sculptures' parts correspond to specific astronomical realities, with the handblown glass globes and discs representing clusters of galaxies and the lightbulbs signifying quasars. As we approach these suspended sculptures, their polished cores reflect our image… the enormity of the universe and our tiny, but crucial place within."
"Josiah McElheny: Some Pictures of the Infinite" is more than meets the eye.