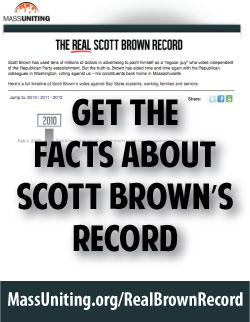 With Just One Day to Go, It's Time to Get Real About Scott Brown's Voting Record
5 November 2012 - 3:44pm
|
janthony04
by Jason A. Stephany (Advocate)
Look, I know you've been buried by campaign ads lately, and I feel your pain. My mailbox has been flooded, too, and I've never been more grateful for DVR (if only radios came with a "fast forward" button!) The good news is it's all over on Tuesday, one way or the other. But if you happen to be an undecided voter, that also means you only have one day left to make up your mind.
One of the top races in Massachusetts – and the nation, for that matter – is the US Senate race between Democrat Elizabeth Warren and Republican Scott Brown. Between the two candidates, tens of millions of dollars have been spent on election advertising and mailers – an overwhelming information dump, to be sure. So let's just cut through the clutter and get real about Scott Brown's voting record.
See the full Brown timeline here: http://www.massuniting.org/RealBrownRecord
When Scott Brown got elected in 2010, he promised to be a thorn in President Obama's side…and boy, has he followed through. Brown voted against nearly all of Obama's job creation bills – slashing jobs for teachers, construction workers, fire fighters, paramedics and many more. In less than three years, Scott Brown killed over 55,000 Massachusetts jobs. And adding insult to injury, Brown voted to give corporations huge tax breaks to ship thousands of additional jobs overseas.
Unfortunately, Brown didn't stop there. He voted over and over again – eight times in all – to kill unemployment benefits for out-of-work Massachusetts residents, many of who lost their jobs because of Brown's votes. More than 30,000 people lost their unemployment benefits in 2010 due to Scott Brown's stall tactics.
And that's just Scott Brown's record on jobs. I haven't even touched on Brown's vote to give $24 billion of our tax dollars to Big Oil companies, or his vote to raise payroll taxes on 113 million middle class workers, or his vote to double student loan interest rates. All told, Brown voted more than 30 times against us, his Massachusetts constituents, on major bills affecting everything from jobs to healthcare to taxes.
You can click here to see a full timeline of Scott Brown's votes against Bay State students, working families and seniors: http://www.massuniting.org/RealBrownRecord
With the election just 24 hours away, it's critical that everyone goes to the polls knowing the truth about our US Senator's voting record. Not the sugar-coated, made-for-TV version — the real Scott Brown record. Check out the timeline today and feel free to share it with fellow Massachusetts voters.
Jason Stephany is the spokesman for MassUniting – a coalition of community groups, faith organizations and worker advocates united in the fight for good jobs, corporate accountability and stronger communities. Find out more at www.MassUniting.org.