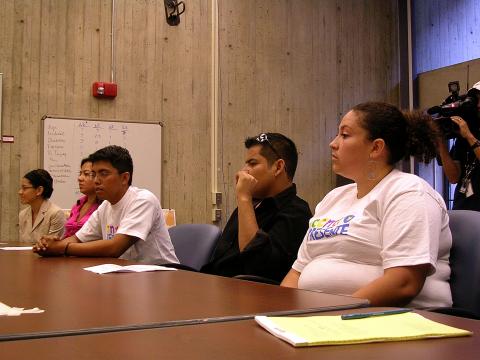 Latino Workers Launch Campaign Against Labor Abuse; Call for Apology from Local Restaurants
28 August 2008 - 5:01pm
|
RadioView
by Dave Goodman / Boston Community Reporters Project (Staff)
BOSTON/Government Center - Workers contracted to clean and maintain several well known restaurants in the greater Boston area are accusing their employers of withholding wages, refusing to pay overtime, and other violations of state and federal labor laws.
Advocates from several immigrant rights organizations say more than thirty immigrant workers have not received portions of their salaries in recent months.
"We are launching a campaign to…denounce labor abuse and demand the respect of labor rights of Latino immigrant workers," said Patricia Montes, Community Organizing Coordinator at the Somerville based Centro Presente, at a Boston City Hall press conference on Monday.
Gloria Rodriguez, originally from El Salvador, said she was employed by a local franchisee of the Boca Raton, Florida based Coverall Cleaning Concepts to provide late night cleaning services for Legal Sea Foods and The Cheesecake Factory restaurants in Boston, Chestnut Hill, and Natick. Speaking with the help of a translator, she accused the maintenance contractor of not paying for overtime hours she has worked.
"We're here asking for our salary. We're not asking for a loan or for anything to be given to us. We're just asking to be paid for the hours that we worked." Ms. Rodriguez also called on other workers to speak out. "We know there are many more people who have not joined this struggle yet, who have not broken their silence…united we know our force is even stronger as we go forward with this campaign."
According to a statement emailed to Open Media Boston by a public relations firm employed by Coverall Cleaning Concepts, local owners are required by their franchise agreements to follow applicable labor laws. "Coverall franchisees own commercial cleaning businesses and are solely responsible for their own employment decisions and all aspects of their businesses. All Coverall franchisees are required by their franchise agreements to abide by all federal, state and local laws."
Efforts, this week, to reach owners of the local franchises were unsuccessful.
At the City Hall press conference, Fernando Cervantes, a maintenance worker and member of the non-profit advocacy and educational organization Chelsea Collaborative, described how crews would show up for work only to find the cleaning franchise closed. Later, he said, the company would re-open with the same managers but under a new name. Through the translator, he said he was employed by Coverall and another company, Xcel Cleaning Corporation (parent company based in Carpentersville, IL).
Cervantes was asked whether or not these companies withheld taxes from his paycheck. "Xcel did take taxes out of the paycheck," he said, "however, many times when I would go to cash the paycheck, it would be without funds in it [the account] and that was a similar case with Coverall."
Describing these business practices as a way to exploit their employees, Centro Presente spokesperson Maria Alvarez, said on Tuesday that some of the companies have moved out of state, changed names, or been sold to various family members. The effect of having multiple sub-contractors involved in the hiring and paying of workers, she said, is to give these companies the ability to avoid paying wages on time or not at all in some cases.
Ingrid Nava, an employment lawyer with Greater Boston Legal Services and an advisor to Centro Presente, said a formal complaint has been filed with the state Attorney General's office. Harry Pierre, a Deputy Press Secretary in the AG's office, declined to confirm or deny receipt of a complaint but urged workers to contact the Fair Labor and Business Practices Division if they have grievances over wages or working conditions.
For years, state officials and trade union leaders have expressed concern over the so-called "underground economy." Comprised mostly of undocumented immigrants laboring in various industries including construction, lawn care, and cleaning and maintenance services, workers often are paid in cash and face constant fears of arrest and deportation.
In addition, by classifying workers as independent contractors rather than employees, Massachusetts loses as much as $7 million a year in worker's compensation premiums, $4 million a year in payroll taxes, and $4 million a year in unemployment insurance payments, according to studies conducted in recent years by researchers at Harvard and the University of Massachusetts.
Several times during Monday's press conference, activists stated emphatically that the issue is not about immigration status. Ingrid Nava, the attorney with GBLS, said "federal and state law doesn't really distinguish between where a worker comes from; whether the worker is an immigrant, whether they were born in the United States, or where their citizenship is. The laws that protect workers protect the people who worked and who gave the labor. And those laws say that at a minimum you must be paid overtime, you must be paid the minimum wage. And when any of those laws are violated, all workers – again, regardless of where they come from – have a right to claim their rights under those laws."
Activists with the current campaign say they hope to raise the visibility of their efforts by asking representatives of Legal Sea Foods and The Cheesecake Factory to apologize to workers for lost wages and difficult working conditions. A spokesperson for Legal Sea Foods did not return phone calls placed to their offices in Boston.
Mark Mears, Senior Vice President and Chief Marketing Officer for the Calabasas Hills, CA based Cheesecake Factory Restaurant chain said his company changed cleaning contractors in February of this year; switching from a Coverall franchisee to a company called USA Maintenance. Leading to the switch, said Mears, was a determination that Coverall's work was not up to Cheesecake Factory standards. He declined to elaborate further.
Mears also said a check of his company's accounts payable records showed that "all payments owed to Coverall had been paid." He said that contracts with Coverall and other vendors state that "wages and taxes must be paid" to workers employed by sub-contractors. Asked specifically to address the allegations made by Centro Presente and Chelsea Collaborative this week, Mears said if worker's wages had been withheld, The Cheesecake Factory would consider this "fraud."
But Maria Alvarez of Centro Presente explained that cleaning companies often hire workers through multiple sub-contractors, creating layers of companies and making it increasingly difficult for workers to locate those responsible for paying their wages. In fact, Alvarez said USA Maintenance has hired workers through another contractor called J.C. Brothers; a company, she said, which is owned and operated by former managers of a local Coverall franchise.
She said restaurant chains such as Legal Sea Foods and Cheesecake Factory "are aware of bad practices [committed by contractors]" and should share some of the responsibility for protecting workers.
This is not the first time Coverall Cleaning Concepts and its subsidiaries and franchisees have faced allegations of violating Massachusetts labor laws. In September of 2004, a civil action was brought against Coverall North America by the state Division of Unemployment Assistance on behalf of a woman providing cleaning services for an Arlington nursing home. According to court records, Rhina Alvarenga was "discharged" by Coverall after she refused to work more than her contracted number of hours without additional compensation. When she applied to the state for unemployment benefits, Coverall claimed she was an independent contractor, rather than an employee of the company, and thus ineligible for benefits.
In a case that eventually reached the Supreme Judicial Court on appeal in 2006, the court upheld a state examiner's ruling that Ms. Alvarenga was a Coverall employee. Writing for the court, Judge Roderick Ireland said "The division found that the claimant did not operate an independent business apart from Coverall. To support this conclusion, the division found that the claimant only cleaned at the locations Coverall provided and was provided with a plan of action and directed to follow it by Coverall supervisors."
Latino activists say they are considering various strategies including public rallies and demonstrations at the sites of the various restaurants. On Monday, Community Organizing Coordinator Patricia Montes said, "we're also going to put pressure on the Attorney General's office because this is something they have to do; to move the case."
Spanish-English translation assistance by TJ Hallman. Photos by Jason Pramas.
Resources:
http://www.cpresente.org
http://www.chelseacollab.org
http://www.gbls.org
http://www.massworkrights.com/
http://www.mass.gov/?pageID=cagotopic&L=2&L0=Home&L1=Workplace+Rights&si...
Editor's Note: Please see the Letter from Legal Sea Foods for that company's response to this article.