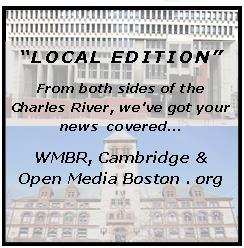 LOCAL EDITION #4 - Audio Newscast Series by OMB and WMBR
17 November 2013 - 5:44pm
|
RadioView
by Dave Goodman (Staff)
Cambridge, Mass. - This is #4 of WMBR Radio and Open Media Boston's collaborative local newscast for the Boston/Cambridge MA area. 
This week's "Local Edition" includes stories on two coalitions: the RAISE UP Massachusets Coalition, which is gathering signatures to put two initiative referendum questions on the November 2014 statewide ballot, including raising the minimum wage and guaranteeing paid sick leave for workers. The other group, the Massachusetts Coalition to Prevent Gun Violence, recently lobbied the state legislature for tougher gun sales laws. We also feature a story on Panorama Education, a tech start-up based in Cambridge that uses data analytics to improve public schools.
Show produced by OMB Senior Staff Reporter and WMBR Public Affairs Producer, Dave Goodman.
"Local Edition" for November 15, 2013 (31:07)
Web Resources from Newscast:
http://raiseupma.org/
http://mapreventgunviolence.org/
http://hedricksmith.com/timeline-who-stole-the-american-dream/
https://www.panoramaed.com/