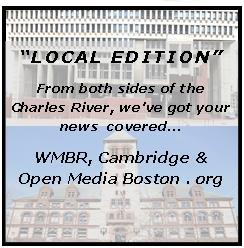 LOCAL EDITION - First Program Of Series Launched By OMB and WMBR
5 October 2013 - 11:23am
|
RadioView
by Dave Goodman (Staff)
Cambridge, Mass. - Launched on Friday October 4, 2013, "Local Edition" is a collaboration between WMBR Radio at MIT and Open Media Boston. 
Planning for the half hour newscast began when Free Speech Radio News, the nationally syndicated program created by Pacifica Reporters Against Censorship announced it was closing shop due to financial difficulties. This week's "Local Edition" includes stories on immigrant detainees and their treatment in a local jail; Cambridge residents react to a city police plan to operationalize six surveillance cameras; and commentaries on union activism amongst local university adjunct faculty and the run to the playoffs made by the Boston Red Sox.
Show produced by OMB Senior Staff Reporter and WMBR Public Affairs Producer, Dave Goodman.
"Local Edition" for October 4, 2013 (30:30)