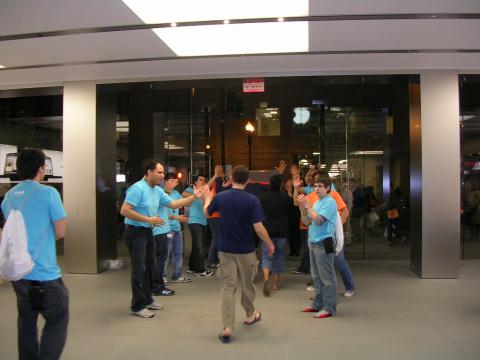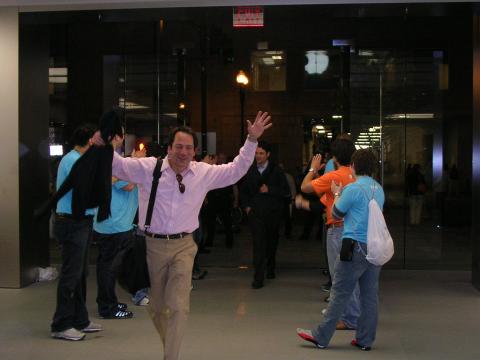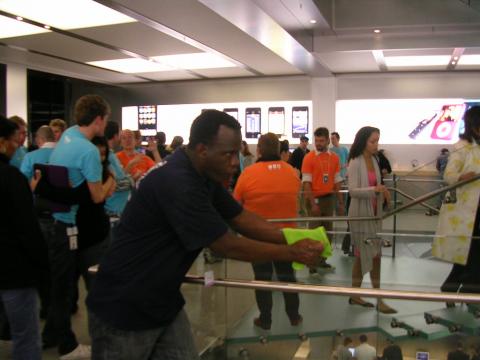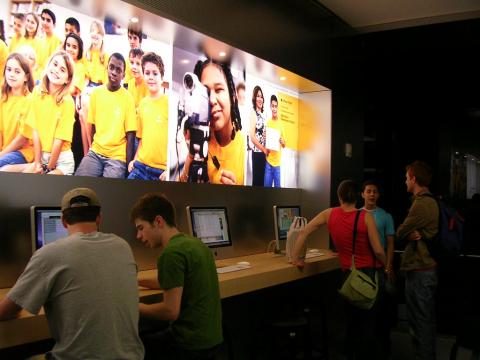 Malevolent Apple Cult Launches Headquarters in the Heart of Boston
16 May 2008 - 3:45am
|
jpramas
by Editor
BOSTON - The following fragmentary communique reaches Open Media Boston from three of our key operatives who risked their lives yesterday evening to penetrate the so-called "Apple Store" on Boylston St. - otherwise known as the newest regional headquarters of the Apple Cult. As is well known by partisans of computer freedom everywhere, the goal of the cult is nothing less than total world domination.
[Transmission begins ... 10:25 p.m.]
The malevolent glow of the new edifice captivated thousands of area onlookers, compelling them enter the "store" through the use of various subsonic devices cunningly planted in a 3 block radius.
Once inside the doors, the now captive passers-by were subjected to a terrifying gauntlet of Apple Cult Members clothed in pastel T-shirts of varying hue. It is thought that the T-shirt colors represent the wearer's rank in the Cult, but as of yet the only rank that has been positively identified is that of "Cleaner." At this lowest rank, cultists are made to wear dark blue T-shirts and ceaselessly rub down the clearly radioactive materials that make up the buildings superstructure - for no apparent purpose.
While passing through the gauntlet, captives were sprayed with a psychotropic substance to render them more susceptible to suggestion, and induce an anxious frenzy that can then only be relieved by the implantation of brain chips (rumored to be reverse engineered from stolen alien technology) which turn otherwise normal human beings into Apple Cult Members.
Following the gauntlet, captives are herded into a giant labyrinthine brainwashing machine of a type not yet seen by our analysts. This takes the human cargo to the 2nd floor where the brain chips are implanted into the now-willing thralls, and finally to the 3rd floor where the new cultists are powered down to await instructions from Cult Leader Steve Jobs.
[Transmission ends 10:51 p.m.]
Shortly after our reception of the image and text transmissions above, our operatives' communicators went dead and we can only assume they were captured and assimilated into the Apple Cult. More news will follow as it happens. We recommend that all citizens bar their doors and windows, and hold tightly onto their wallets until the immediate crisis period is over.
License:
Creative Commons 3.0 BY-NC-SA