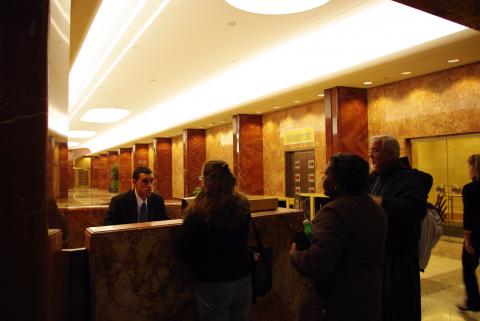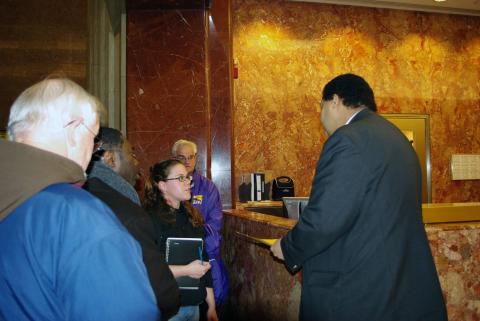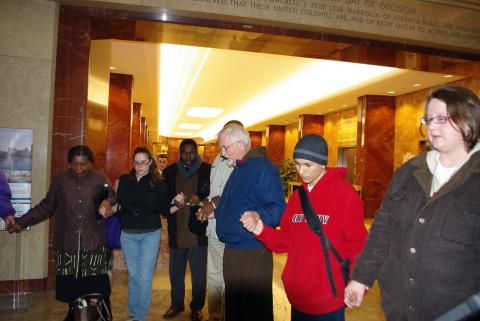 Manulife Financial Refuses to Meet with SEIU 615 Security Guard Delegation
21 November 2008 - 3:02pm
|
jpramas
by Jason Pramas
BOSTON/Copley Square - On Tuesday, a 20 person delegation representing unionized security guards from the Service Employees International Union Local 615 - including guards, union staff, and supporters from the Interfaith Committee for Worker Justice and Jobs with Justice - entered the lobby of the 200 Berkeley St. headquarters of Manulife Financial (formerly John Hancock) and attempted to meet with company management to enlist their support in ongoing contract negotiations with Manulife's security contractor, Securitas.
The security guards hoped to gain Manulife's assurance that it would support their demands for improved benefits from Securitas - and signal their willingness to pay more to allow Securitas to cover such benefits.
According to Jeremy Shenk, SEIU Local 615 Community Organizer, "We went to the building to try and talk with Manulife to see if we could to some resolution of this campaign without a crisis. This month is critical. We are bargaining for wages, health insurance, and benefits that everyone deserves. We need contract negotiations to be done as soon as possible and that is going to take all of us working together and talking to the security contractors. We also wanted Manulife to release a public statement saying that security officers should not have to work for poverty wages, that they deserve affordable health care and paid time off to spend with their families."
The delegation was stopped at the building's front desk by security personnel who called up to Manulife offices to ask them if representatives of the company would speak to them. The company refused to do so.
"Our ask was whether they would release a public statement supporting the goals of our campaign," Shenk continued. "But not only did they not allow a group of ministers and officers up to speak with them in their offices but they refused to even send anyone down to speak with us. So we did a public witness/prayer in the lobby and a short rally outside of the building."
Forming a circle inside the building lobby, delegation members Bro. Jack Rathschmidt of the Capuchin Franciscan Friars in Jamaica Plain and Rev. Laurel Scott of the Centralville United Methodist Church in Lowell prayed aloud for justice for the security guards and mentioned their intention to step up pressure on Manulife and other companies contracting security guards from Securitas.
After a short meeting on the sidewalk outside, the delegation dispersed.
Manulife's media relations staff did not respond to requests for comment.
License:
Creative Commons 3.0 BY-NC-SA