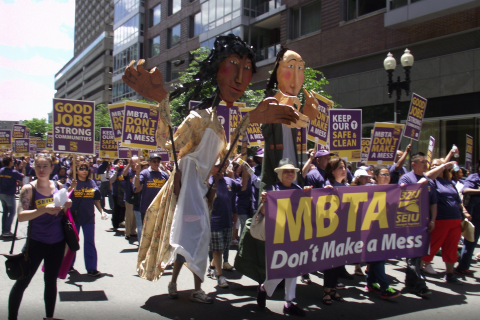 MBTA Custodians Rally Against Planned Layoffs
24 June 2014 - 1:23pm
|
jadams
by Jonathan Adams (Staff)
BOSTON – MBTA custodians and their hit out at the planned layoff of nearly 100 cleaning service workers from the public company later this year. 
Around a thousand members and supporters of the Service Employees International Union Local 32BJ staged a march in protest of the cuts from the Transportation Building in Boston on Saturday, followed by a rally on Boston Common.
According to the union, "Just as the late-night T service begins, the MBTA is planning to cut cleaning services to the bone beginning September 1st … nearly 100 out of 315 janitors are about to lose their jobs [nearly one third] of the total cleaning workforce [which] means grime-filled staircases, dirty walls, garbage-strewn stations and sticky floors."
Roxana Rivera, the area leader of SEIU Local 32BJ speaking at the rally, said the company is "saying that it's OK for one worker to do the work of two people, that it's OK to layoff nearly a hundred cleaners, cleaners that the MBTA needs … and they are saying this with a straight face when they are raising the fares, when they are wasting tax-payers dollars, when a state audit just found that the MBTA wasted more than $11m on just three station renovations, shame on them."
She said, "this fight is not only about our jobs, this is a fight to defend a public transportation system that works for all working people, so we can say fix it, fund it, and make it fair."
Cecilio Rodriguez, an MBTA custodian for the past ten years and member of the SEIU said, "I depend on the MBTA to provide for my family, with a steady job, I've been able to do that, I've been cleaning the MBTA on the blue line for the last 13 years … [now] I may lose my job, how will I pay my bills and support my family?"
Héctor Figueroa, president of the SEIU Local 32BJ, said the planned cuts are "not fair to the hundred workers and their families, and their communities, it's not fair to the many people who will rely on the cleaning services of our members when they use the MBTA, and it's not fair at a time when income inequality is an issue that all our country is talking about, we need good jobs and we're going to fight for those good jobs at the MBTA."
State Representative Aaron Michlewitz (D-North End) spoke in support of the union custodians, "for every part of Greater Boston we know what a clean MBTA service means to us, so we're here to fight for you, and we're going to continue to fight for you.
State Representative Marjorie Decker (D-Cambridge) followed up, "we cannot talk about the need for strong public transportation and then cut the very people who make it possible to have desirable, strong, healthy transportation, we stand with you, we fight with you."
In response to the demonstration and the claims made by the union, the MBTA said in a press statement that "[f]ollowing a transit industry trend toward performance-based management of cleaning contracts, the MBTA last year adopted this innovative approach in order to provide a cleaner and safer environment for employees and customers, while improving the training and job satisfaction of cleaning employees.
"The contractor, required to maintain pre-existing employment levels for the first year of the agreement, is entitled to implement staffing reductions in [y]ears 2 [to] 5 of the agreement, provided the changes do not adversely impact quality and performance."