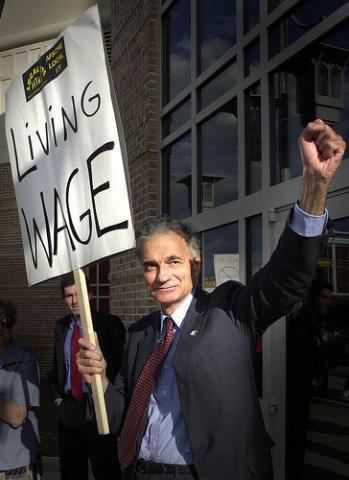 Nader to Rally Support in Massachusetts This Friday
30 May 2008 - 3:15pm
|
Joshua K
by www.votenader.org (Reposter)
Ralph Nader will be speaking in Cambridge Friday evening to rally support for his latest independent, anti-corporate, anti-war presidential election campaign. 
While Barack Obama has galvanized widespread support for his message of change, Nader asserts the presumptive Democratic Party nominee will not be able to bring the sort of change that ordinary Americans need. According to Nader, Obama is "really a corporate Democrat" pointing to his enormous financial backing from Wall Street firms and big business. 
Nader is the only candidate supporting a universal single-payer national health care system. He calls for a total withdrawal from Iraq, slashing the bloated military budget, the establishment of a massive public works program to create millions of jobs, repealing the Patriot Act, abolishing the death penalty, and ending the failed, racist war on drugs.
Nader activists will be signing up volunteers to help get on the ballot here in Massachusetts. Independent candidates need 10,000 valid signatures from registered voters.
This event will take place Friday, June 6 at 7:30 PM in Harvard Square at The First Parish Church Meeting House, 3 Church St. Cambridge, MA. The campaign is asking for a $10 contribution at the door, $5 for students.