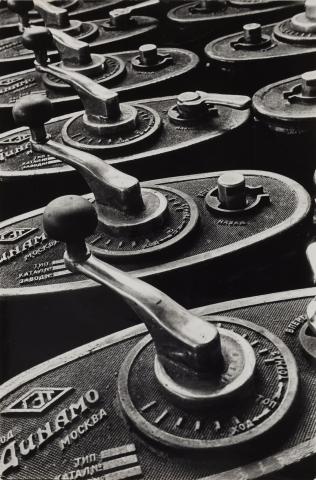 A New Vision: Modernism Photography" at the Currier Museum of Art"
17 February 2012 - 11:14pm
|
superuser
by Shirley Moskow
After decades of knocking on museum doors, photography finally got invited in as a full-fledged member of the arts establishment. And it did it by following the perennially popular advice, "To achieve success, just be yourself and do what you do best." Now, it seems, every museum is jumping on the bandwagon and mounting photography exhibitions.
"A New Vision: Modernism Photography," the stunning exhibition at the Currier Museum of Art, Manchester, NH through May 13, showcases rare and iconic images to present a lively history of the medium's international, technological, and cultural origins. The first picture in the exhibition is a painting of a river by Francis Orville Libbey and beside it, an equally atmospheric photography of Lake George by Edward Steichen. When photography was invented around 1839, it aspired to be like painting. Photographers used special lenses and filters to imitate painting. However, the public wouldn't accept machine-made pictures as art. It regarded photographs as documentation. Not until 1940, more than 100 years later, did New York's Museum of Modern Art establish the first museum photography department.
Photography changed in the 20th century. The invention of the smaller, hand-held camera made it possible for photographers to take their cameras to new places and to create such innovative images as Samuel Gottscho's 1932 "Times Square From Above" by shooting down from a skyscraper. Skyscapers were new, too. Photographers were among the first to celebrate how technology was changing the visual environment. In 1928, Margaret Bourke-White photographed the sculptural details of "Niagra Falls Power Plant." Czech photographer Drahoir Joseph Ruzicka captured the grandeur of Penn Station with its soaring columns that dwarf the commuters huddled at the entrance. In the 1930s, Boris Ignatovich photographed close-up the rhythmic repetition of row upon row of "Tramway Handles."
Before the advent of color film, the pioneering picture-takers developed their own palette, ranging from glacial whites to shades of gray to bold blacks. In the museum's guide to the exhibition, Associate Curator Dr. Kurt Sundstrom observes that with "Metamorphosis Through Light #587" from around 1935-36, Helmar Lerski "used light and texture of the face, as a painter uses brush and canvas, to create a provocative abstract image." The photographers' results were so intriguing and challengng that painters followed their lead. George Braque, among others, experimented with monochromatic cubist images. Some, like Fernand Leger and Charles Sheeler, an accomplished photographer as well as a painter, painted industrial subjects. Sheeler had studied industrial drawing and had worked as a freelance photographer for architects, experience which he put to good use for his 1948 tempera on board painting, "Amoskeag Mill Yard #1," a flat, hard-edged image of factories. He said such buildings are beautiful because they're functional. Surrealist Man Ray is represented in the exhibition by a 1930 Rayograph, "Mr. and Mrs. Woodman." With his protégé and lover Lee Miller, he invented the process in which an object is placed on photographic paper and exposed it to light. "Mr. and Mrs. Woodman" are flat figures, perhaps cutouts or flat puppets.
Many of the photographs on view are from the Currier's own archives. The museum has benefited from the generosity of prescient collectors, including the late photographer Lotte Jacobi, a New Hampshire resident who is well represented. The collection also comprises such masters as Ansel Adams, Berenice Abbot, Walker Evans, Florence Henri, Edward Hopper, Sonya Noskowiak, Paul Strand, KarenTitel, Edward Weston, and Minor White, among many other notables.
In 2005-2007, the Currier acquired more than 50 works from the nationally recognized collection of the late Jonathan Stein of Portsmouth. The museum also received 35 works from the Bret Weston Archive and they are featured in this show.
The Currier has scheduled a photo slam in conjunction with "A New Vision: Modernism Photography." Twelve artists will be chosen to present their work at the museum on Saturday, April 21. Information about submitting your photos is available at http://www.currier.org under Adult Programs.
Image of "Tramway Handles" by Boris Ignatovich courtesy of the Currier Museum of Art.