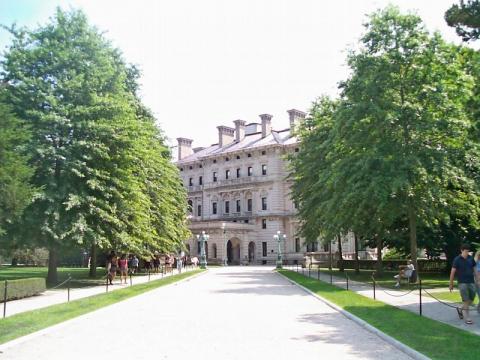 Newport Mansions: Squinting at The Gilded Age
24 August 2011 - 11:24pm
|
superuser
by Sue Katz
Entering Newport, I'm surprised by how old and beautiful it is. Founded in 1639, the town is full of tourists, twee shops and handsome 18th century houses. Down many side roads are views of the yacht-laden harbor and always-nearby shore. There are renowned attractions we won't get to – from the popular Cliff Walk to the peculiar collection of 800+ living sculptures in the Victorian Green Animals Topiary Garden.
No, we're keeping our eye on the prize. We stop at the Preservation Society – the owners and care-takers of 11 ornate mansions that the descendants of the Gilded Age residents can no longer afford to maintain. And no wonder. These extravaganzas, now deemed National Historical Landmarks, were constructed in an age without income tax, so the Robber Barons had nothing to do with their looted millions but compete with each other by building their imitation European follies on Bellevue Avenue. Mark Twain coined the phrases "conspicuous consumption" and the "Gilded Age" (the interiors are all drenched in gold) with a sneer. My companion observes:
"The income tax of 1913 stopped their avarice and it's taken them less than 100 years to get it all back."
The personable woman at the Preservation Society's desk, Lila, has my press pack all ready. Through the day I am to meet a stream of well-coiffed, well-dressed white women who have chosen Newport as their retirement destination because it is small enough to walk and there are lots of activities. Lila sends us to the crown jewel The Breakers first, and there we receive the first of the audio tours that are included with the rather expensive ticket of $24.50 (each). I am to find these tours uniformly insipid, lacking much inside gossip, social critique or the substantive analysis one often gets at good museum exhibits. I am to be disappointed too, that none of the three houses we visit (too many – stick to two per day is my advice) includes a single staff bedroom on their tour.
THE BREAKERS
The Breakers was built by Cornelius Vanderbilt II, one of the richest of a total of 25 NYC millionaires. He was the grandson of Cornelius, son of William, and inheritor of railroads. The Breakers combined opulence with the latest technological advances, like central heating and lots of bathrooms. It has 70 rooms including 33 on the top floors for the help, 750 doorknobs, an unheard-of 20 bathrooms, and it cost $12 million ($310 million today, according to Wikipedia) to build. It required 20 servants to keep it going. In fact, 2,000 servants worked the big houses of Newport each summer, many of them immigrants. Some things never change.
For just a little contrast, I found some annual salary figures for working class people in City Journal:
"To understand what a million dollars was in 1892, consider that a factory worker earned about $446 a year, a railroader $563, and a miner $393. Clerks took home about $885 annually, schoolteachers a paltry $270. A family could live in middle-class comfort with servants on $2,000 a year."
Between the European marble, the rare woods, the Tiffany wall sconces and the amazing massive crystal chandeliers, a visitor is hard-pressed to take in the details of the different rooms, not the least the 500 year old French stone fireplace in the library, the walls of which are made of gilded wood that looks like aged leather book covers. Now why didn't I think of that for my "library" – i.e., my twin Ikea pine bookcases.
And then there is the bathtub, carved from a single block of marble and so thick that it had to be filled up several times in a row in order to warm the stone. It also has four taps – two each for fresh and salt water, thought to be a healthy bath medium.
When you've got 70 rooms, you break down activities so that each (music, reading, eating breakfast, eating dinner, etc) has a room of its own. The servants too were specialists. Footmen were on their feet all day for their job was to deliver messages. To look impressive, they were required to be over 6 feet tall. Male servants like butlers and footmen were visible, a sign of the wealth of the household.
Chambermaids were generally invisible, traveling along the back corridors and staircases and slipping into rooms by hidden doors. They spent their days dusting, plumping up pillows, changing bed sheets twice a day and switching towels after every use.
MARBLE HOUSE
It is time to move to our next destination, a perfect cube named the Marble House and famous as the home of Alva Vanderbilt, a suffragette. In fact it was the first of the over-the-top "cottages" (i.e. predates The Breakers et al) and changed the lazy summer resting spot of the rich into a hyper-competitive struggle between old and new money. The old money cottages were wooden structures, impressive on their own but nothing like these new palaces. The new money people raised the bar so high that those still holding their noses, like the Astors, were forced to socialize with such riff-raff as the Vanderbilts. This house started it all. Marble House cost $11 million ($260 million in 2009 dollars says Wikipedia), much of which went for the marble. Alva oversaw its construction on the understanding that her husband would give it to her outright, which he did on her 39th birthday.
The Grand Salon is covered entirely in 22 karat gold, a la Versailles. Every doorknob is a unique dolphin design. The art gallery's light is dimmed by the astounding stained glass windows liberated from a European church. The house is a mix of French rococo style (library), medieval French doors (art chamber) and fluffy fantasy ruffles for her own princess-like bedroom.
Alva felt herself excluded from the rights and privileges of the wealthy because of her gender and she had raged against such restrictions since childhood. She was a tomboy – riding bareback, punching boys and considering herself, she said, "a law unto myself." A couple of years after Marble House was completed and turned over to her, she got fed up with her husband William's philandering. She decided to divorce him, which was considered scandalous. William and everyone in their circle pressured her to just effect a separation, but she insisted on a complete break. "I longed to be a pioneer in my class," she said.
She further shocked her peers by marrying her ex-husband's buddy Oliver Belmont shortly after her divorce kicked in, moving a couple of doors down the road to live with him until his death in 1908. She kept Marble House simmering – it was known as her very expensive extra closet, but after being widowed she moved back and began using Marble House as a center for suffragette meetings, supposedly open to women of all classes. But she charged $1 for women to sit on the grass listening to speeches and $5 for a tour of the house (excepting her own bedroom) – a sum that surely was beyond the reach of shop girls and servants. One wonders what her own laundresses and housemaids thought about the extra work these movement gatherings caused. She was certainly a problem for progressive suffragettes who needed Alva's wallet but could have done without her extravagance and arrogance. And racism
Wikipedia notes:
"By this time, organized suffrage activity was centered on educated, middle-class white women, who were often reluctant to accept immigrants, blacks, and the working class into their ranks. Belmont's Political Equality League only partially broke with this tradition. She established its first "suffrage settlement house" in Harlem, and she included black women and immigrants in weekend retreats at Beacon Towers, her Châteauesque style castle in Sands Point, New York. However, she also contributed to the Southern Woman Suffrage Conference, which refused to admit blacks."
The relationship between Alva and her adored daughter Consuela gives some insight into Alva's deep conflicts. She decided very early to marry Consuela off to a European aristocrat, even decorating her daughter's Marble House room like a muted English castle chamber. Playing on Consuela's obedience but against the younger woman's better judgment, the wedding to Charles Spencer-Churchill, 9th Duke of Marlborough took place the same year of the divorce. In fact, it was a huge party for the visiting royal suitor that manipulated the snobby old-money Astor family to finally see Alva socially. Luckily, the marriage was later annulled by joint agreement and Consuelo married a second time for love, finding for herself real meaning in social work.
I'm curious: Where do Anderson Cooper and his mother Gloria Vanderbilt fit into the family tree?
THE ELMS
We concluded our visits with a spin around The Elms, built in 1901 for the Pennsylvania coal baron Edward Julius Berwind – thus of particular interest to a Pittsburgh girl like myself. A copy of a French château, it cost $1.2 million (or $22 million today) and was meant both as an art gallery for Berwind's growing collection and a place to entertain befitting the captain of an industry that was then the number one producer in the world. Being one of the most powerful men of America meant that he had buddies like Teddy Roosevelt and Kaiser Wilhelm II of Germany. Berwind was big on new technologies and The Elms the first of the houses to be fully electrified.
When Berwind's wife, Sarah, died some 20 years later, he moved in his sister Julia as hostess. After all, he was busy making millions and only visited The Elms on occasional weekends till his death in 1936, so Julia happily held down the fort until her death in 1961, probably the last of the old school Gilded Agers. For example, she hosted a bridge game each afternoon, but if she was lacking a player, she would draft in her butler to make up the fourth. He, however, would have to stand throughout the game. Julia conducted her social events according to the most traditional rules of etiquette, such as the dictate in one of her reference books, "Do not use a classical saying in front of a lady without apologizing or explaining."
When guide books (and the audio tours) tout Newport as a woman's town where women ruled, the evidence is an odd assortment of points, focusing on their hosting duties while their husbands stayed back in NY to do business. The steps of the grand staircase at The Breakers, for instance, were shortened by two inches so that women descending into the Ballroom appeared to be gliding. Women were the social definers, delineating with their visits which households belonged to which lofty social spheres. But they had time for little else as they changed clothes at least a half dozen times per day, with separate outfits for breakfast, day dress, luncheon, an outing, dinner and evening activity.
The grounds of The Elms include some the most beautiful gardens in town, all very 18th century French, but despite the name, no elms are to be found, having succumbed to disease. For compensation there are the most glorious, enormous weeping beech trees, like giant tents dotting the lawns.
As we finish our tour with a stroll through these grounds, I am reminded of perhaps the most telling, if enraging, comment on the audio tour. The melodious voice, without even a hint of irony, tells tourists from around the country and the world that Edward Berwind successfully guided his business through three cataclysmic events: World War I, the Unions, and the Great Depression.
Nuff said.
Sue Katz, an author, journalist, blogger and rebel, used to be most proud of her martial arts career and her world travel, but now it's all about her edgy blog Consenting Adult. Sue is a regular contributor to Open Media Boston.
This article was simultaneously published at Sue's blog. Photo by Barry Hock. To view the full photo set, please check out the blog version.