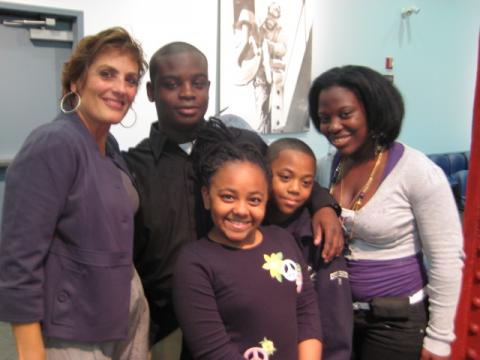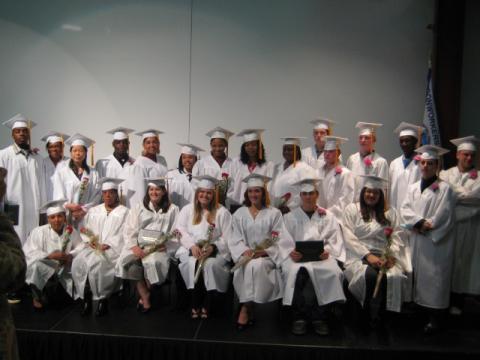 Notre Dame Education Center Celebrates Graduation
3 October 2008 - 7:18pm
|
Open Media Boston
by Craig Maser (Advocate)
Each year, for sixteen years, Notre Dame Education Center has been a leader in providing community-based adult and youth literacy programs in South Boston, offering students an opportunity to adapt in the American culture and train for upward mobility in the job market — in a word—NDEC students achieve self-sufficiency.
On Friday, September 26th, Notre Dame Education Center celebrated its sixteenth graduation ceremony with twenty-two students from its High School Diploma Program and thirteen students from the Literacy Program who had earned their GED's.
Thanks to the generosity of the members and leadership of the Ironworkers Local 7, who provided the use of their meeting hall for the ceremony, graduates of both programs were afforded an opportunity to receive their well-deserved awards in front of a gathering of over two hundred of their family members, friends and neighbors. In her speech to the graduates and gathered audience, Anne Metrick, NDEC's Executive Director, asked the members of the graduating class to "hold NDEC close to your hearts as you continue your education or pursue a career. We ask that you return to us with the experience, wisdom and success that we hope you will gain."
Included in the list of students receiving their high school diplomas are Briana Annese, Terrence Ash, Chris Attardo, Katherine Barnes, Fatoumata Barry, Jean Mencia Batista, Juliana K. Brunick, Ralph Cadet, Alfonsina Del Mar Chang, Pierre Deus, Ashley Kelley, Ian McNeill, Joseph Milisi, Justin B. Miller, Dhilsia Osorio, Madonna Pires, Manuela Pires, Jeff Potenza, Jesus Rivera, Alandra Sheffield, Armani Steele and Chace Taylor.
Among those receiving their G.E.D. certificates were Maxwell S. Adjibodou, Maruisz P. Bochynski, Ghislaine Bousseau, Daniel Bracken, Willie C. Bizzell, Alan Coveney, Dorothy O. Kuffour, Michael Kuzmich, Marie Loiseau, Sakeena L. Piersaint, Endri Plaku, Anica Rosa and Tracy Q. Situ.
Special recognition should be given to Charlie Shediac, Chairman of the NDEC Board of Directors who conferred the diplomas with Executive Director Anne Metrick, Amie Cressman, NDEC's Program Director, Donna Pomponio, the High School Diploma Program Coordinator, Jason Forman, the High School Diploma Program Case Manager, Sr. Mary Mulligan SND, the Literacy Coordinator, Patricia Espinoza-Toro, an NDEC G.E.D. instructor, Sister Jon Julie SND who photographed the event and singer and American Idol contestant, Lola Frazier, who shared two beautiful songs which were dedicated to all of the graduates.
The Notre Dame Education Center is A Place of Hope. People from the diverse neighborhoods and cultures of the city come here to initiate or to continue their education. As part of their learning, they will participate in the development of the Center as a place where family values are strengthened, community building fostered and diversity respected and celebrated. Please check out our web site at www.ndecboston.org for information about programs and schedules.
Craig Maser is Director of Advancement at Notre Dame Education Center, Inc in South Boston.