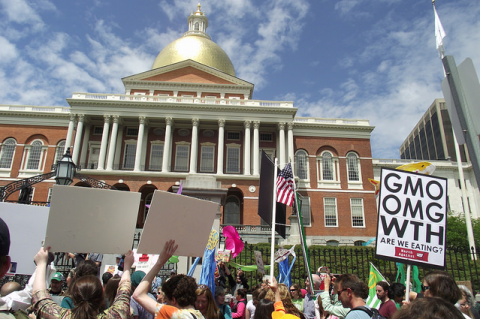 Organic Food Advocates Call for GMO Food Labelling, Claim Health Concerns
28 May 2014 - 12:21pm
|
jadams
by Jonathan Adams (Staff)
BOSTON - Calling for the labelling of Genetically Modified Organisms (GMOs) used in food, over 1000 organic food advocates hit out at chemical companies at the March Against Monsanto on Saturday - one of over 400 similar actions around the world.
Martin Dagoberto, co-founder of the MA Right to Know GMOs campaign, which is spearheading calls for food labelling in the Bay State, told the rally, "I got my degree in biology and biotechnology from Worcester Polytech in 2006, and it was there that I gained an appreciation for the magnitude of the risks that we're taking with genetic engineering, there's a lot we have yet to figure out; I'm not against science, but I don't want to be a science experiment.
"The fact is that the currently commercialized GMO crops have not been put through the proper safety testing," he continues, "the companies are putting profits above all else, they're paying for their own research and actively discrediting any research that goes against their dogmatic belief."
According to a press release issued by the event organizers, a recent statement signed by hundreds of food experts says, "there is no scientific consensus on GMO safety, and the government has never performed or required any safety testing of GMO foods.
"The industry funds its own research to prove GMOs are safe while aggressively discrediting any independent research challenging that belief," it continues, "GMO foods have been linked to digestive disorders, infertility, immune problems and cancer, and these studies warrant further research."
Dagoberto claimed that "there [are] a lot of revolving doors between the industry and regulators," and pointed out that the Deputy Commissioner for Foods at the federal Food and Drug Administration, Michael Taylor, is a former vice president of Monsanto.
Though the studies linking the consumption of GMOs to a range of serious conditions are "not conclusive," said Dagoberto, "there's cause for concern, and while the jury is still out we want to know what we're eating."
A number of organic food business owners also spoke at the rally, including Jessie Banhazl, the founder of Green City Growers based in Somerville, which converts unused spaces into urban farms.
She pointed out that chemicals have been used in food cultivation for a little over 100 years, while farmers have been growing food for around 10,000 years without the assistance of these additives.
"Plants don't need chemicals to grow," she said, "they don't need them to nourish, they don't need them to thrive, plants don't need human intervention to combat insects and disease, they grow just fine without us, but we're not fine without them, we need to consume plants to live, and as well all know … there is a major problem with companies controlling the plants that we need to nourish ourselves.
"Monsanto may control the money, they may control Congress, they may control the farm from its source, but do you know what they can't control, our ability to feed ourselves by growing our own food," she continued.
According to the press statement, over half of state's legislators have officially endorsed the food labelling bill, which is similar to a bill recently passed in Vermont, and is currently on its way for a full vote on the House floor.
Monsanto declined to address the claims made at the rally, but in a press statement said, "we conduct rigorous and comprehensive testing on each and every one of our products.
"In fact, GM [genetically modified] seeds have been tested more than any other seeds in the history of agriculture – with no evidence of harm to humans or animals," it continues, "[r]egulatory agencies, scientific organizations and leading health associations worldwide agree that GM foods are just as safe as any other food."