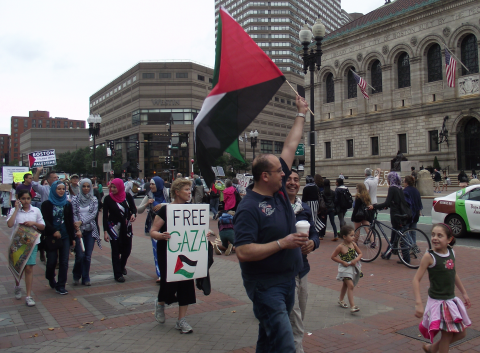 Palestinian Supporters Continue Protests in Boston against Israeli Attacks
3 August 2014 - 6:42pm
|
jadams
by Jonathan Adams (Staff)
BOSTON/Copley Square – Following the Israeli assault on the Palestinian territories that began last month, pro-Palestinian activists picketed on the sidewalk between Copley Sq. and Boston Public Library on Saturday.
Over 100 demonstrators called for an end to the hostilities that have claimed the lives of around 1,000 Palestinian civilians so far in a rally organized by the Northeastern University's Students for Justice in Palestine (NEUSJP), and attended by members of Jewish Voice for Peace, United for Justice with Peace, and SJP groups from Tufts University, Boston College, and Boston University.
The picket continued demonstrations that began in mid-July calling on companies in Boston to divest their business interests from Israel, and also included a large rally last week that saw over 2,000 people march to the State House to highlight the devastating effect of the assault on the Palestinian territories.
According to Sean Hansen, a member of NEUSJP and one of the organizers of Saturday's rally, "we're here to tell the Boston community more about what's going on in Palestine … to send the message that Palestine never walks alone."
He said that "Israel has launched a massive offensive," where the dead have been primarily Palestinian civilians, "and it's been horrible to watch.
"And, the one thing that often gets lost is that this is on top of the day to day structural violence of apartheid Israel," he continued, "where there are checkpoints if you want to go anywhere; even if there's an ambulance leaving to bring someone to the hospital in Israel, it gets stopped; so this is a day to day, every day, structural violence committed in the West Bank and in Gaza, so this new siege that's happening right now, that's on top of all of that."
Hansen says he thinks that people in Boston have begun to support the Palestinian people more than previously, and says "we're hoping to bring Palestinian solidarity from the margins to the center, and I think we're really doing that right now."
He says that "our goal is to play our role in Palestinian liberation, and so one thing … Palestinian civil society has asked for us [to do is] boycott, divest, and sanction [BDS] Israel and their goods, and for instance, a year ago, on Valentine's Day we had an action right there against Max Brenner, who supports the Golani Brigade, which has the most human rights violation out of any brigade in any army, so that's a great example of what BDS is, it's a nonviolent attack on the military-industrial occupation of Palestine."
Though this demonstration was not countered by any opposing group, Hansen pointed out that NEUSJP has faced "backlash" for what he claims is their pro-Palestinian activism.
The student organization was previously suspended by the university following an unauthorized flyer protest that drew attention to house demolition in the Palestinian territories, but following multiple protests, "we eventually got reinstated, our funding was increased," says Hansen.
The Consulate General of Israel to New England did not respond to a request for a statement, and has yet to comment on the protests in Boston critical of Israel's actions in the Palestinian Territories.