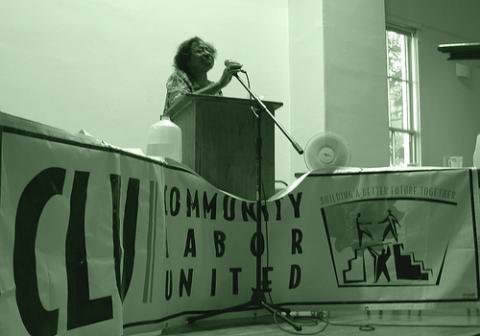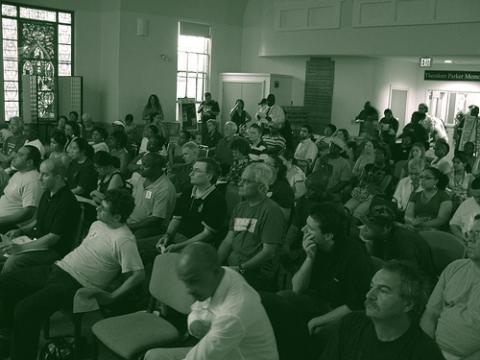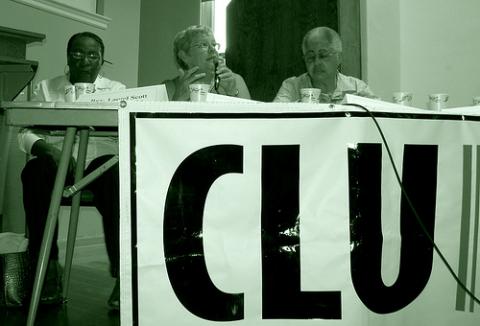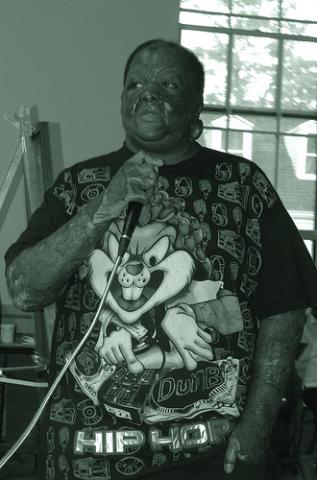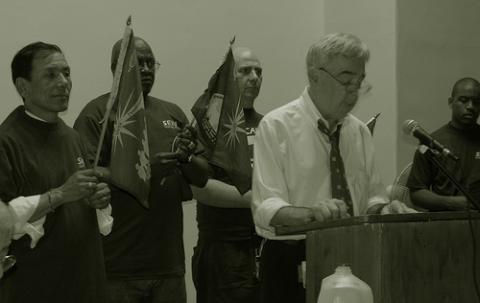 People's Assembly Demands $11 Million Community Fund from The Blackstone Group
11 July 2008 - 4:39pm
|
jpramas
by Jason Pramas
BOSTON/Roxbury - Concerned about a rising tide of economic and social ills, over 100 local activists and advocates filled the hall at the First Church of Roxbury in John Eliot Square on Tuesday evening to watch representatives of grassroots organizations and labor unions testify to a panel of community leaders about the need for corporate landowners to do more to help Boston's neighborhoods thrive.
The "People's Assembly on Corporate Responsibility" was organized by the Secure Jobs, Secure Communities campaign of Community Labor United - a coalition of labor and community organizations - and focused on the impact of unemployment, foreclosures, unfair CORI laws, low-wage service jobs and violence among young people on the City of Boston.
The main target of the event was The Blackstone Group - a private equity firm that is also Boston's largest commercial landlord - who continue to make huge profits during the ongoing recession. CLU alleges that most of Blackstone's profits are taxed at only 15 percent while individuals are taxed at 28 percent and other businesses at 35 percent; so community organizers would like to see the corporation contribute more of its fair share to a city from which it continues to benefit from handsomely in a time of high commercial property values and lease rates.
"Large building owners like Blackstone need to do their part and be responsible to the neighborhoods where their workers come from," said Kalila Barnett, Senior Organizer for CLU. "During a time when everyone's budgets are stretched they have done well. We are simply asking them give back to city where they have prospered."
In March 2007, while Blackstone was announcing a $4 billion initial public stock offering - considered a surprising move for a company specializing in taking public companies private - it also stated that it would contribute $150 million to support charitable organizations in the communities they operate in. But a year later, CLU has found no evidence that the foundation was ever set up and is sure that any monies have been dispersed to local community groups.
'We're asking Blackstone to give back to the community," said testifier Terri Hinton of the Boston Workers Alliance, "especially the low-income communities like Roxbury, Dorchester and Mattapan."
Hinton went on to vocalize a main demand of the CLU's nascent campaign against Blackstone, "We want at least a dollar a square foot, 11 million dollars to fight these issues - CORI, unemployment and youth violence. Our families are suffering. We're asking everyone in this room to work with us to fight to get this community fund to fight these issues."
Another call to action came from Paula Taylor of City Life/Vida Urbana, who has been fighting the foreclosure of her home, "When the constable comes to force us to move, we're going to have an eviction blockade."
"We, as youth, do not have no jobs to go to," said Handel Dixon of United Youth and Youth Workers, "It's good to have basketball courts, but we need more than that in our neighborhood. We need vocational training for the youth - rather than basketball courts, football fields and baseball fields - because not everyone can make it to the pros."
Kevin Tarpley of ACORN said " Blackstone, they get rich off of all of us, and they give nothing back. We are calling for corporate responsibility."
James White, a security guard and member of SEIU Local 615 brought up a labor perspective, "Blackstone Group is the largest commercial real estate owner in Boston. We want Blackstone to be a responsible corporate citizen and require security contractors in their buildings to urge them to bargain fairly with us, the security officers who make them all safe and help their businesses thrive."
White continued, "But not only that. We want Blackstone to also be a good neighbor and understand that we come from many of the same neighborhoods that are hardest hit by unemployment, home foreclosures, and youth violence. We don't just need stable jobs. Coming home from a good job to a community in crisis is not good enough."
After the testimony, the panel of respondents - including retired TV news personality Sarah Ann Shaw, Rev. Laurel Scott of the Centralville United Methodist Church in Lowell, MA, and Sr. Mary Priniski of the Archdiocese of Boston Labor Guild - deliberated for about 15 minutes, and then indicated their support for the campaign against Blackstone.
Scott concluded, "All of us have to be involved. Each group needs to turn out all of its members. I'm from the Caribbean and we have a saying 'today for me, tomorrow for you.' If you're in this kind of fight you've got to be prepared for the long run."
Blackstone has recently met with CLU leadership on two occasions to discuss its demands, and yesterday called CLU to indicate its willingness to talk again by phone next week - although it has not committed to another meeting. CLU has called a rally at Blackstone's Boston office for next Wednesday in support of its campaign.
[Photos courtesy of Rene Mardones. Copyright 2008 Rene Mardones.]
Check out Community Labor United's website at http://www.massclu.org
License:
Creative Commons 3.0 BY-NC-SA