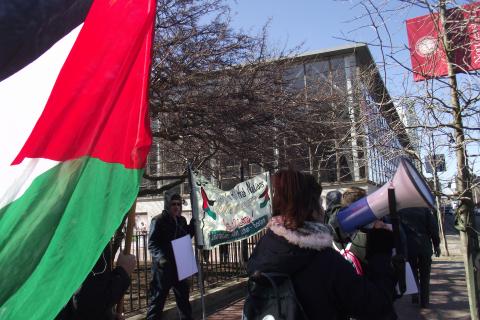 Pro-Palestinian Student Group Pickets Northeastern University Following Suspension
19 March 2014 - 12:00am
|
jadams
by Jonathan Adams and David Goodman (Staff)
BOSTON/Fenway - Demonstrators called on the Northeastern University administration to reinstate the suspended student organization, Students for Justice in Palestine (SJP), in a picket at the school on Tuesday. 
Over 200 supporters and members of SJP protested the university's decision earlier this month to suspend the group for what the administration alleges were repeated violations of the school's policy concerning protests.
As previously reported, the suspension came after the group distributed mock eviction flyers in campus residences in an effort to spread awareness of home eviction in the Israeli-occupied territories, and followed months of what SJP alleges is discrimination against them by the administration.
Speaking to Open Media Boston during the picket, SJP's president Tori Porell claims that "it's not the fact that we're trying to speak about anything on campus, it's the fact that we're trying to speak about Palestine that is what is setting all these issues off.
"So we're not just here to protest our censorship, but the censorship of the Palestinian perspective, and the work that we do to raise awareness about Palestine," she continues.
Two individual SJP members are also facing a disciplinary hearing, which the group claims is further discrimination against them by the administration. Porell claims that "the Office of Student Conduct contacted two of the members of our group who they believe to have been involved in distributing our notices … and these students have been charged with endangering behavior, as well as violations of the university housing policy."
She further claims that this is a "campaign of fear and intimidation," and that the school's administration is "trying to prevent student activists from ever wanting to be active on campus again, and prevent these issues from cropping up for them in the future."
According to a press statement from Northeastern University, "two students have been called to a disciplinary hearing for violating university rules related to allowing unauthorized guests in a residence hall.
"While these students are affiliated with the undergraduate SJP organization, the hearing concerns only the violations of these residence hall rules … these students are not facing suspension or expulsion, for any reason," it continues.
As previously reported, SJP received a letter from the administration on March 7, which notified them of their group's suspension until the end of the year, and revoked their access to finances, campus space, and their right to organize.
The letter claims that SJP was suspended for a number of violations of school policy, including "sliding mock eviction flyers under doors in residence halls," and after they were sanctioned for protesting members of the Israeli Defense Force speaking on campus in May.
SJP also claims that the administration's actions following the distribution of the mock eviction flyers was prompted by complaints made by prominent on-campus Jewish group, Northeastern Hillel.
Open Media Boston made multiple requests for a press statement from Hillel, but did not receive a response before the filing of this report.
The picket was joined by a number of groups, including Jewish Voice for Peace, Black and Pink, Code Pink, the Workers World Party, and by members of various unions including the Service Employees International Union, the United Steelworkers Local 8751, and UNITE HERE.
Several Boston Police Department officers were present during the demonstration, and a number of plainclothes Northeastern University police officers also monitored the event.