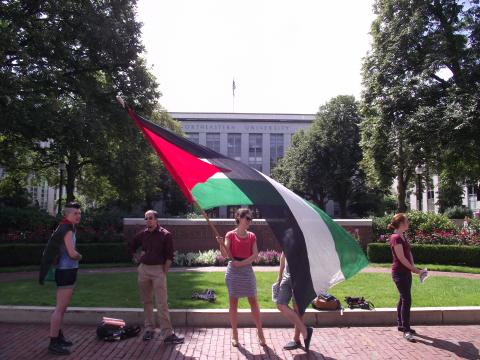 Pro-Palestinian Student Group Suspended by Northeastern University Administration
13 March 2014 - 7:01pm
|
jadams
by Jonathan Adams (Staff)
BOSTON/Fenway - An officially recognized Northeastern University student organization, Students for Justice in Palestine (SJP), has been suspended by the Northeastern administration for a string of alleged violations of school policy regarding protests. 
In a letter on Friday, the administration suspended the group until the end of the year, revoking SJP's access to finances, campus space, and their right to organize.
Speaking in a phone interview, president of the group, Tori Porell told Open Media Boston that the notice came "out of the blue," but that a campaign to reinstate SJP is already underway.
She said, "we know that the administration has been inundated with phone calls and messages, and the press has really caught onto this as well; we were featured on Al-Jazeera last night … and I think this conversation is really resonating with people from a really broad audience."
According to the administration's letter, it's claimed that SJP was suspended for a number of infractions, including "sliding mock eviction flyers under doors in residence halls in the days prior" to February 24 in violation of school policy.
SJP was also sanctioned in May last year when they engaged in a silent protest against Israeli Defense Force members speaking on campus, and the group was put on probation as a result.
Porell described the mock eviction notices as "small flyers" with "a tiny amount of resemblance to an actual eviction notice," which tell readers to evacuate one's home before its demolition on a certain date.
She says that they describe a "reality for thousands of Palestinians living in the occupied territories, who receive these kinds of notices based solely on their ethnicity every day …"
Porell further explained that they contained "statistics about Israeli home demolitions since 1967, and boldly at the bottom it states that this is not a real eviction notice," saying that the group's goal is not to "threaten or intimidate any students … but to prompt people to think about what it might be like to receive a notice like this."
She claims that after the mock eviction flyers were distributed, Northeastern Hillel, a prominent on-campus Jewish organization "really lost their tempers," and began "pressuring the university to crack down on us, which is what led to the suspension."
Open Media Boston contacted Northeastern Hillel for a press statement, but did not receive a response before the filing of this report.
Porell further claims that, "we complied with the university instructions" since they were sanctioned, and "thought that we could continue to work within the university's regulations to conduct our activities, however, they continued to make life difficult for us," she says of the university's treatment of SJP, which she described as "repression."
For now, SJP has begun calling itself the Northeastern Palestine Underground, "because that's where the university has forced our activities," says Porell.
According to a press statement provided to Open Media Boston by a Northeastern University spokesperson, "Despite repeated efforts by university officials to work with the leadership of SJP, the organization has repeatedly shown a disregard for university policies over an extended period of time.
"The issue here is not one of free speech or the exchange of disparate ideas. Instead, it is about holding every member of our community to the same standards, and addressing SJP'S non-compliance with longstanding policies to which all student organizations at Northeastern are required to adhere," it continues.