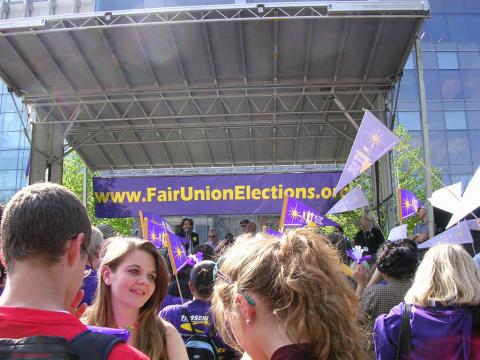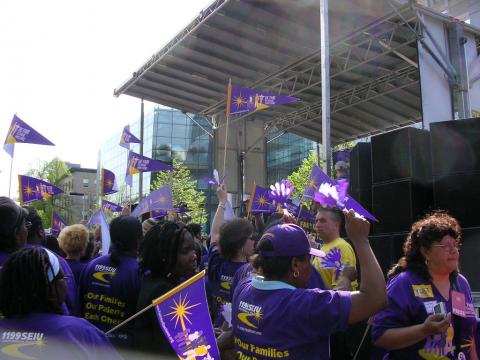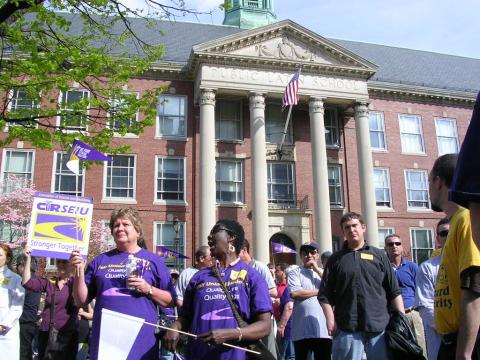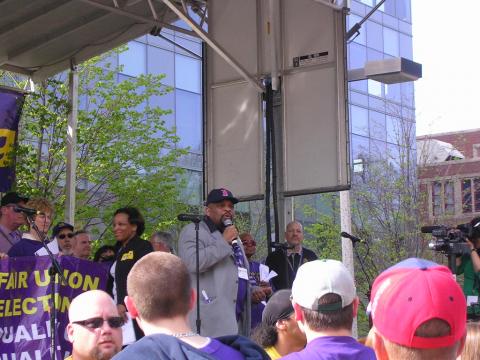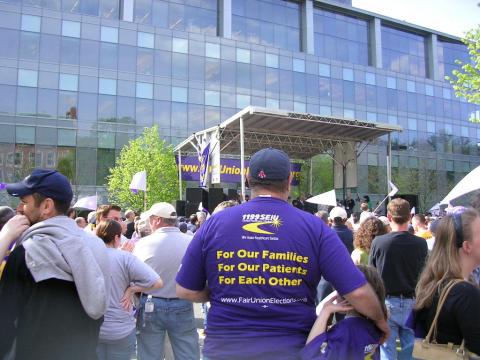 Rally for Hospital Workers Shakes Up Longwood
8 May 2008 - 9:25pm
|
jpramas
by Jason Pramas
BOSTON - Over 1000 workers from two dozen area hospitals and allied healthcare facilities showed up for a boisterous rally today at 4 p.m. on Avenue de Lafayette in the heart of the Longwood Medical Area. Their main demand was clear ... they want "free and fair elections" and respect for workers rights as they attempt to unionize legions of hospital workers in the Greater Boston area.
That message was echoed by several speakers including 1199SEIU United Healthcare Workers East President George Gresham, head of the 300,000 person union that is leading the drive to organize area healthcare facilities.
"Hospital CEOs, they don't have to worry about benefits," stated Gresham. "But hospital workers do, and the way they're going to get them is free and fair elections."
1199 organizers are essentially seeking management neutrality throughout Boston's healthcare industry. They argue that, as in so many labor organizing drives in virtually all industries in the U.S., healthcare executives are not allowing workers the right to join 1199 and hold elections for union representation in their workplaces free of constant harassment and forced "captive audience" meetings that take them away from their jobs - plus subject them to non-stop anti-union PR spin without allowing the union equal access. They want management to back off and let workers exercise their basic rights on the job.
The fact that the job of healthcare workers is taking care of sick patients has not yet halted vociferous anti-union campaigns by healthcare industry management. But union leadership is using public actions like the rally to put pressure on non-union healthcare facilities to sign a code of conduct they've drafted that mandates free and fair elections, and respect for existing labor laws by both management and 1199. The union states that over 60,000 Boston area healthcare workers are underpaid and lack decent benefits.
Workers from the following facilities were on hand at the rally: Brigham and Women's Hospital, Children's Hospital, Beth Israel and Deaconess Hospital, Massachusetts General Hospital, Boston Medical Center, Cambridge Health Alliance, Carney Hospital, St. Elizabeth's Hospital, Joslin Diabetes Center, Dana Farber Cancer Center, Cape Cod Hospital, North Shore Medical Center, Lynn Hospital, Union Hospital, Melrose-Wakefield Hospital, North Adams Hospital, Quincy Hospital, Whidden Hospital and several others.
Speakers included 3 workers from area hospitals, union leaders from the Greater Boston Labor Council and the Area Trades Council, and a number of community supporters. The event finished with a set by the Dropkick Murphys. Music was also provided by the IBEW Local 103 Bagpipe Band and the Haitian percussion band Blem Sou Blem.
License:
Creative Commons 3.0 BY-NC-SA