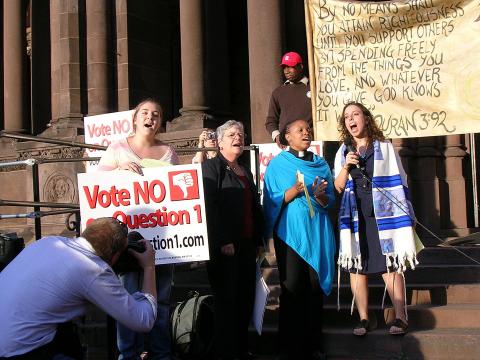 Religious Activists Rally to Vote No on Question 1!
19 September 2008 - 10:42pm
|
jpramas
by Jason Pramas
BOSTON/Copley Square - On Wednesday, over 100 activists representing an array of religious and social justice organizations held a rally in front of the Trinity Church to launch an interfaith campaign to encourage Massachusetts residents to Vote No on Question 1 - a binding referendum question put on the November ballot by the Committee For Small Government that would end the state income tax in the Bay State. The Committee is a non-profit led by Massachusetts Libertarian Party activists.
Rally organizers said that, if passed, Question 1 will cut over 40 percent of the state budget, destroy virtually all social service programs, and amount to the destruction of Massachusetts state government. Speakers from several Jewish, Christian and Muslim denominations made frequent reference to how passage of the referendum question would stand in direct opposition to the core beliefs of all faith traditions. They were joined by representatives of the labor movement and the anti-poverty movement.
Margie Klein, rally coordinator, and co-director of the Righteous Indignation Project and Moishe House Boston: Kavod Jewish Social Justice House, said, "We come together today despite differences in race, class, and creed to articulate a mutual commitment to fighting poverty. All religions believe in justice, and we are here to voice a clarion call to make fighting poverty a greater priority in this election. We call on candidates to focus on fighting poverty, and we call on citizens to vote no on Question 1.
"In Isaiah 58, the Bible insists that our religious rituals are empty if we do not commit ourselves to caring for the needy and the vulnerable, if we do not have compassion on others as God has compassion on us. If passed, Question 1 would eliminate essential state services to the most vulnerable among us -- poor people, elderly, and children, and so it is our religious obligation to oppose it."
Anthony Zuba, lead organizer of the Mass. Interfaith Committee for Worker Justice, echoed those sentiments in his remarks, "The message we are sending is that we are all our brother's keeper and our sister's keeper. What you are seeing and hearing is nothing less than a summons to all citizens and all people of faith to renew the social contract that binds us as one people. God has made a covenant with a people, not only with individuals. We cannot honor the covenant God has made with us unless we covenant to care for each other. Of course our government is no substitute for this holy covenant, but it is a necessary means by which we live up to our covenant responsibilities."
Klein concluded, explaining the genesis of the rally, "The Righteous Indignation Project is one of the organizers of the Fighting Poverty with Faith week of action that is happening nationwide in 35 cities, and Moishe House Boston: Kavod Jewish Social Justice House is a community of about 600 Jews in their 20s and 30s dedicated to social justice, and was the primary organizing force around this rally, along with Cooperative Metropolitan Ministries and Jobs with Justice."
The attendees vowed to continue to fight until Question 1 was defeated.
No counter-demonstrators were present at the event, and there was no police presence in evidence.
License:
Creative Commons 3.0 BY-NC-SA