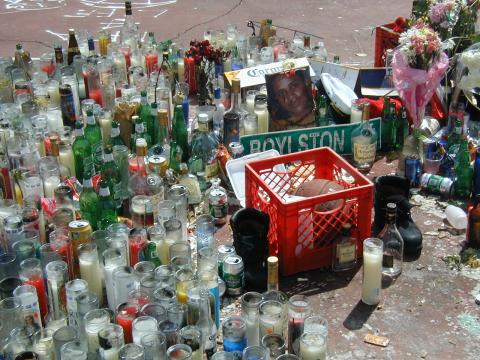 Residents of Jamaica Plain Meet Following Homicide in Southwest Corridor Park
2 May 2008 - 12:47pm
|
RadioView
by Dave Goodman / Boston Community Reporters Project (Independent)
BOSTON/Jamaica Plain - Who or what was to blame for the killing of Luis Troncoso on Monday, April 21st? Gangs, lack of jobs and a social safety net, not enough police patrols? Those were the questions and factors considered at a standing room only meeting held Monday evening April 28th at Spontaneous Celebrations Community Center on Danforth Street in Jamaica Plain.
In a press release from the Suffolk County District Attorney's office, dated April 23rd, Press Secretary Jake Wark wrote, "State Police homicide detectives continue to investigate the facts and circumstances of Monday's fatal shooting at the Southwest Corridor Park in Jamaica Plain." As of May 1, there was no new information, added Deputy Press Secretary Erika Gully-Santiago, who said the case "is still under investigation."
State Police are taking the lead in the investigation of the shooting of 20 year old Luis Troncoso, because the crime took place on state managed property.
With few details available on the case, Jamaica Plain residents, grassroots organizers, and community leaders have had time and inclination to debate and disagree over the root causes of violence in the city, as well as solutions going forward.
At Monday's meeting - originally to be held on the basketball court where Luis Troncoso was fatally wounded but moved inside due to heavy rains - Boston City Councilor John Tobin, Deputy Police Superintendent and Zone E-13 Commander Michael Cox, and Captain Christine Michalosky to varying degrees all told the audience of JP residents that "their primary responsibility would be to make sure the community gets the resources it needs."
But several residents, not hearing specific details from elected representatives and law enforcement officials, directed sharp questions towards politicians, police, and the community at large.
Councilor Tobin, who spoke of strengthening the so-called "linkage" program in which real estate developers must pay into an affordable housing trust and described the city budget of two billion dollars being "eaten up" by salaries and benefits, was asked exactly what resources Jamaica Plain residents could expect in the near future. Tobin responded by describing problems with corporate tax collection and proposals to ask Boston colleges to "adopt local public schools."
Shalanda Baker, who said she lives in the Brookside neighborhood, demanded to know what form promised resources would take. "We cannot let this moment pass," she said, referring to the horror over Luis Troncoso's death. Ms. Baker described the neighborhood as a "war zone" for kids and said it was "shocking for some when violence creeps over the tracks."
Danielle Sommer, a former community organizer with Spontaneous Celebrations and a native of Jamaica Plain also referred to the neighborhood divide formed by the Southwest Corridor Park as "the tracks." She criticized what she called "double police patrols" on the Amory Street side of the park as creating tension with youthful residents due to profiling and unwarranted stop and search techniques. Saying she had "a healthy fear of police," Ms. Sommer added police rarely show this type of force on the Lamartine Street side of the Corridor. Lamartine Street, Centre Street, and points west in the direction of Jamaica Pond are perceived by many as more well to do than neighborhoods east of the Corridor Park.
On the Tuesday following the shooting, Boston Police Commissioner Ed Davis walked down Centre Street, reassuring business owners that he would assign more foot patrols to the area in order to curb violence, according to the Boston Herald.
State Police Commander Arthur McLaughlin promised to add motorcycle units from Brockton to existing patrols when available as well as officers on bicycles.
But Ms. Sommer, who attended college away from Boston and returned to work at home, emphatically said that "communities heal themselves, not police. We know what to do, we have solutions. But we need resources."
Members of the United Youth and Youth Workers Alliance handed out flyers containing graphs indicating that shootings in the city increase and decrease in proportion to the numbers of (or lack of) summer jobs for young people. Based on the city budget for this summer, approved during the last fiscal year, and research conducted by the Boston Youth Fund, teenagers in 2008 will have only about half the city sponsored jobs that were available to them last year.
As for private sector jobs, John J. Drew, executive vice president of social service agency Action for Boston Community Development (ABCD), told the Boston Globe two weeks ago that "it is difficult even in good times to get private-sector jobs for these kids, and it's going to be even tougher this year."
Typical of the Jamaica Plain population, the audience at Monday's meeting was extraordinarily diverse from a number of perspectives, including race, class, gender, and age. But there was a tension in the room expressed in a comment by Kendra Lara of the Youth Workers Alliance, who said that the Southwest Corridor splits Jamaica Plain into haves and have-nots.
"And when a killing takes place in the middle, people [from one side] come out. But where is the awareness of shootings on the other side?"
Last year, members of the Brookside Neighborhood Association, whose President, Susan Harter, attended Monday's meeting, began going on community "walk-arounds" of several streets in the area including Boylston and Washington, as a way of sending a message to drug dealers that residents are keeping watch over the neighborhood.
Another resident - referring to herself as a "white grandmother" – said wealthier residents need to exercise whatever political power they have in order to help their younger and poorer neighbors. "We can be allies, doing different things for each other," she said.
Others implored their neighbors to take a more active role in community oversight outside of the bounds of the current crisis.
An Egleston Square resident, identifying himself as Michael, thanked everyone in the room for coming out and urged people to do more, such as attending zone E-13 community meetings which are held on the first Thursday of the month alternating between the police station on Washington Street and Curtis Hall on Centre Street.
Captain Michalosky echoed that idea, saying "I know there have been hostilities towards police. But I urge people to come to community meetings." She encouraged residents to call 911 when they observe criminal behavior and added that her precinct "receives very few calls about kids with guns."
She indicated that police officials believe someone they have interviewed previously knows who shot Luis Troncoso but isn't willing to say who that person might be. Several people expressed empathy for witnesses who are too afraid to speak to police.
Frustration rose among some in the room when Captain Michalosky mentioned that police believe Luis Troncoso had been killed as a result of gang activity. She said authorities expect there will be more violence in retaliation for the young man's death.
Family members have denied that Luis Troncoso was involved with gangs. One man told Captain Michalosky that "gangs are organized. And if this was a gang shooting, they would be here in the back of the room." Saying he was angry over references made about young people as gang members, the man said he thought these were "confused kids with no jobs."
Another resident, Mary Ann Doherty, works in the Brewery Complex on Amory Street. Her son, an Iraq war veteran, daughter-in-law, and granddaughter live almost directly across the street from the basketball court where the shooting occurred on Marathon Monday.
Ms. Doherty recounted how her granddaughter's babysitter – who was minding the baby nearby in the Corridor Park – heard witnesses yelling "he's been shot, he's dead." She said her son has seen "kids with apparent guns" hanging out in the park. When asked by Captain Michalosky if her son had called police to report these incidents, Ms. Doherty said he had.
Commander Cox told residents that both mounted and motorcycle units will patrol the area; but that police "can't be in all places, at all times." One resident said this sounded like an attempt to "pass the buck."
Kendra Lara of the Youth Workers Alliance said her organization believes that an additional $8 million - $4 million to create jobs for every youth who wants to work, $2 million for programs, and $2 million to hire additional street workers – would go a long way towards keeping young people from turning towards violence for their summer recreation. She became emotional as she described how a street worker had turned her own life around.
On the white backboards of the basketball hoops, about 50 yards from the front entrance of the Stony Brook MBTA station, someone painted "R.I.P Mata" in red. According to friends, "Mata" was Luis Troncoso's nickname. On the court itself, a huge memorial to the slain victim, made up of hundreds of candles, beer and alcohol bottles, and a pair of black boots has been growing daily. 
By late afternoon, on May first, workers from the state Department of Conservation and Recreation were removing graffiti from the Corridor Park, including Mata's name from the backboards and the concrete floor of the basketball court.
On the web:
Jamaica Plain Police Precinct Zone E-13:
United Youth and Youth Workers Alliance: