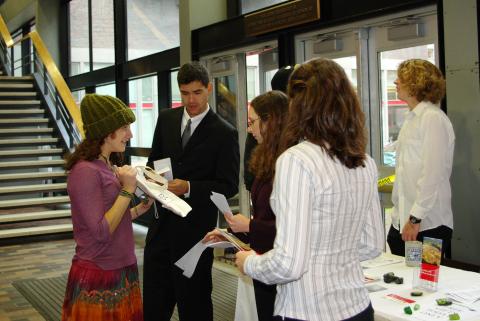 Rising Tide Boston Hands Out Green Coal at Bank of America
14 November 2008 - 6:45pm
|
superuser
by Jason Pramas
BOSTON/Kenmore Square - Several environmental activists from Rising Tide Boston handed out samples of "green coal" - actual pieces of coal painted green - to lunchtime passers-by outside the Bank of America branch at Boston University today to protest the bank's investment in coal power. The activists said the painted rocks symbolized the Bank of America PR strategy of "greenwashing" its coal investments in the media, while continuing its support for the coal industry.
The event was part of a two-day series of public actions nationwide criticizing the construction of new coal fired power plants, the practice of mountaintop removal mining and the creation of "clean coal" technologies - all backed by Bank of America as well as Citibank.
Alysha Suley, a Rising Tide Boston organizer, said, "Coal is dirty from cradle to grave. From exploration to extraction to burning to disposal. Each process is a violation of human rights.
Bank of America spokesperson Ernesto Anguilla defended the bank's investment policy indicating that "Bank of America was the first bank to make a long-term commitment to address climate change through our financial products and services. Specifically, a $20 billion, ten-year initiative to finance the development of cleaner and renewable energy sources. We support, adopt, and adhere to leading practices for managing the environmental impacts associated with coal, including the Carbon Principles."
The Carbon Principles is a voluntary code of conduct signed by Bank of America and several other major banks since last winter. It commits the banks to invest in low carbon energy solutions, and push clients to do the same.
Environmental activists have generally accepted the Principles as an improvement on past policy by large global banks like Bank of America, but have expressed disappointment that the banks refuse to set firm reduction targets for their investments in the coal sector and vowed to continue protests against banks until they do.
However, Rising Tide Boston remains unconvinced. "No response is good enough until they say they won't fund dirty energy anymore," Suley concluded.
A similar action was held at a Citibank branch at Boston University later in the day. Both events were peaceful, and there were no arrests.
License:
Creative Commons 3.0 BY-NC-SA