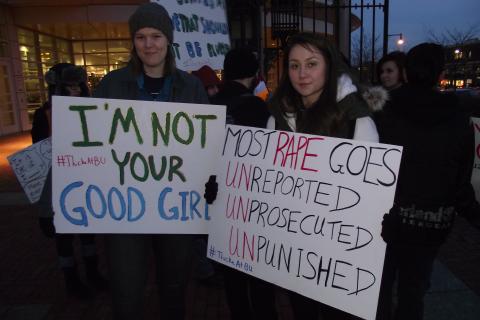 Robin Thicke's Misogynist Lyrics Blasted at BU Protest
6 March 2014 - 3:50pm
|
superuser
by Jonathan Adams (Staff)
BOSTON/Allston - As people lined up to receive their tickets ahead of a concert at Boston University's (BU) Agganis Arena, a small group of protestors targeted the performer's misogynist lyrics. 
Robin Thicke, now infamous for his song Blurred Lines, was playing at the venue on Tuesday night when demonstrators targeted the event to highlight rape culture in media.
In a phone interview before the demonstration, sociology student and head of the Boston University Humanists Patrick Johnson told Open Media Boston, "tonight's protest is about raising awareness and spreading more discourse around the concept of rape culture and specifically how our consumption of media perpetuates that."
According to Johnson, "We want people to start thinking critically about the social environment in which we're all embedded … it's definitely an educational event, obviously the concert's still going on, so we're there to educate people about the issue, to get them aware, and wanting for change to happen." 
In a play on Thicke's lyrics, one of the protestors carried a sign reading, "I'm not your good girl," and another highlighted that "most rape goes unreported, unprosecuted, unpunished."
The song, with an explicit video, suggests that there are blurred lines between consensual and nonconsensual sex, and includes the lyrics, "but you're an animal, baby it's in your nature."
"Obviously it's one song," said Johnson, "but it's a song that was called the song of the summer, performed at the Grammies, and it's a song that's being performed at our school … for any one artist and any one song for us to be protesting, this is probably the best one considering it is at our school, and extremely popular and political right now, there is a lot of discourse around the song already, so we're just adding to that."
A BU feminist editorial project called Hoochie, and the school's Center for Gender, Sexuality and Activism also took part in the demonstration.
According to a press statement given to Open Media Boston after the protest, a Hoochie spokesperson said, "As disappointed as we are that Robin Thicke has failed to acknowledge any of the issues raised by the petition protest, we are pleased by the media coverage and community participation.
"Most of all we are proud that we have promoted widespread and energetic discussion of rape culture," the statement continues.
A spokesperson for BU declined a request for a press statement, but said the event was "not a university sponsored show."
Open Media Boston contacted Robin Thicke's management for a comment on the demonstration, but did not receive a response before the filing of this report.