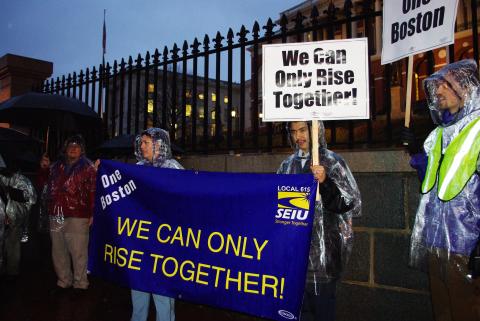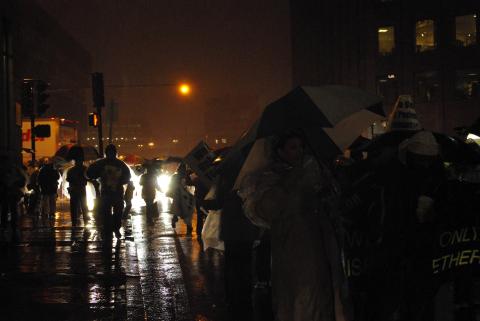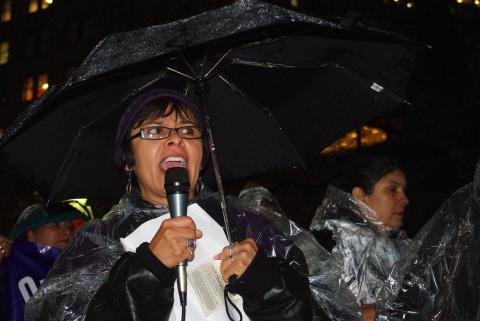 SEIU Local 615 March Calls on Real Estate Industry to Preserve Full-Time Jobs
27 November 2008 - 11:29am
|
jpramas
by Jason Pramas
BOSTON/Financial District - Over 150 janitors, security guards, and staff from Service Employees International Union Local 615 - and supporters - marched from the State House to the Financial District in often-driving rain on Tuesday to call on the real estate industry to preserve full-time jobs and not "worsen the recession."
The union said that businesses benefited disproportionately from the last economic boom, but that now they are trying to place the burden of economic recovery on working families by cutting full-time jobs with benefits. They asked the real estate industry to think of themselves as part of "One Boston" with their workers - and not abandon their commitment to them.
"I think it's about coming together as One Boston," said Rocio Saenz, president of SEIU Local 615, "and sending a message to the business community, to the Boston community that we are One Boston. And when there are difficult times as there are right now, this is when we have to look at each other, and be with each other and try to rise up together. We are One Boston, we share common hopes for a better life. The CEOs, the clerical workers, the restaurant owners, the limo drivers, we all share the same goals."
The event concluded with a brief rally in Post Office Square where Saenz introduced a couple of contract janitors named Marta Ramos and Erasmo Martinez - who were recently laid off from their jobs at the John Hancock building and Logan Airport respectively.
The bad weather precluded much in the way of speeches from the workers, but Saenz read an explanatory statement that was translated into Spanish for the mostly Latino union members present.
"In these difficult time," the union leader concluded, " we need to remember this: we can only rise together. If we turn on each other, if we hastily cut jobs, we will spread this recession across Boston."
License:
Creative Commons 3.0 BY-NC-SA